| | | |
| --- | --- | --- |
| | Serving Bills Fans Since 1998 | Home |
---
Bills Overcome Flutie And Chargers 20-13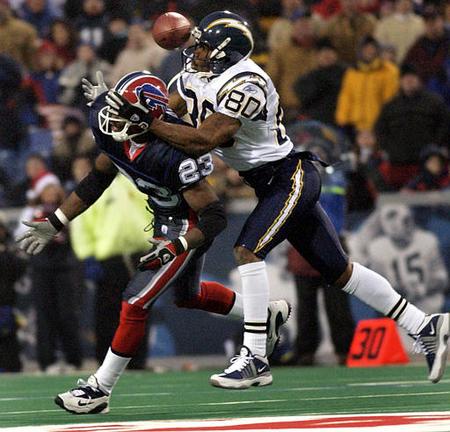 Defense Comes Up Big: So the Bills went another game without forcing a turnover but the defense did some really good things as they led the Bills to victory with the help of Travis Henry. They kept LaDanian Tomlinson in check most of the game and made the big stop after Henry's fumble. They are a huge reason why the Bills won and it is reflected in our position by position grades. Gameday Grades.

Bills Pull Out Victory: It looked like this game would come down to Flutie magic but Travis Henry saw things differently. He rumbled 26 yards down the right sideline with :52 seconds left for his second touchdown of the game leading the Bills to the 20-13 win over the Chargers. Drew Bledsoe had perhaps his worst game of his career as he completed just 11 of 33 passes. Henry saved the day from the magic of Doug Flutie who entered the game midway through the fourth quarter and promptly hit a 47 yard deflected bomb that setup a Steve Christie 53 yard field goal that tied the game before Henry lifted the Bills to the victory. Complete Review.

Bostic Hurt: Jonas Jennings, Kendrick Office and Dominique Stevenson were all inactive with injuries. Jason Bostic was the only Bill that appeared to get hurt today. He was taken off on a cart in the second half with an apparent knee injury. He had a significant amount of playing time in the nickel defense today. Injury Page.

Gameday Weather: It will be typical December weather that welcomes the team from sunny Southern California. The high temperature will be 34° during the game but the wind will be a factor as usual late in the season. It will be out of the West Southwest at 14mph making it feel like 24°. There is also a 30% chance of rain and/or snow showers.


Saturday December 14, 2002


Tomlinson The Key: The Bills face another top running back tomorrow when the Chargers come to town. Stopping LaDanian Tomlinson will be another daunting task from a struggling Bills defense. If they can't find a way to contain him, they have little chance of winning. It promises to be another windy, cold December Buffalo day, that means the running attacks will be front and center.


Friday December 13, 2002


Game Blacked Out: It's official this week's game will be the first blacked out game of the season. There are still nearly 10,000 tickets remaining for the game on Sunday.


Thursday December 12, 2002


Jennings, Stevenson Likely Out: Dominique Stevenson and Jonas Jennings missed a second straight day of practice today and it appears neither will be in the lineup on Sunday. Jennings is hobbled by a sprained right ankle that is fairly high up. Stevenson is still experiencing headaches as an after effect from the concussion he suffered against New England. Injury Report.

Bills Add Office To Report: The Bills now have three players questionable for Sunday's game. They have added Kendrick Office to the injury report with his wrist injury. That injury cost him to miss last week's game against New England. He joins Dominique Stevenson and Jonas Jennings on the report. Jennings did not practice on Wednesday and it is unlikely he will play. Stevenson is likely to be available. Injury Report.

Game Likely Blacked Out: The Bills have until 1:00 today to avoid their first blackout of the season. It doesn't look good. There are still 10,000 seats remaining for Sunday's game and the blackout is inevitable.

Bledsoe Knows It's Bleak: In his usual media day press conference, Drew Bledsoe said he knows the Bills playoff hopes are bleak but this is the time players find out who they want to go to battle with in the future. Bledsoe thinks they had a very good, focused practice yesterday even though there was no laughing or fooling around because of the situation.


Wednesday December 11, 2002


Bills Look To Play Spoiler: The Bills must find a way to get motivated to play the string out as they are all but done in the playoff race whether they admit it or not. The Chargers come to town in a foul mood after losing to the Raiders last week. The Bills will look to hurt their playoff chances while sticking it to former GM John Butler and other former Bills that return to town on Sunday. Complete Preview.

Two Questionable: The Bills have two players on their injury report and they are both listed as questionable. Jonas Jennings is the most serious of the injured players. He has a high ankle sprain and most likely won't play. Dominique Stevenson has a mild concussion and will most likely be available. Injury Report.

Bills Add Practice Squad Player: The Bills have lost Michael Early off the practice squad. He has signed with Minnesota. The Bills filled his spot by adding offensive lineman Joey Hollenbeck to the squad. He was briefly with the Rams before being cut prior to training camp last year.

Robertson Suspension Official: The NFL has officially suspended Tyrone Robertson for a year effective yesterday. He failed a substance abuse test for the second time.


Tuesday December 10, 2002


Bills Have No Hope: Although they are not mathematically eliminated the Bills have no hope for a post season berth. They would have to win their last three games at that is a tall order in itself with a road game in Green Bay on the horizon if they get by San Diego. They would then need New England to lose three straight games and the Jets would have to lose two of three with the win coming in New England. Miami would then have to lose two of three with the win coming in New England. That would force a two way tie for first at 9-7 between the Bills and Dolphins with the Bills winning the tiebreaker. With no hope at a wildcard you have a better chance of winning the lottery.


Monday December 9, 2002


Jennings Likely Out For Chargers Game: Jonas Jennings had the most serious injury in yesterday's game. His leg injury wasn't any better today and it appears unlikely he will practice this week, which means he probably will be out on Sunday as well. Marcus Price would replace him in the starting lineup. The other players banged up all should practice Wednesday. Marques Sullivan has a hyperextended elbow and Dominique Stevenson suffered a mild concussion. Injury Page.





Last Week's News Archives
---
News Archives Index
Archives Library
Latest News Main Page
Back to Bills Daily Homepage