| | | |
| --- | --- | --- |
| | Serving Bills Fans Since 1998 | Home |
---
Bills Win Tough Battle With Texans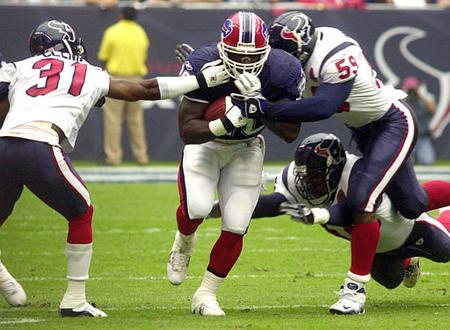 A Tale Of Two Halves: The Bills defense played awful in the first half against the worst offensive team in the league. They came out and had their best half of football of the season in the second half allowing only 80 yards to the Texans offense after halftime. The offense also played much better in the second half racking up 222 yards after halftime. Those numbers are balanced in our position by position grades. Gameday Grades.

Bills Win Battle: The Bills won't do anything easy, a Drew Bledsoe 26 yard touchdown pass and run by Peerless Price gave the Bills their only lead of the day. The defense held inside the red zone as Antoine Winfield and Coy Wire defended a fourth down pass in the end zone perserving the Bills tough 31-24 victory. Travis Henry rushed for 159 yards and two touchdowns including a 23 yard scamper on a draw play. It was the biggest rushing day by a Bill in 10 years. He did fumble for the fifth time this year and it resulted in the only second half touchdown by Houston as they used the halfback option to score. The Bills trailed 17-3 late in the second quarter before coming back. Complete Story.

No Picks Still: The Bills did not get an interception or any turnover for that matter as the drought continues. They had two chances for picks in the Texans last ditch final drive. Chris Watson, who had an awful day, picked off a pass that would have ended the game but Chidi Ahanotu was called for his second roughing the passer call of the game. A few plays later Antoine Winfield and Pierson Prioleau ran into each other, knocking away another sure interception.

Injury Update: Dave Moore was inactive with his broken hand injury. Mike Williams left the game in the first half with an injured hamstring and did not return. He was leading the way for Travis Henry very well before getting hurt. Marcus Price replaced him and played well. Injury Page.

Watson Struggles: The Texans built their first half lead thanks to Chris Watson who was burned for an 81 yard pass play on the Texans first play from scrimmage and then burned for two touchdown passes before being lifted from the game for a while. He was replaced by sixth round pick Kevin Thomas who saw his first action of the season. Watson returned in the second half and played better. He couldn't get a break though, as his game saving interception was negated by a roughing the passer penalty.

Gameday Weather: Today in Texas it will be a high of 69° with a 30% chance of thunderstorms. That means the Texans will probably apt to close the retractable dome. They must tell the league and the Bills if the dome will be open or closed two hours before kickoff.

Moore Gametime Decision: Most of the injured Bills will play, the one player up in the air is Dave Moore who will be a gametime decision. He will workout on the field before the game before the team decides to activate him or not.


Saturday October 12, 2002


Williams, Ahanotu Should Play: Pat Williams is still on course to play tomorrow and Chidi Ahanotu did practice some on Friday and should be able to play also. Injury Report.

Kelly Gets Into Racing: As it has been speculated for months, Jim Kelly is getting into the racing game. Kelly will team up with Frank Cicci to form a team in the Busch racing series. The team will race out of North Carolina. Kelly hopes his involvement will raise awareness for Krabbe's Disease that effects his son.

Robertson On His Way Out? ESPN's Len Pasquarelli is speculating that the Bills will part ways with defensive tackle Tyrone Robertson a week after he returns from his suspension. He is currently serving a four week suspension for violating the substance abuse policy of the league. He has been a problem for much of his college career and has been considered a project with the team since being drafted in the seventh round last year.


Friday October 11, 2002


Injured Bills Should Play: All three Bills listed as questionable have a good shot at playing on Sunday. Pat Williams said yesterday he will give it a go. He is back practicing and has been upgraded to probable. Chidi Ahanotu has yet to practice this week but is moving better and will try to practice today, making it probable that he will play. If Ahanotu can't go, or is limited, Keith Newman may get more snaps as a pass rushing lineman. Dave Moore is the most likely candidate to sit out, he wants to play and may give it a go but may not be able to physically. Jason Bostic has been added to the injury report with a stinger but should play on Sunday. Injury Report.


Thursday October 10, 2002


Bills Need Pick: After five games the Bills are the only team in the league without an interception. To help facilitate a pick, the defensive backs and linebackers put $1,500 in a pot. The first player to get an interception keeps the money.

Williams To Play: Despite being a surprise addition to the injury report as questionable, Pat Williams expects to play on Sunday. He suffered a rib injury in the first quarter of the game against the Raiders but played through it. He practiced on a limited basis yesterday and will not require extra padding to play. The other two injured Bills did not practice Wednesday leaving their availability on Sunday in question. Injury Report.


Wednesday October 9, 2002


Bills Guard Against Looking Ahead: Drew Bledsoe joked in his press conference when asked about looking past the Texans, when do we play the Dolphins? He feels this game is a big enough challenge to stay focued on the Texans and not look ahead to next week since the team isn't good enough to do that.

Bledsoe Needs To Limit Mistakes: Drew Bledsoe has a quandry that he talked about in his Wednesday press conference. He admits he needs to be a little more careful when throwing the ball not to make mistakes but it can't be at the expense of the aggressiveness he has in the passing game. He feels the duo of Peerless Price and Eric Moulds are as good as any in the league and he needs to let them make plays by putting the ball out there. He feels the Texans have a complicated defensive scheme that will test the Bills. They will make some plays but the Bills offense needs to bounce back when that happens without any real negative effects. Bledsoe knows his weakness is throwing on the run and he continues to work on it so he doesn't make any big mistakes without losing his aggressiveness. It's a balance between making big plays in broken situations and throwing the ball away to not make a big mistake.

Extensive Injury Report: The Bills have three players listed as questionable on the injury report this week. Pat Williams, Chidi Ahanotu, and Dave Moore are all on the list. Ahanotu suffered a sprained ankle against the Raiders and Moore broke his left hand. Williams is a surprise on the report with a chest injury. Despite coming off a bye, the Texans have seven players on the report including two players out for the game. Injury Report.

Bills Look At Snappers: The Bills took a look at two long snappers yesterday because of the injury to Dave Moore. Both players brought in yesterday were from the Vikings organization and were in for a look a few weeks back. It's unlikely the Bills will sign one of them, they will probably give Jay Riemersma a shot this week. He snapped in the fourth quarter against the Raiders and was flawless in two snaps.


Tuesday October 8, 2002


Texans Come At Good Time: With the Bills defense reeling from last Sunday's loss to the Raiders and inept performances every other week this season, the expansion Texans may be just what the doctor ordered. The Texans are the worst offensive team in the league, so even the Bills porous defense should have some success this week. We have our preview on our gameday homepage. Complete Preview.

Ratings Remain High: The local ratings for Sunday's game against the Raiders was 37.5 and a whopping 68 share. That topped all other NFL cities in a market to market comparison. The share was the highest in Buffalo under new measuring meters put into place two years ago.

Offensive Numbers Staggering: The Bills continue to put up offensive numbers at a record pace. Drew Bledsoe leads the league in yards, completions, and attempts. He is second in the league in completion percentage and touchdown passes. He also is responsible for 82.6% of the offense. With the passing game in high gear Eric Moulds and Peerless Price is one and two in the NFL in receiving yards and 1 and 3 in receptions respectively. Moulds has eight or more catches in an NFL record five straight games to start a season. There are more Bills tidbits on the left side of our gameday homepage in our did you know section.

Charity Events: Drew Bledsoe, his father Mac, the the team mascot were at the Blue Cross/Blue Shield event this morning for the fourth annual Rush for Reading Challenge. This evening several players are expected at a Cerebral Plasy event for the Visually Impaired, Child and Adolescent Treatment Services, Boys and Girls club and Prevention Focus. Among the players expected to attend the 4:30-6:00 event are London Fletcher, Ruben Brown, Eddie Robinson, DaShon Polk, Pat Williams, Pierson Prioleau, Kendrick Office, Dominique Stevenson, Ahmad Brooks and Rodney Wright.


Monday October 7, 2002


Moore Breaks Hand: An injury that was not immediately known yesterday was to TE Dave Moore. He broke his left hand and is now wearing a soft cast on it. He will be re-evaluated tomorrow to see if he can play in this weekend's game but he will not be able to handle the long snapping duties. Jay Riemersma will take on those responsibilities. Chidi Ahanotu was re-evaluated today and he is listed as day to day with his sprained ankle. It was heavily taped after the game. Injury Page.

No Injuries Reported: One good thing to come out of the loss was the lack of injuries once again. Chidi Ahanotu was the lone Bill shaken up in the game. He suffered a sprained left ankle but did return.





Last Week's News Archives
---
News Archives Index
Archives Library
Latest News Main Page
Back to Bills Daily Homepage