| | | |
| --- | --- | --- |
| | Serving Bills Fans Since 1998 | Home |
---
Patriots Rout Bills 38-7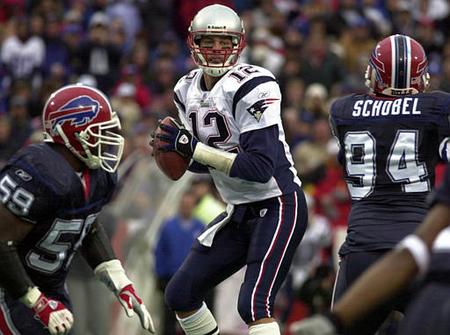 Pats Rout Bills: The Bills wanted to win this game for Drew Bledsoe but the Patriots wanted it more as they were desperate following four straight losses and it showed. Former Bill Antowain Smith ran for 111 yards and three scores as the Pats routed the Bills 38-7. The much hyped Bledsoe Bowl turned into a super blowout as Bill Bellichik coached circles around Gregg Williams. Complete Story.

Total Team Collapse: It is very rare that a total team collapse happens but it did in the debacle against New England. As you will see in our gameday grades the enitre defense, special teams, and coaching gets failing grades as does some of the offense. Gameday Grades.

Riemersma Banged Up: The only injury suffered by the Bills against the Patriots was to Jay Riemersma he suffered a strained back muscle and will be re-evaluated today. He left in the second quarter and did not return. Mike Williams and Keith Newman both played in this game. Williams did not do any more damage to his injured hamstring and Newman had no problems either. Antoine Winfield and Tony Driver did not play, both should return after the bye week. Injury Page.


Saturday November 2, 2002


Gameday Weather: The weather forecast for tomorrow is improving, there will be no snow but it will be cold. The high temperature is expected to top out at about 41° with winds at about 10 mph making it feel like 33°. There is a chance of a lingering snow shower with peeks of sunshine also possible. Not as bad as was predicted earlier in the week but certaintly cold for early November.

Practice Squad Move: Apparently the Bills have had a change of heart. They have cut recently signed Clarence Coleman from the practice squad and replaced him with Rodney Wright. Just last week the Bills cut Wright for Coleman.

Winfield Works Out: Antoine Winfield practice some wiht the club on Friday but it still is a longshot that he will be in the lineup tomorrow. The cold weather will not help his chances of playing.


Friday November 1, 2002


Thomas To Be Honored: The Bills will honor another Bill great when Thurman Thomas becomes this year's recipient of the Ralph C. Wilson Jr. Distinguished Service Award. He will be honored during pre game ceremonies before the Miami game on December 1st and then by the Monday Quaterback Club the following day. The award is to honor former players for their long service with the club. Thomas is the 23rd player to receive the award and he was to be joined by Pete Metzelaars but the former tight end is unable to accept it at this time and will be honored in the future.

Winfield Remains Out: Antoine Winfield did not participate in team workouts again yesterday making it almost certain that he won't play on Sunday. Mike Williams did practice for the second straight day and it appears he may start on Sunday. The other walking wounded all seem likely to play on Sunday also. Injury Report.

Bills Look At Jones: The Bills brought in former Bucaneer defensive end and tackle Marcus Jones for a look yesterday. Tom Donahoe told Empire that they just wanted to get updated medical information on him. Jones was injured over the summer and was on the Bucaneers injured reserve for a while.

Game Soldout: As expected the blackout has been lifted and the game will be seen on local television in Western New York. All five home games this year have been sellouts.


Thursday October 31, 2002


Moorman Honored: Bills punter Brian Moorman was named the AFC Special Teams Player of the Month for October. He is the Bills third ever to win that honor and is the first punter to win it. Steve Christie won it twice. Ironically, Mike Hollis was named the special teams player of the week one week but Moorman never won the weekly award. Moorman had seven punts of 50 yards or more in October and averaged over 45 yards per punt.

Media Hype Huge: The media credentials for out of town media has more than doubled for this game as 50 credential requests have been made from the New England area. ESPN is also sending three crews instead of their usual one. The Bills are saying it is approaching playoff like coverage.

Finger Pointing In Patriot Land? Tom Brady challenged his team on Sunday to play better and he feels they haven't been playing as well as they could. Some members of the Patriots attacked back saying he should look in the mirror. They are apparently upset he didn't include himself in the comments. He didn't retract his statement on Wednesday but did admit he needs to play better also.


Wednesday October 30, 2002


Mike Williams Practices: All four players that are listed as questionable on the Bills injury report were on the practice field today in one manner or another. Mike Williams participated in drills, while Antoine Winfield didn't. Coach Williams will monitor the injured players progress this week before deciding who will play on Sunday.

Tasker Nominated For Hall: Steve Tasker is on the list of nominees for the Hall of fame class of 2003. He is nominated in his first year of eligibility. Three other Bills are nominated as Ralph Wilson Jr., James Lofton, and Joe DeLamielleure are on the list. Takser joins other first time eligible players Herschel Walker, Boomer Esiason, Brent Jones, Gary Zimmerman, and Richard Dent.

Belichik Says He Respects Bledsoe: Patriots Head Coach Bill Belichik talked to the media and the press conference was dominated with talk of Drew Bledsoe. Belichik said the Bills have played good football as a team. He admitted that Bledsoe has done a good job, along with the good group of explosive receivers and the running of Travis Henry. He also feels the defense has improved tremendously and historically games in Buffalo are tough, hard fought games and this week should be no different. He said Bledsoe has proven through his career that he is a good productive football player and he has thrown the ball very well this year. He said he has done things that they have seen in years past in New England. He feels Drew is a significant player who showed good leadership in New England and he is playing well. He feels they got a lot in return and they have moved forward from the trade. The decisions that were made were for the best interest of the Patriots. Belichik thought he had a good relationship with Drew since 1996 but the situations made it tough, he does have a lot of respect for him saying he's a good team player and a leader.

Bledsoe Happy Where He Is Now: Drew Bledsoe held his usual Wednesday press conference today and it was dominated by the hype for this week's game. Bledsoe admitted it was a difficult time for him last year but he doesn't spend much time thinking about it and he's glad he is in the situation he is now. On Coach Belichik, Bledsoe said that the hard part is the different approaches he gives defensively every week. On Tom Brady, he said they are friends and it was difficult last year since he had what Drew wanted. Bledsoe admitted that it is a hard time for the Patriots now, but they are a team of high character who will bounce back and the Bills expect a very stern test this week. He called them, "a wounded animal that will come out fighting". The team is excited about the game since it has implications on the division race. He feels the players can't play harder for him this week because that would disparage what they have done this year. He feels the Patriots would have tried to trade him out of the division if they could of. On his receivers, he feels they are both amazing. He has great faith in Eric Moulds that is why he threw the third down pass near the end of the game last week that clinched it.

Patriots Will Be Hungry: The game that has been circled on calendars since April is upon us. The Patriots will be desperate for a win as they have lost four in a row and are dangerously close to seeing their season to come to a premature end. The Bills will of course be fired up as Drew Bledsoe takes on his former coach and nemesis. Weather will be a factor as snow is in the forecast for the weekend. Game Preview.

Injury Report: Antoine Winfield, Keith Newman, Tony Driver and Mike Williams are all listed as questionable for the Bills for Sunday's game. The Patriots have five players on the list, all are listed as questionable and it is highlighted by CB Otis Smith who has an arm injury. Injury Report.


Tuesday October 29, 2002


Robertson Suspension Over: Tyrone Robertson has fulfilled his suspension and has been moved to the reserve non football illness list. Since the team decided not to activate him to the roster it appears his days in Buffalo are probably numbered. Front Office Page.

Injured Players May Be Back: Coach Williams hopes to have all his walking wounded on the practice field tomorrow. Antoine Winfield, Keith Newman, Jonas Jennings, and Mike Williams are all expected on the practice field. Whether or not they play is another story. The least likely to return is Winfield. Newman will also be re-evaluated today but the coach is optimistic he will play on Sunday. Injury Page.


Monday October 28, 2002


Winfield; Williams Improving: Coach Gregg Williams said today he hopes to have Mike Williams and Antoine Winfield back on the practice field on Wednesday when the Bills begin preparations for the Patriots game. There presence does not mean they will play. With the bye week following the New England game the Bills may hold out banged up players to allow them an extra week to get healthy. Winfield has already said he probably won't return until after the bye. Williams may have a stronger shot at playing on Sunday. Injury Page.

Hype Begins: Almost immediately following yesterday's win the hype began for this week's "Bledsoe Bowl". The Bills are flying high heading into the showdown with three straight wins, a half a game behind Miami for the AFC East. The defending champions are coming off their fourth straight loss and are a game and a half behind the Bills for second place. If things are due to even out than the Bills could be in trouble however expect Drew Bledsoe to have the troop riled up and ready for this showdown. Patriots coach Drew Belichik will also rile up his troops as this game promises to be one of the most emotionally charged Bills game in a long time.

Bills Doing Well At Halfway Point: The season is now half over for the Bills and who isn't happy with a 5-3 record. This is as good as could be expected as the team was expected to take more time to gell and play their best ball in the second half. If that is the case then the Bills may make a legitimate run at the playoffs a year earlier than expected.





Last Week's News Archives
---
News Archives Index
Archives Library
Latest News Main Page
Back to Bills Daily Homepage