Bills Future In Doubt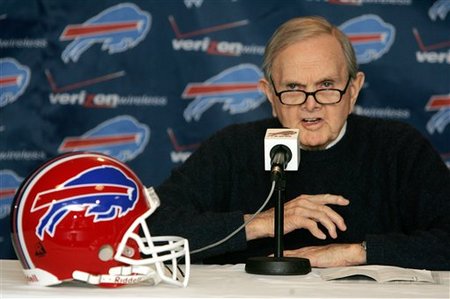 Schumer Joins Campaign: U.S. senator Chuck Schumer of New York has made a habit of having Sunday press conferences in the past. The one today was of great interest to Bills fans. He has joined the political fight against the new CBA that Ralph Wilson has said is unfair to small market teams. Schumer said he will be on the phone with commissioner Tagliabue first thing tomorrow morning. He flew to Western New York today to become the latest politician to meet with Ralph Wilson. He will express his concerns that to the commissioner that the new CBA is detrimental to small market teams like Buffalo. The influential senator will reach out to senators from other states with small or medium market teams as well as prominent fans like Jack Kemp and Tim Russert. He also hinted that he will use his stature as a sitting member of the Senate finance and judiciary committee if he needs to. That committee does have jurisdiction over some NFL interests.

Wilson Family May Keep Team: Not only is Ralph Wilson not going to sell the team now, he may decide to keep it in the family once his time has passed. He has always expected to have his family sell the team once he dies because of high estate taxes and the fact that they don't want to own a team. During his Friday press conference he broached the subject by saying he hasn't decided what he was going to do. After today's press conference with Senator Chuck Schumer, Wilson told AP that he may rethink those plans and keep it in the family. He feels the new CBA will make it impossible for someone else to buy the team and keep it in Buffalo. He has always said he would never move the team but now says he can't promise that because of the new CBA although he will try as hard as he can to keep the team in Buffalo.

Minicamp Over: The Bills first minicamp of the Dick Jauron era came to an end with a practice this morning. Jauron said the camp went pretty well and he's satisfied with the progress the team is making. He cautioned that the team has a long way to go still. Kelly Holcomb seems to have the early lead on the starting QB job as he got the majority of the snaps with the first team. Willis McGahee did not show up at all for the three day camp but they expect him at the next camp. Since it was voluntary there can be no disciplinary action.

McGahee A No Show Again: Willis McGahee was once again a no show at minicamp yesterday. Dick Jauron had hoped that his running back would make it to the voluntary camp by yesterday. He is one of three players not attending. Takeo Spikes isn't there as he continues his rehab work and Nate Clements is a no show since he hasn't signed his one year tender. Craig Nall took the first reps in 7 on 7 drills yesterday but everyone had equal reps once again. Roscoe Parrish took reps as a starter while Josh Reed was with the 2nd team. They were flip flopped on Friday. There were also too big scuffles on the same play. Dick Jauron told his players they need to be more disciplined to avoid injuries. Minicamp closes out with one practice today.


Saturday April 8, 2006


First Day Always Special: Dick Jauron said it was nice to get on the field yesterday, the first day is always special. He said there was a lot of energy and it was good. He said the players have been in the offseason program so this isn't the first day but it was nice to simulate real football game situations. Like first days always go, there were some good and some bad. The Bills will hold two practice sessions today. This is the middle day of the three day voluntary minicamp. All eyes once again will be on the QB battle, which Jauron said started three weeks ago in meetings. He said the battles are at every position but he knows this is the focal point. He continues to believe the competition will push all three candidates and it will be interesting to watch. He hopes one player will rise above the others. The team will close out the camp with one practice tomorrow. As usual, the camp is not open to the public.


Friday April 7, 2006


Holcomb Gets Opening Nod: The biggest battle of recent minicamp memory is underway at One Bills Drive. The three headed QB competition got started as the Bills took to the field for the opening of the weekend minicamp this afternoon. Kelly Holcomb got the first reps followed by J.P. Losman and then Craig Nall. Each got fairly even reps and according to the Bills official website they all mixed in some good throws with some bad ones. Each player is trying to figure out how to blossom with the limited reps. At some point in the offseason they will narrow it down to two players and hopefully have a starter by training camp.

Three No Shows: Attendance for the first minicamp is impressive. There were only three no shows to the voluntary camp on Friday. Willis McGahee had a scheduling conflict but may arrive for tomorrow and Sunday's workouts. Takeo Spikes isn't there as he continues to rehab his torn Achilles. Nate Clements isn't in attendance as he hasn't signed his one year franchise tender. Both sides are working on a long term deal but Clements' agent told AP that there are no developments at this time.

Giambra Supports Wilson: Erie County Executive Joel Giambra held his own press conference and agreed with Ralph Wilson that the new CBA hurts small market teams like Buffalo, Cincinnati, and Jacksonville. He said he's really concerned about the two qualifiers for revenue sharing. The first one is that local funding counts against the salary cap, like the $3 Million the Bills get from Erie County for stadium upkeep. The 2nd one is a critical one, if a team is sold it will not be eligible for revenue sharing. This could kill any chances that a local owner would buy the Bills after Ralph Wilson dies and keep the team in Buffalo. If Tom Golisano, for example, bought the team and wasn't eligible for revenue sharing it would be very hard for the team to make money in Buffalo. It is more likely an out of town owner would buy the team and move it to an area where they can make more money. Giambra suggested fans flood Albany and Washington with their concerns. He will request a meeting with Paul Tagliabue. He mentioned a tidbit that one of the candidates to replace Tagliabue is Roger Goodelll and he's from Jamestown.

Wilson Talks About CBA Woes: Ralph Wilson held a press conference this year to answer questions about his concerns about the future of the team in Western New York and the CBA extension. He met with Governor Pataki on Monday and with Erie County Executive Joel Giambra today. He started by joking about having more press conferences then football games. He feels he needs to be straight with everybody about his concerns with the new CBA. He said the league was never in the business of building stadiums but that has affected the small market teams in a detrimental way under the salary cap era that was working well when it began in 1993. The teams with new stadiums where they can charge very high prices for club and luxury seats have thrown things out of balance. That has raised the salary cap too much for the small market teams like Buffalo and gives the high revenue clubs more money to pay larger bonuses. These clubs forged a strong bloc to not give more money to the medium or small revenue clubs. The change in the CBA to giving the players a percentage of the entire revenue of a team like luxury suites, refreshments, and parking. It is a huge difference than it was in the old agreement. Included in the revenue is some $3 Million that the county gives the Bills for stadium upkeep. This brings the amount the players get 59.5% of total cost and don't have to lay out any of the money. Wilson feels this is too expensive. He figures 16 to 18 clubs will qualify for revenue sharing in the new extension including Buffalo. This shows how unbalanced the new deal is. The new formula has some very important qualifiers like attendance percentage but they don't know what they are yet, he hopes they don't disqualify Buffalo.

Wilson Not Asking For Money: Wilson said he met with Pataki to put him at ease that he wasn't asking him for money, he just wanted to give him the facts and that is what he is doing today. He didn't ask the County Executive for any money either. Wilson stated that this isn't about making money for the Buffalo Bills it is about surviving, he feels other teams are in the same boat. He's just looking to break even with the team.

Team Not For Sale Or Moving: Ralph Wilson said in his press conference he has no plans to move the team but he doesn't know how long it can stay here. He says he will fight very, very hard to keep the team in Buffalo and be competitive with the rest of the league. He said he will not sell the team, he's owned it for 46 years and will go to the wall owning it. When asked if his family would keep the team when his days have passed, he said he hasn't decided yet. Building a new stadium is not an option, even if they built a beautiful stadium it wouldn't help since the area is poor and has no pricing power. He also feels the current facility is very good. Pataki told him the Bills are too important to the state to leave since they are the only team in the state. He said selling the naming rights to the stadium wouldn't bring enough money to sign a college free agent.

Wilson Not Pleased With "New Guard": Ralph Wilson was passionate when he talked about the current makeup of the league. He said the old guard owners are mostly gone and the new owners have no idea about the fights the league had to go too survive in the old days and they didn't want to vote for a fair deal because they were afraid of an uncapped year. He also feels the new guard owners have a lot of influence over Commissioner Tagliabue. He doesn't expect a new commissioner would be more sympathetic to the problems of the small market teams because the committee to hire one is made up of large revenue teams.

Minicamp Begins: Dick Jauron gets his first look at his team on the field this weekend as the Bills begin their first minicamp today. All eyes will be on the three horse race at the quarterback position. The offseason minicamps will go a long way in deciding who starts or at least who gets more reps when training camp begins. Other spots to watch will be how the offensive line shakes out. They haven't helped out the position too much in the off season so it will be interesting to see how the line is juggled. Depth Chart


Thursday April 6, 2006


Moulds Trade Official: The Bills made it official this afternoon, announcing the trade of Eric Moulds to the Texans for a fifth round draft pick in this year's draft. It will be the first pick of that round. Marv Levy said in a statement that the team wanted to keep Eric but his unwillingness to renegotiate his contract left them with no alternative but to make the deal.

Schedule Out: The Bills open on the road for the first time in seven years as the schedule was released today. They play their first two on the road in New England and Miami before coming home to play the Jets as they play each division rival in the first three weeks. That is the first time since 1990 they faced three division opponents to start the season and it is the first time since 1998 when they opened with back to back road games. They play four of six on the road to start the season and have a stretch of four home games in five games late in the season. All four of those games are against warm weather teams and they all happen after Thanksgiving. Their bye week is week 8.

Williams Signs Tender: A report says that backup RB Shaud Williams has signed his one year tender offer of $425,000. As an exclusive rights free agent he was guaranteed to stay in Buffalo.

Golisano Interested? Sabres Owner billionaire Tom Golisano told AP on Wednesday that the Bills are a huge asset to the community and he's very interested in the topic about their future. Ralph Wilson told Gov. Pataki that the long term future of the team in Western New York is in serious doubt. Golisano said he will get involved but doesn't know how at this point. He said he wouldn't rule anything out including buying the club at some point in the future.


Wednesday April 5, 2006


Team Signs Four: The team was busy today signing four players, two offensive linemen and two defensive backs. The newest Bills are DBs James Bethea and Kiwaukee Thomas, and OL Aaron Gibson and Matt Morgan. Gibson is the lone name player of the group. He was a first round pick in the 1999 draft and has started 34 games in his career. He was out of football last year. Thomas has played in 85 games in his career, including 10 games with Miami last year. Morgan played with the Rams last year but saw action in only one game. He was an undrafted free agent out of Pittsburgh in 2004. Bethea was a member of the Redskins practice squad in 2004 and played in Europe last year.

Losman Staying: Marv Levy put to a rest the trade rumors circulating around J.P. Losman. He said there is no truth whatsoever to the rumor from two scouts that the team would be or are already shopping Losman. He said the Bills have made no overtures and nobody has approached them. He went on to say that if a team did approach the Bills they wouldn't be interested in trading him. He re-iterated that it is an open competition for the starting job and said he understands the growing pains Losman has gone through but they are many things they like about him including his work ethic and personal motivation.

Pick For Moulds A 5th: The Houston Chronicle is reporting that the deal for Eric Moulds gives the Bills the first pick in the 5th round of this year's draft. The team was seeking a 4th rounder but if they didn't agree to the deal they probably would have been cut Moulds and received nothing in return for him. With this pick and the additional third round pick from the Travis Henry trade along with a compensatory pick, the team now has 10 draft picks.

Bills Future Bleak? Ralph Wilson met with New York Governor George Pataki and told him the Bills future in Western New York may be in serious doubt thanks to the new collective bargaining agreement. Wilson said he remains committed to the region and the passionate fans but other people don't care what happens to the small market teams. He vows to continue the fight for the area. This would be considered political rhetoric except for the fact that Wilson rarely discusses the team's future. Pataki said he shares Wilson's concerns and knows how important the Bills are to the state of New York and they are a priority of his. He has shared his concerns with Commissioner Tagliabue.


Tuesday April 4, 2006


Moulds Trade Done? ESPN is reporting that the Bills and Texans have indeed agreed to a deal sending Eric Moulds to the Texans for an undisclosed draft pick. It is believed the Bills will get a fourth or fifth round pick in the upcoming draft. Moulds had agreed to a four year, $14 Million deal late last week and was in Houston yesterday for a physical.

Schedule To Be Released Thursday: Get ready to make your fall plans. The league announced that the schedule for the 2006 NFL season will be released on Thursday at 2pm. We will of course have the schedule on our homepage and our schedule page shortly after it is released.

Bills, Texans Negotiating: Eric Moulds is in Houston to meet with Texans officials and take a physical. As we reported last week, Moulds agreed to a four year deal worth $14 Million with a signing bonus of $5 Million. The deal is contingent on the Texans and Bills agreeing to a trade. We reported that the Texans want to give the Bills a fifth round pick, while the Bills are holding out for a fourth rounder. Negotiations continued yesterday, a report from a Houston TV station expects the deal to be completed today but someone will have to budge on compensation.



---
News Archives index
Latest News Section
Archives Library
Back to Bills Daily Homepage