Bills On The Verge Of Trading Moulds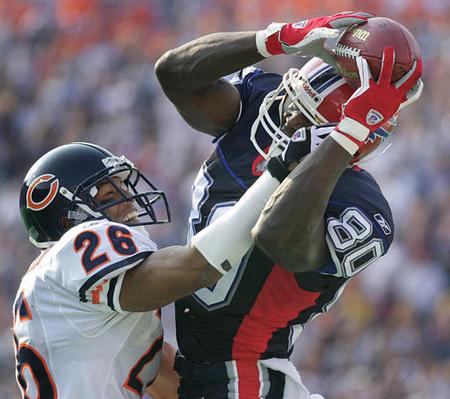 Losman On Block? Rumors have persisted for about a week now that the Bills are shopping J.P. Losman in a trade. Today's Buffalo News reports that two scouts say they have heard that the Bills are interested in shipping Losman. This would be a surprising move since the team would take a $3.6 Million cap hit. Granted they have the space but they wouldn't get anything in return near the number one pick they used on him two years ago. Not to mention all it cost them to move up to get him. Why would you give up on a player that has started a grand total of eight games in his career? They can trade him for a song and it could be the best deal another team makes if he blossoms. What do you think? Take our poll on our homepage.
Saturday April 1, 2006


Moulds Agrees With Texans: ESPN reports that Eric Moulds has come to an agreement on a four year, $14 Million contract to join the Texans. It includes a $5 million signing bonus. For the deal to become official the Texans need to come to an agreement with the Bills. They want to give the Bills a fifth round pick and the Bills reportedly want a fourth round pick. That would be the first pick on day two of the draft. Moulds is expected in Texas on Monday to meet with Texans officials.

Lynch Retires: A fixture in the Bills frontoffice has retired. Denny Lynch leaves the team after 20 years with the Bills and 34 years of service in the NFL. He was the team's Director Of Public and Community Relations for 14 years and the Director of Archives the last six. He plans on staying active with the Booster club and the Monday Quarterback club.


Friday March 31, 2006


Adams Heads To Cincy: Sam Adams has landed with an old friend in Cincinnati. He joins his former Ravens' defensive coordinator Marvin Lewis with the Bengals. He has reached an agreement on a three year deal worth $3 Million this year. That number could go up another $1 Million if he reaches certain incentives. He has yet to sign the contract.

Moulds Situation Cloudy: Despite Houston media reports that Eric Moulds has agreed to a multi-year contract with the Texans, there has been no official confirmation of the deal. In fact, both Moulds and the Bills deny the reports. Even if Moulds has agreed to a contract, the Bills would still need to agree to the compensation involved. It is believed the Bills are asking for a fourth round draft pick and Houston is offering a fith round selection. Other media reports say that the Philadelphia Eagles are still interested in acquiring Moulds, but Philadelphia media reports quote a league source as saying that the Eagles have had no trade discussions about Moulds. The situation remains very cloudy and it is doubtful there will be any resolution until next week.


Thursday March 30, 2006


Moulds Reportedly Traded to Houston: Radio reports out of Houston say that the Texans have agreed to a deal that brings them Eric Moulds. Despite the report, both the Bills and Moulds' agent deny that a deal has been reached. There is a possibility that the Philadelphia Eagles remain in the hunt for Moulds' services. Moulds had declared his playing days in Buffalo over and the Bills allowed him to seek a trade. It is believed that the team required at least a 4th round pick as compensation. If Moulds ends up going to Houston he may ultimately be paid less than what he was due to make in Buffalo this season and playing for the Texans does not afford him an opportunity to play for a legitimate contender - Houston finished with the worst record in the NFL last season. Stay tuned to Bills Daily for further details as they become available.


Wednesday March 29, 2006


Preseason Opponents Announced: The Bills know their preseason opponents. They will open in Carolina the week of August 11th and 12th. They will host Cincinnati the following week and Cleveland the week of August 25th. They close out their preseason schedule in Detroit on either August 31st, September 1st or 2nd. Dates and times will be announced at a later date.


Tuesday March 28, 2006


Aiken Re-signs: The Bills continue to lock up their own restricted free agents to longer term deals. The latest person to re-sign is Sam Aiken. The team announced the deal today, it is a two year deal. This goes along with the thinking at One Bills Drive to lock up young players that they think are up and comers. They have now re-signed all of their restricted free agents. They have taken that same approach on the open market as well.

Moulds Situation Nearing End? The adviser for Eric Moulds said that the situation should be resolved in the next 48 hours. It seems like Houston and Philadelphia are moving fast in trying to acquire the wide receiver from Buffalo. The Patriots are also interested but aren't moving fast enough to be in the race according to his adviser Greg Johnson. The Bills reportedly want a fourth round pick. Do you think that would be a good deal? Take our poll on our homepage and let us know what you think.

No Thanksgiving Game: The Bills had a 50-50 chance of playing in Detroit on Thanksgiving this year. As expected though the league chose the Dolphins as the team to play the Lions. The opening weekend and Thanksgiving national games were announced yesterday and the Bills will not be playing in any of the seven games announced by the league at the owners meeting yesterday.


Monday March 27, 2006


Bills Get Comp Pick: The Bills were awarded a compensatory pick in this year's draft by the league today. They will get an extra 7th round pick, the 248th overall pick in the draft. The Bills are one of 19 teams to get a comp pick and are one of only three teams to get one without having a net loss in free agency last year. The Bills at this point now have nine picks in the upcoming draft.

Denney Signing Official: The Bills made the signing of Ryan Denney official this afternoon. Denney said he wanted to see what was out on the open market and then decided his best opportunity was in Buffalo. He did visit with the Chiefs where his former DL coach Tim Krumrie is but decided Buffalo was the best place for him. He looks forward to playing for new DL coach Bill Kollar and hopes to push for a starting job this season.

Jackson Shines: Another week is over in NFL Europe and Bills allocated RB Frederick Jackson had another solid performance. He had 199 all purpose yards. He ran for 63 yards on 16 carries and caught 4 passes for 56 yards in his team's 22-0 win. QB Craig Ochs got his first playing time of the season and performed well. He completed 12 of 15 passes for 125 yards and a touchdown. He had an impressive QB rating of 123.6. The other QB in Europe, Tory Woodbury did not play the position but he did see action on special teams. he downed a punt deep in the opponents territory. S Rob Lee added one tackle in his team's 31-14 win.

Texans, Eagles Interested In Moulds: It appears the frontrunners to get Eric Moulds are Houston and Philadelphia. Denver and New England have also been named as possible destinations for the Bills wide receiver. Moulds' adviser says that there is interest on both sides for a deal to get done. The Texans would have to work out a new contract with Moulds and then make a trade with the Bills. A league official told a Texas newspaper that the Bills are reportedly asking for a 4th round pick in return for Moulds. Moulds supposedly has a wish list of five teams he wants to play for and the Eagles top his list. That list does not include Houston. Besides Philadelphia, Eric reportedly wants to play for Denver, New England, Seattle, or Kansas City. The Chiefs have not heard from the Bills about Moulds but the Eagles acknowledge having some interest in acquiring his services. If a deal can't be worked out with any team the Bills are likely to release him. One GM agreed with the Bills that his numbers are out of whack and he won't receive anything like that from the open market unless a losing team like the Texans ante up that much money. He may be willing to take less to play for a contender.

Edwards To Chiefs: The Bills have lost another of their unrestricted free agents. Ron Edwards has agreed to terms to join the Kansas City Chiefs. Herm Edwards knows Ron Edwards well from coaching against him with the Jets and called it a great signing.



---
News Archives index
Latest News Section
Archives Library
Back to Bills Daily Homepage