Jauron Assembles Defensive Staff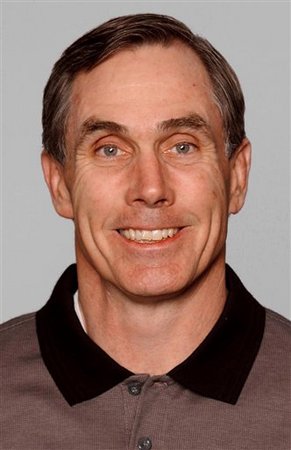 Super Bowl Sunday: Well it is here, the last Football Sunday of the year. The Super Bowl is upon us and there is a dilemma for Bills fans, who do you root for the Steelers or the Seahawks? Do you root for the AFC team? Or would you break out it hives because that is the place Tom Donahoe and Mike Mularkey came from. Let us know who you want to win by taking our poll on our homepage.
Saturday February 4, 2006


Thomas Doesn't Make Hall: Thurman Thomas was not elected to the hall of fame today. He was eliminated on the second ballot when they dropped the finalists from 10 to 6. He was looking to become the 7th Bill in the last 8 years to make the hall of fame. The class of 2006 are: Troy Aikman, Reggie White, Harry Carson, Warren Moon, John Madden, Rayfield Wright. Some think Thomas did not make it because it was his first time eligible. He was the only first timer that was a finalist that did not get in. Aikman, White, and Moon were first ballot hall of famers and elected. Do you think Thomas should have got in right away? Take our poll on our homepage.

Bills Lose LB Coach: LB coach Johnnie Holland was hired just last week by Dick Jauron he has now left the team to join Gary Kubiak's staff in Houston. Jauron granted the Texans permission to hire him for their LB coach job. That job was more appealing for Holland since it is near his hometown. He did say he hated missing the opportunity to work with Dick and has a tremendous amount of respect for him. A source told the Buffalo News that the team may hit the Bears organization again to fill the job. They have received permission to speak with Lloyd Lee who has been Chicago's defensive quality control coach the past two years. Coaching Changes.


Friday February 3, 2006


Bills To Run 4-3 Defense: Dick Jauron told the Buffalo News that he hired Perry Fewell as defensive coordinator because he's a very smart and straightforward guy with high energy and is very honest. He said he has a relationship with him from way back in Jacksonville and has watched him develop over the years. He confirmed the team will run a 4-3 defense and play more of a two deep zone instead of the zone blitz defense the team ran under Jerry Gray. This defense puts less pressure on the Cornerbacks to play one on one coverage. That may mean the Bills don't need Nate Clements as much as they would have in the other defense. If they do decide to franchise Clements the tag figure has dropped nearly $3 Million for corners this year. A franchise tag would cost the Bills a $5.89 Million amount this year on Clements.

Thomas Awaits Vote: Former Bill great Thurman Thomas is among the finalists for induction into the Pro Football Hall of Fame. He anxiously awaits tomorrow's announcement of the Class of 2006. It happens at 2pm after the 32 representatives get together and make their final selections. There is no doubt Thomas is a hall of famer and will be walking the hallowed halls in Canton Ohio one day. The question among some voters is if he deserves to go with the elite on his first time eligible. We will know tomorrow. Thomas knows it is out of his hands and said if it happens there will be some big party in Buffalo somewhere.


Wednesday February 1, 2006


Coaching Openings Remain: With the flurry of coaching activity the Bills have had the last two days there are only a couple of coaching staff openings remaining. There is still no QB coach on the staff although it is possible that Steve Fairchild will handle a dual role of offensive coordinator and QB coach. The team has also not made an official announcement on the Tight Ends coach situation. Mike Miller is still listed as the TE coach but when the team announed which coaches were staying from Mike Mularkey's staff his name wasn't mentioned. There also may be one or two other assistant positional coaches added as well. Right now there are only 12 coaches on Jauron's staff including Miller. Most teams have from 14-16 assistant coaches so the Bills probably aren't done hiring yet. Coaching Changes.


Tuesday January 31, 2006


Fewell Hiring Official: The Bills made it official early this evening, Perry Fewell is their new defensive coordinator. Fewell brings 21 years of coaching experience, eight of them in the NFL including one season with Dick Jauron in Jacksonville. Coaching Changes.

Bills Hire Two Defensive Coaches: The Bills made two coaching announcements this afternoon, but neither was the one everyone was expected. They have yet to officially announced that Perry Fewell will be the new defensive coordinator but they did officially add a defensive backs and a linebackers coach as Dick Jauron raided his former defensive staff in Detroit. George Catavolos is the new defensive backs coach. He held the same title in Detroit the past two years. He also spent two years in Washington in that role and was an assistant head coach and secondary coach for Indianapolis from 1998 - 2001. Johnny Holland is the new linebackers coach. He held the same title last year in Detroit and was a defensive assistant in 2003 and 2004 for the Lions. Before that he coached in Green Bay where he was a star linebacker in the late 80's and early 90's. He has also coached in St. Louis and has 11 years experience coaching in the NFL.

It Looks Like Ferrell: Various reports confirm that the Bills will hire Bears secondary coach Perry Fewell as their new defensive coordinator. He interviewed last week for the job and had worked with Dick Jauron in back in 1998 when they were both in Jacksonville. Jauron was the defensive coordinator with the Jaguars when they hired Fewell. He stayed in Jacksonville for three years before moving on to coach the Rams secondary in 2003 and 2004 before he followed Lovie Smith to Chicago last year. He had 13 years experience at the College level before coming to the NFL. He has never held a coordinator position. Jim Bates was reportedly offered the job last week but obviously wasn't that interested. He was the fan favorite for the job in a Bills Daily poll.

Bills Interview Cottrell: The defensive coordinator search continued yesterday as the Bills interviewed former defensive coordinator Ted Cottrell for the job. He was with the Bills for 10 years during the Marv Levy and Wade Phillips coaching regime. He has also served as the coordinator for the Jets and last year for the Vikings. The Bills are the only team not to have a defensive coordinator at this time. Who do you think they should hire? Take our poll on our homepage.


Monday January 30, 2006


Bills Add OL Coach: Shortly after announcing that Jim McNally was staying on as the offensive line coach, Dick Jauron gave him some help in shoring up the much maligned unit. Larry Zierlein was hired as assistant offensive line coach. He has four years NFL coaching experience and 35 years experience in all. He was out of football last year but coached the Browns offensive line from 2001-2004.

Bills Make Staff Moves: The Bills made some moves with the leftover members of Mike Mularkey's staff today. They officially announced that Jerry Gray, Sam Wyche, and Brad Roll will not be returning to the team. It was widely reported that Gray and Wyche were gone and it has been reported that Ralph Wilson wasn't happy with the conditioning of the team under Roll. The team then promoted John Allaire to Strength and Conditioning Coordinator. In other staff moves, the team promoted Bobby April to Assistant Head Coach. He will remain in charge of the special teams. Chuck Lester, who goes back to the Marv Levy coaching regime, has also been promoted. He will be an assistant to the head coach/defensive assistant. As expected the team is also keeping RB coach Eric Studesville, OL coach Jim McNally, and WR coach Tyke Tolbert. Front Office Page.

Two Ex-Coaches To KC: Herm Edwards has taken two coaches from Mike Mularkey's old staff and brought them to Kansas City. Don Blackmon will be the Linebackers coach and Tim Krumrie will coach the defensive line. These are the same positions they held in Buffalo.

Gray To Washington? The worst kept secret in the NFL is that Jerry Gray won't be back in Buffalo. The team still has him on their website as the defensive coordinator since he hasn't officially been let go by the team. It appears that time is approaching as reports say he will rejoin Gregg Williams in Washington as the defensive backs coach. Williams is the man that brought Gray to Buffalo with him when he was hired as the head coach in 2001.

Clements To Green Bay: Former Bills offensive coordinator Tom Clements has landed on his feet. He is the new QB coach for the Green Bay Packers. He was picked by new head coach Mike McCarthy.



---
News Archives index
Latest News Section
Archives Library
Back to Bills Daily Homepage