Bills Expected To Tag Clements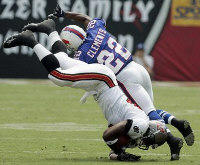 Bills Win Special Teams Title: The Bills as expected won the bragging rights for their Special Teams unit for the second year in a row. They won the according the elaborate Dallas Morning News points system. They are the first team to win it twice in a row since the paper started the rankings in the early 80s. The Bills finished with more points than they did in 2004 and 41.5 points ahead of the 2nd place Giants. They finished first in kickoff return average, fifth in punt return average, 4th in kick coverage, and first in net punting.
Friday February 17, 2006


Clements Expects Tag: Nate Clements was on Sirius NFL radio today and said he expects the Bills to tag him if they don't work out a long term deal before then. He figures they will tag him and get a long term deal done afterwards. He said he would like to stay in Buffalo and help get things turned around. On compensation, he says he's a fair man but he puts his numbers up against anybody and would like to be compensated for the way he has played over his career in Buffalo. He has spoken to Marv Levy and the GM made it known that he is a priority but serious negotiations haven't started since the Bills have been preoccupied with getting the organization set up. He has yet to speak to Dick Jauron but expects a conversation soon. On last season, he said the Eric Moulds situation was minor compared to everything that went on. He refused to be baited into an answer when Shannon Sharpe suggested Mike Mularkey quit on the team.


Thursday February 16, 2006


Iowa State Coach Added: The Iowa State Football program is reporting that the Bills have hired away one of their coaches. Outside LB coach DeMontie Cross is set to join the Bills staff a defensive and special teams assistant coach. There is still a main vacancy on the defensive coaching staff as a linebackers coach needs to be added.


Wednesday February 15, 2006


Bills Need LB Coach: As we reported on Monday the Bills were looking at USC secondary coach Rocky Seto to join the staff as the linebackers coach. He declined the job on Tuesday leaving a big hole in Dick Jauron's defensive coaching staff. This position was filled with Johnnie Holland but he left a few days later to take the same job in Houston.


Tuesday February 14, 2006


QB Situation To Be Decided: During their meeting with reporters, Dick Jauron and Marv Levy addressed the QB situation. Jauron said that he would like to have a starter by training camp but there is always a chance someone will beat out the penciled in player at the top of the depth chart. Levy also would not rule out bringing in another quarterback to challenge for the job.

Moulds May Stay: In his interview with reporters Marv Levy said he'd like to keep Eric Moulds and may look to restructure his deal. He hopes he can work something out so he can stay in Buffalo after an unsettled year last season. Dick Jauron said he's been an integral part of the team and is a high quality player that he sees a place for on the team.

Both Lines A Priority: Marv Levy confirmed what everyone knows, the interior of the defensive line and the offensive line are the priorities to rebuild the team. He said it is obvious that the offensive line needs to improve and that a key factor in bringing Mike Williams back will be if he is "intrinsically motivated".

Bills Want Clements: Marv Levy told the media yesterday that the team does want to keep Nate Clements and if they have to they may use the franchise tag. The one year cost of the tag on a cornerback is $5.89 million. That is down from $8.8 Million last year and makes it somewhat feasible. Levy would like to work out a long term deal but may need the tag to buy him time to do so. He said Dick Jauron is in agreement with him that Clements is a player they targeted to keep since winning starts with defense. This is a change from the previous regime that would rarely use a tag and didn't place an importance on keeping their own free agents. Levy said if they use the tag he is the player they would likely use it on. The team has until next Thursday to use the tag. Would you use it on Clements? Let us know by taking our poll on our homepage.


Monday February 13, 2006


Bills Add Three Coaches: Dick Jauron added three more coaches to his coaching staff today, two of them with previous ties to the Bills. As expected he hired Charlie Coiner to coach the tight ends. He also then added Turk Schonert as QB coach and Alex Van Pelt stays with the organization as he will be the offensive quality control coach. Van Pelt was in the broadcast booth the past two years and had taken a job with the University of Buffalo as their QB coach before the Bills lured him back. He served as the QB coach for the Frankfurt Galaxy of NFL Europe last year. Schonert previously was the QB coach with the Bills from 1998-2000. He was the QB coach with the Saints this past year and has 10 years coaching experience. Coiner was the offensive quality control coach under Jauron for three seasons in Chicago. He most recently was the assistant special teams coach for the Bears.

Moorman Shines: Brian Moorman wasted little time in making an impact at the Pro Bowl yesterday. His first punt traveled 45 yards and was downed at the one yard line. He had his second punt downed at the 13. His third punt went 59 yards and had a whopping 64 net yards averaged. He finished with a 48.5 yard averaged on his four punts. Mike Schneck was perfect in his long snapping duties.

Seto Joining Bills? A report out of Los Angeles says the Bills are trying to hire USC secondary coach Rocky Seto. He has until Tuesday to give Dick Jauron an answer as to whether or not he will join his staff. No word on which position he will hold with the Bills. It could be the open linebacking coach position. Seto coached linebackers at USC before being moved to Secondary coach this year.



---
News Archives index
Latest News Section
Archives Library
Back to Bills Daily Homepage