Bills Franchise Clements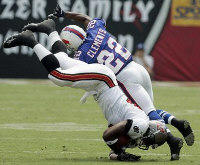 Moulds Likely Gone: It appears the career of Eric Moulds as a Bill will likely come to an end. His agent, Harry Henderson, told the Buffalo News that a pay cut to remain on the team isn't an option. He said they inted on staying and playing out the contract signed last year. If the Bills don't want him to do that then they can't control that. The Bills can't afford to keep Moulds with that contract as it would cost $10.85 Million against the salary cap. If he is released they would save $5.5 Million of that figure. How do you think the Moulds situation should be worked out? Take our poll on our homepage.
Saturday February 25, 2006


Cap Page Launched! Bills Daily has launched the 2006 version of our salary cap page. It consists of the top players and their cap figures along with the hit figures if they are released. Looking at the page the biggest name on it is Eric Moulds. It would cost the team $5.3 Million in dead money if he's released but they would save over $5.5 Million in the cap if he was cut. Two other players that represent big time savings if released opposed to a lot of dead money are Sam Adams and Jeff Posey. Salary Cap Page.


Friday February 24, 2006


Moulds Future Uncertain: The future of Eric Moulds remains uncertain at this point after the Bills cut loose their other big time potential cap casualty yesterday. His agent told AP that he has yet to talk to the Bills about a contract restructuring or pay cut. He emphasized that Moulds would like to finish his career in Buffalo but any contract changes needs to make sense from both sides. Marv Levy has said he would like to keep Moulds as a Bill.


Thursday February 23, 2006


Bills Release Williams: The Bills announced late this afternoon that they have released OL Mike Williams. This comes as no surprise except that it happened so early in the offseason. Williams was a bust since he was taken fourth overall in the 2002 draft. The release of Williams saves $4.9 Million on the salary cap. He will still count $5.9 Million in "dead" money for the ammoritized portion of his signing bonus left in his contract that was due to expire in 2007. In a statement Marv Levy thanked him for his service and wished him well in his future.

Agent Knew It Was Coming: Todd France, the agent for Nate Clements told AP that he isn't surprised that his client was given the franchise tag. He said they are exploring their options and he hopes to talk to Bills management at the combine over the next week. There is a bit of a time crunch to get a long term deal done. If they don't reach an agreement by March 17th then the team can't sign him to a long term deal until July 15th. If they reach a deal between the two dates then the Bills lose the use of the franchise tag for the life of the contract. This is not an option. If a deal isn't reached by St. Patrick's Day they will most definitely wait until just before training camp to get a deal done. In the meantime, they would hope Clements signs the franchise tender of $5.89 Million, which he may or may not do. It seems unlikely that a long term deal could be reached in the next three weeks since both sides are probably far apart on what they think fair compensation should be. Do you think a long term deal will be worked out? If so, when? Take our poll on our homepage.


Wednesday February 22, 2006


Bills Franchise Clements: The Bills didn't wait until tomorrow's 4pm deadline, they announced today that they have slapped the franchise tag on Nate Clements. The team is optimistic they will be able to work out a long term deal in the near future. In making the announcement Marv Levy said that they feel Nate is a valuable player who will play an important role in re-establishing the defense. The tag amount is $5.9 Million that will come off the Bills salary cap immediately until a long term deal can be worked out.

Bills Officially Add Cross: The Bills officially added DeMontie Cross as a defensive and special teams assistant. It was reported last week that he would join the team after he left Iowa State where he was the linebackers coach.


Tuesday February 21, 2006


Bills Hire LB Coach: The Bills have finally filled their vacant linebacker coach spot. The team announced today that they have hired Matt Sheldon to coach the position. He is another coach from the Rams staff. He was a special assistant with the team and was with them from 2001 to 2005. That is his only pro experience. The job became vacant after Johnnie Holland left the team after a week to join the Texans staff.


Monday February 20, 2006


Clements Tagged? An unsubstantiated report in the NY Post says the Bills will use the franchise tag on Nate Clements and let Trey Teague and Josh Reed leave in free agency. There is no inside sources to this report although all three scenarios will likely happen. The Bills have made it clear they will tag Clements by Thursday's deadline if a long term deal can't be reached by then which is unlikely. Teague and Reed will likely be allowed to test the market to see their value before the Bills even think about bringing one or both back.

Setta Assigned: NFL Europe has assigned their kickers and Bills kicker Nick Setta is heading to Cologne to play for the Centurions. He joins seven other Bills in Europe including QB Tory Woodbury in Cologne.



---
News Archives index
Latest News Section
Archives Library
Back to Bills Daily Homepage