Training Camp Gets Underway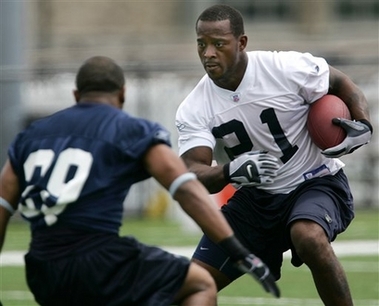 Nall Out Indefinitely: And then there were two. The Bills QB situation got a bit clearer today when it was learned that Craig Nall will be out indefinitely with the hamstring injury he suffered in practice yesterday. Coach Jauron said it isn't a minor injury because he will miss time they will just have to take it day by day.

McCargo Fine: The Bills say John McCargo is fine after his trip to the hospital last night. It was learned he went for dehydration and is ok now. He will not miss any practice time. Injury Page.

McCargo Goes To Hospital: WHAM-TV in Rochester is reporting that last night John McCargo was taken to the hospital as a precaution. The reason for his ambulance trip was unknown. He is expected back with the team in time for today's closed practice session.

Closed Walk Through Today: The Bills have a closed practice today that amounts to a little more than just a walk through. They will be in pads for the first time this camp when they hit the practice fields tomorrow.


Saturday July 29, 2006


Nall Injured: Quarterback Craig Nall was injured in Saturday's second practice session and was being attended to after injuring his left hamstring. The extent of his injury is not known at this time. If the injury is serious it could reduce the starting quarterback competition to two signal callers J.P. Losman and Kelly Holcomb. Injury Page.

Youboty Tweaks Hamstring: Ashton Youboty tweaked a hamstring in the morning workout today. He missed some time on the field during 7-on-7 and 11-on-11 drills. Takeo Spikes did take part in some 7-on-7 drills this morning for the first time. He also took part in individual drills again but not 11-on-11 drills.

No Pads: After not practicing in pads yesterday the team hit the field for the morning session today without pads again today and aren't expected to be in pads in the afternoon as well. They will go to pads for the one workout on Monday. There were clear skies for the morning workout as the rain ended yesterday in time for the afternoon session. All eyes remain on the QB battle and it is still very close according to all reports.

Whitner Close? Marv Levy made it sound like yesterday that the team was close to a deal with top pick Donte Whitner. Today's workouts began without him in camp and no word yet on if the two sides are about to make a deal.


Friday July 28, 2006


Rain Not Ideal: Dick Jauron addressed the media in the rain today and said while it wasn't ideal to have that kind of weather for the first practice it is a good way to start since they will play in those conditions during the season. The quarterbacks all threw good and bad balls according to Jauron but it was hard on them because the balls were really heavy from the rain.

McCargo Signing Official: John McCargo officially signed his contract at 1:30 this afternoon and took part in the afternoon workout. He missed only one practice of training camp. He said he was anxious to get the deal done and excited to be in camp.

McCargo Agrees: Reports say that the Bills have reached an agreement with the second of their two first round draft picks as John McCargo agreed to terms. That leaves the ninth overall pick in the draft, Donte Whitner as the lone holdout. McCargo missed the morning practice session today but is expected in camp in time to participate in this afternoon's workout. He was in Rochester in anticipation of a deal. ESPN.com is reporting that it is a five year deal worth more than $8 Million with $5.2 Million in guaranteed money.

Crowell In; Posey Out: It appears that Angelo Crowell will remain in the team's starting lineup this year despite the return of Takeo Spikes. Crowell to reps with the first team at strongside linebacker in place of Jeff Posey. Dick Jauron said that is the plan right now but it is there in pencil and still subject to change. Spikes took back his natural spot on the weakside and practiced in individual drills. WGR reports the team wanted him to participate in the team drills but the rainy weather scrapped that plan. Mario Haggan took the first team drills on the weakside when Spikes was out. Depth Chart.

Camp Opens Today: Training camp opens today with two practices (details on our homepage). The team will be without their two first round picks as neither has signed yet. Marv Levy doesn't anticipate that either player will be signed in time to hit the practice field. He did say that progress is being made and he doesn't understand why early round picks wait so long to get things done. The agent for John McCargo said the two sides are close to a deal and McCargo is in Rochester waiting for a deal to get done. The agent for Donte Whitner declined comment to AP.


Thursday July 27, 2006


Spikes Anxious: Takeo Spikes is anxious to get back on the field but they will still be smart how much work he'll get. He plans on being in pads with his teammates when they take the field tomorrow but did say he may not play much, if at all, in the preseason. He doesn't see any problems in being ready for the season opener. He said he has his flexibility and mobility back. He said he will not call this a rebuilding project but a reloading one.

Bills Sign Youboty: Ashton Youboty agreed to a contract with the Bills today leaving only the two first round picks unsigned on the eve of training camp. Youboty was the Bills third round pick this year and is expected to challenge for the nickel spot at cornerback. The deal is reportedly for four years and worth approximately $2.5 Million.

Players To Report: Players will report to training camp today at St. John Fisher College in Pittsford, NY. The team still needs to come to terms with their top three draft picks but Marv Levy told WGR radio yesterday he is optimistic that will get done before the first practice tomorrow. Their are only 2 two-a-days this camp, the lowest of any team in the league. They are on the first two days of camp, tomorrow and Saturday. We have the upcoming camp schedule on our homepage and will continue to have complete coverage throughout camp.


Wednesday July 26, 2006


QB Decision Likely Early: Marv Levy was on the Howard Simon show on WGR-AM radio. He said that the Bills will likely make a decision on the starting quarterback early enough to make the team successful. He feels it will work itself out but it is an unanswered question at this time. He admits it is vital to get it answered. When do you think the Bills should pick a QB? Take our poll on our homepage.


Monday July 24, 2006


Merz, Butler Sign: The Bills announced four draft pick signings today. They made the signing of 4th round pick Ko Simpson and 5th round pick Kyle Williams official. They also announced that fellow fifth round pick Brad Butler also signed along with their final pick, Aaron Merz. That leaves just the top three picks unsigned as training camp gets set to start on Friday.


Sunday July 23, 2006


Bills Sign Two More Picks: As training camp is now less than a week away, the Bills continue to sign their draft picks. The Buffalo News is reporting that they reached agreements with two picks this weekend. 4th round pick Ko Simpson signed a four year deal with a $465,000 signing bonus. 5th round pick Kyle Williams also signed a four year deal, his bonus was $193,000. That leaves five picks unsigned including the top three picks and their second fifth rounder along with their final pick in the draft.


Friday July 21, 2006


Aug. 16th Tickets Availability: The Bills announced today that the tickets to a seventh night practice on August 16th will be available to the public on August 1st. Unlike tickets to six other night practices, these tickets will ba available only at three Rochester Verizon Wireless locations. The night practice begins at 7pm.


Wednesday July 19, 2006


Practice Tickets Available: Tickets for three of the Bills eight night practices during training camp are now available on The Bills Official Website or ticketmaster.com. The dates for the 7pm workouts are Thursday August 3rd, Tuesday August 8th, and Thursday August 10th. Three other night practice sessions will have tickets available in two weeks. Tickets are free but there is a $1.75 per order printing fee.


Monday July 17, 2006


Bills Sign 6th Round Pick: The Bills have signed their second draft choice as they get ready for the start of training camp in less than two weeks. 6th round pick Keith Ellison agreed to a deal terms were not disclosed. The Bills signed one of their two 7th round picks, Terrence Pennington last week.

Single Seats Left: Two days after the Bills opened up ticket sales for individual games to the general public the first four games are selling well. The games against the Jets (9/24), Minnesota (10/1), New England (10/22), and Green Bay (11/5) are down to single seats according to ticketmaster.com. The final four games have good tickets available still. The team may release more tickets to the first four games during the preseason. They typically hold back a block of tickets for potential season ticket sales.



---
News Archives index
Latest News Section
Archives Library
Back to Bills Daily Homepage