Reed Wall Date Announced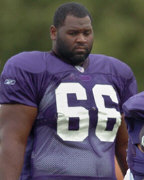 Training Camp Schedule Set: The Bills announced their training camp schedule yesterday. Camp will begin at St. John Fisher College in Pittsford NY on July 28th. The team will have a record eight night practice sessions on August 1, 3, 8, 10, 14, 16, 21 and 23. It is unknown at this time if all those night practices will be open to the public. Dick Jauron feels the night workouts will be good because of the atmosphere and the extra rest the players will get. It will also help that they don't practice in the midday heat. It will also give more fans a chance to attend camp.
Friday June 9, 2006
Anderson Among Three Waived: After adding three new players this week the Bills waived three today, the biggest name of the group was Bennie Anderson. He started at left guard last year but was a no show at much of the team's voluntary OTAs. This leaves the starting job open for free agent signee Tutan Reyes. Also let go today were LB Greg Carothers and DE Matthew Rice. Carothers became expendable when the team traded for Courtney Watson this week. The signing earlier in the week of Joshua Cooper made Rice a target for release. Depth Chart.
OTA Wraps: The Bills finished up their last week of voluntary organized team activities yesterday. They have a mandatory minicamp next week from Monday through Wednesday after that the players will be off until the start of training camp in late July. Three players failed to finish yesterday's workout. LaShaun Ward, Eric Powell, and Angelo Crowell all were banged up and left the field early. Crowell at least appeared to be ok. Jim Leonhard returned to practice for the first time in nearly a month as he is recovered from a hamstring injury. Not in attendance for the workout on Thursday included Willis McGahee, London Fletcher, Aaron Schobel, Nate Clements, Chris Villarrial, Bennie Anderson, and Troy Vincent. Injury Page.
Thursday June 8, 2006
Watson Happy To Be Wanted: The newest Bill, Courtney Watson said he's happy to be somewhere he's wanted. He hopes to take advantage of the opportunity he has been given with a great franchise and football city. Marv Levy said it was the right move to make since he has some redeeming qualities and the team felt it needed to add depth at the middle linebacker position. The GM sees promise in him as he hopes to develop him more behind starter London Fletcher.
Wednesday June 7, 2006
Bills Trade Euhus: The Bills made another move yesterday trading TE Tim Euhus to the New Orleans Saints for LB Courtney Watson. Euhus didn't fit into the Bills plans anymore with the emergence of Brad Cieslak. The former fourth round draft pick never overcame injuries during his career in Buffalo. Watson was a 2nd round draft pick of the Saints in 2004 and played in nine games last year for them. He recorded 37 tackles and one sack. He does have a black mark on his record as he was arrested on a drunken driving charge in October. A sprained knee cost him the last seven games of the season last year.
Tuesday June 6, 2006
Bills Add DE: The Bills announced another signing today adding DE Joshua Cooper who played both end positions for the NFL Europe World Bowl Champion Frankfurt Galaxy. He had 26 tackles adn two sacks along with a forced fumble over in Europe this year. He split time between the San Francisco 49ers practice squad and active roster in 2004.
Monday June 5, 2006
Bills Add QB: The Bills have added another quarterback as they have claimed Kliff Kingsbury off of waivers from the Jets. He is the sixth QB on the roster but the two quarterbacks that went to Europe, Tory Woodbury and Craig Ochs are currently injured. That leaves Kingsbury as the fourth arm for training camp. He did throw two passes for the Jets last year after they were devastated by injuries at the quarterback position. He has mostly been a career number three QB. Depth Chart.
2nd OTA Week Wraps: The Bills wrapped up week two of their organized team activities on Friday. They will have four more voluntary days this week starting tomorrow. As we reported last week more veterans were in attendance. Willis McGahee remains the lone player not to attend any of the OTAs. Others not in attendance included London Fletcher, Chris Villarrial, Nate Clements, and Jason Peters. Troy Vincent particpated for the first time this offseason. He was recovering from shoulder surgery and is full go now. The team has a mandatory minicamp next week.
OL Signed? Reports say the Bills have added another offensive lineman. South Dakota State University's Paul Keizer signed a deal with the team. He earned second team all-Great West Football Conference honors last year. He is a converted tight end but the team is expected to look at him at guard.
---
News Archives index
Latest News Section
Archives Library
Back to Bills Daily Homepage