Bills Hold Final Minicamp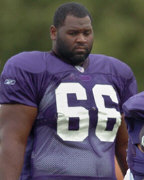 Camp Ends: The Bills wrapped up their three day mandatory minicamp today. Every player was in attendance except for Mario Haggan and Eric King. They were excused from the camp with personal reasons. Haggan had a friend die and King had the birth of his child. Dick Jauron says he has some thoughts on the QB battle but it is still close and all three will get a shot at the job at training camp. The Bills had hoped to at least have it narrowed down before then. The players now have six weeks off but are expected to keep studying the playbook and keep up their conditioning.

Anderson Signs: Bennie Anderson wasn't out of work long, he has signed with the division rival Miami Dolphins. He signed a two year deal and was hotly pursued after his release. Green Bay wanted him as well.


Tuesday June 13, 2006


Fletcher Returns: In a surprising scene, London Fletcher was on the field for today's minicamp session. Fletcher was being given all the time he needed to mourn the loss of his mother last week. Her funeral was yesterday and many players joined Fletcher for the service. It has been a roller coaster ride for London, he was also married this past weekend. Fletcher said returning to the field was a way to get back to a sense of normalcy.


Monday June 12, 2006


Veterans Excused: The Bills have completed day one of the three day minicamp. Lee Evans, London Fletcher, Troy Vincent, Takeo Spikes and Jeff Posey were excused from the session for a very unfortunate reason. They all attended the funeral of Fletcher's Mother. All the players with the exception of Fletcher are expected back tomorrow. Dick Jauron said he will give Fletcher all the time he needs to grieve. The only other player missing was 6th round pick Keith Ellison who is not eligible to be there since Oregon State has yet to finish final exams. The two Ohio State rookies made their first appearance in Buffalo since the rookie minicamp as they finished their final exams.

McGahee Back: Willis McGahee is back in Buffalo for the first time in a while. He told reporters he has been working out hard in Miami with other alumni from "The U". He has been doing a lot of running and lifting weights. He is leaner and lighter and plans to shed more pounds before training camp. He was criticized for being to heavy last year. He looks to hit holes quicker this year instead of plowing through them.

Minicamp Begins: The Bills begin their second mandatory minicamp today. It will run through Wednesday and all players are required to attend. That means Willis McGahee should be in Western New York for the first time in a couple of months.

Fletcher Gets New Agent: In anticipation of impending free agency, London Fletcher has switched agents. He has brought in heavyweight agent Drew Rosenhaus. Fletcher feels he has earned a contract extension from the Bills and would like to stay in Buffalo. Rosenhaus says he has a good relationship with the organization and they are talking about an extension. Fletcher is due to become an unrestricted free agent after this season.



---
News Archives index
Latest News Section
Archives Library
Back to Bills Daily Homepage