Bills Hold Rookie Minicamp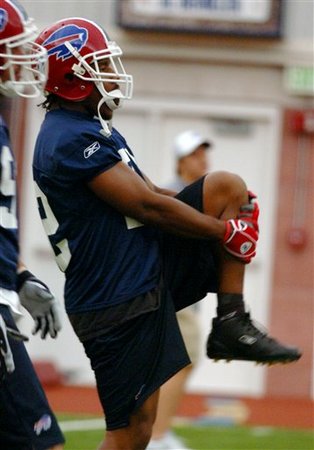 Leonhard Injures Hamstring: The Bills suffered their first injury of the minicamp. Jim Leonhard pulled a hamstring during the second of two workouts today. Not participating in practice today were Roscoe Parrish and Greg Jerman. On a positive note, Kevin Everett is back practicing. Not in attendance at camp are Willis McGahee, Peerless Price, London Fletcher, Troy Vincent and Bennie Anderson. The camp is voluntary for veterans but mandatory for rookies.

Spikes Looking Good: By all accounts Takeo Spikes looks real good at minicamp. Of course he's not practicing at this time but he's doing some light running on the side and looks ahead of schedule in recovering from his Achilles Tendon injury. He said physically he's ready, it's all mental now. He needs to get on the field and not have to think about the injury. He hopes to hit the field when training camp begins. Injury Page


Saturday May 6, 2006


Learning Defense Important To Clements: Nate Clements cut short a trip to Orlando to return to Buffalo and sign his one year tender worth $7.2 Million. He said he had to get the business side taken care of but knew it was important to get to Buffalo in time for minicamp and learn the system. It is unknown if the two sides will work on a long term deal or not. Reports says the Bills have agreed not to franchise Clements again which means he will leave after this season if a long term deal isn't worked out. Clements did say yesterday he wants to finish his career in Buffalo and would be open to a long term deal but he doesn't control the numbers. Clements said he had mixed feelings when he was tagged but he now takes it as a compliment. Marv Levy said he's glad Clements is in the fold and Dick Jauron said he was pleasantly surprised to see Clements. Do you think Clements will be in Buffalo beyond this year? Take our poll on our homepage and let us know.

Opening Day Was Great: Dick Jauron talked to the media after the opening practice of minicamp yesterday. He called it a really good day for everyone. They had a walk through in the morning so it wouldn't be a total surprise when they did stuff at full speed. They stressed in meetings that everyone needs to put in all the time necessary to succeed and most of the veterans have been in town for the offseason program. Takeo Spikes was in attendance but Willis McGahee was not. Jauron would like to have him at the camp but he realizes it's voluntary and is focusing on the great turnout they do have. The coach expects the camp to be difficult for the rookies, their heads will be swimming when they leave. They do have an advantage of learning from the veterans. None of the rookies lined up in starting assignments yesterday in camp. They did advance some from the first minicamp. There are two practices today and one tomorrow before the mini camp closes. The QBs shared the rotation evenly on the first day of camp.


Friday May 5, 2006


Clements Signs Tender: Nate Clements officially signed his franchise tender meaning his bound to the Bills for this coming season but can once again become an unrestricted free agent after this season. He is scheduled to take part in this weekend's minicamp that began today. The Bills are expected to begin more extensive negotiations on a long term deal for Clements shortly. They need to sign one before July 15th in order to keep the franchise tag.

Bills Sign 8: The Bills released their official list of undrafted free agent signings. This year they only signed eight as their roster was near full after the draft thanks to their activity in free agency. The only difference from our unofficial list of eight was the addition of CB Eric Bassey from Oklahoma. He replaces safety Steve Paris who apparently did not sign with the Bills.

Rookie Cap Set: The Bills rookie salary cap has been set at $5,366,937 for this year. That means all rookie base salaries and amortized portion of signing bonuses need to come under that figure. This figure is included in the $102 Million overall salary cap.

Minicamp Begins: The rookies have all settled in, filled out their paperwork, had their introductory meeting, and the top picks have met the media. Now is the time to hit the field. The three day minicamp gets underway today and we get the first look at the rookies and another look at the QB competition as well as other position battles.


Thursday May 4, 2006


Whitner Not Nervous: The Bills introduced their top pick, Donte Whitner to the media today as the rookies gathered for the first time at One Bills Drive. Whitner has been working out and has got a lot of phone calls since being drafted #8 overall in the draft. He has been looking at houses in the area knowing he will be there for the next four, five, six years or longer. He likes how he can go through this with fellow Buckeye Ashton Youboty. Whitner says he's ready to play football since he hasn't hit the field since January. He's not nervous he just wants to learn the defense. He does expect it to be a little faster at the pro level. He was a bit surprised going at #8 but he thought he'd go around #11 to #13. He thinks St. Louis may have taken him at 11 but Baltimore definitely would have taken him at 13. He feels he wasn't expected to go that early because he's not often spotlighted on film or ESPN after this year they will see if he's a reach or not. He doesn't have an urge to play right away he needs to learn what to do first and then he'll be able to show people what he can do on the football field. He feels playing at the level of Ohio State makes him more mentally prepared to play at this level.

McCargo Confident In His Skills: The Bills introduced their second first round pick, John McCargo to the media today as the rookies gathered for the first time at One Bills Drive. He said he's confident in what he can do and the fact that people think the Bills reached to get him is motivation to help the team win. He knows he has a lot of learning to do and feels he can get a little bit bigger. McCargo thinks he's a good fit for the defense since he can get up the field quickly. Playing with two great defensive line mates at NC State didn't make him feel overshadowed. Playing in the pros is a big step and it will be challenging at first picking up things but it is nothing he can't handle.

Youboty Anxious To Get Started: The Bills introduced their third pick, Ashton Youboty to the media today as the rookies gathered for the first time at One Bills Drive. He is looking forward to his first practice and he is anxious to prove to the coaches that they made a good choice in picking him. He has been part of a great defense for the past three years at Ohio State and being with a defensive minded coach now will help them get back into the top 5 defenses in the league and make him a better player. He has room to improve and they have given him things to work on. He looks forward to living up to the reputation of Ohio State corners. Practicing against top notch receivers at Ohio State like Michael Jenkins and playing against Braylon Edwards has helped him get ready for the pros. Troy Vincent has already talked to him and given him pointers and he looks forward to working with everyone and helping himself improve while pushing other players.

Rookie Orientation Today: The Bills will begin their rookie orientation camp today as the drafted players and undrafted free agents arrive in town to deal with paperwork and have meetings today. The three day mini camp begins tomorrow. The team has yet to announce the official list of undrafted free agent signings but we have a partial list.


Wednesday May 3, 2006


Bills Add WR: The Bills still haven't released a list of undrafted free agent signings. A report says the Bills have added WR Chris Denney of Nebraska-Omaha and S Steve Paris of Iowa State. If the reports we have are true, our unofficial list has seven names on it that the Bills have reportedly signed.


Tuesday May 2, 2006


List Not Official Yet: The Bills have yet to release a list of undrafted free agent signings. As we reported yesterday, we have an unofficial list of five names that the Bills have reportedly signed. The club should release a full list sometime today.


Monday May 1, 2006


Bills Add Two More: Two more names of undrafted free agents the Bills have signed have leaked out. Missouri linebacker Derrick Ming will get a look at fullback for the Bills. The Bills feel he's a perfect fit for the offense. Saginaw Valley St. Linebacker John DiGiorgio is also expected to sign with the team and be in town for the minicamps. He's a solid special teams player.

Holes Filled: It was a very interesting draft for the Bills and while it looks like they took the right men to fill the right holes, how they went about doing it was strange. They could have added picks but they lost picks. They didn't seem to get a good feel for where people were going, but the bottom line is nobody will remember that three years from now. What they will remember is how successful or unsuccessful the class of 2006 will be on the field and filling some major needs, especially on the defensive side of the ball. Complete Story

Undrafted Reports Begin: Today and tomorrow the Bills will finish filling out their 80 man roster by signing undrafted free agents. A few of these players will step up in training camp and make the team. News has already begun to leak about players that are coming to Buffalo. The first is Rutgers defensive end/long snapper Ryan Neill is expected to join the team. He had 21½ tackles for loss last year to go along with 10 sacks. Other reports says the Bills have signed WR Martin Nance from Miami OH and DE Jason Hall from Tennessee.

Draft Recap: The Bills seemed to fill a lot of holes in the draft but they didn't go about it wisely. They lost a draft pick in a trade up for a player they could have had later by all accounts. They didn't trade down and reached for their first pick. They could have picked up a pick instead of lost one. That being said, they took high character, undersized, quick players to fit their new defensive scheme with six of their picks. The other three late picks went to the offensive line. This was too late to deal with a glaring need. That brought our grade down to a D. What do you think? Take our poll on our homepage. Also check out our draft page for our complete reasons for our grade and for our exclusive draft capsules for each player. Draft Page

Everyone Had A Lot Of Input: GM Marv Levy told the media that it wasn't his draft, everyone had input. There was a heavy reliance on the knowledge and leadership of Tom Modrak. They didn't agree on everything but they always came to a consensus. Picking three offensive linemen on day two were a result of taking many defensive players early in the draft. Some players were rated closely on both sides of the ball but they decided to fill the needs of the offense with the later picks. The Bills picked juniors with their first four pick, he said they may have learned more by staying in college another year but it did not infringe on taking them. The GM acknowledges that offensive linemen come along more slowly than other positions and the players drafted will take some time to develop. On the move up to get John McCargo, there was a big drop off as terms of grades after McCargo to the next best defensive tackle. Levy's first hunch was that McCargo would be there in round 2 but they didn't want to take the risk he would be gone because they wouldn't have filled a great need if that happened. When the Bills took Ashton Youboty in the third round they almost took Kyle Williams there because they really wanted him. They ended up getting Williams 64 spots later in round 5. He feels they got the ingredients in the draft now they have to bake the cake. The Big part of building a defense is building the middle of it and that is what the Bills did by taking two defensive tackles and two safeties.

Everyone Pleased With Draft: Dick Jauron thought the scouts led by Tom Modrak did a tremendous job in preparation and execution of the draft. They are very pleased with who they got in the draft like all teams are after the fact, nobody feels they have had a bad draft since they only draft guys that they like. They are looking forward to getting them in along with many veterans for the upcoming minicamp this weekend. They won't know for a while the success of the draft class as some of the players will develop down the line. Jauron didn't feel that they were a need based drafting team. Only in a tie does need win out but they clearly did fill needs on the defensive side of the ball. The players they picked fit the style of the new defense more than some of the aging veterans that were released. They type of player on defense they picked were smaller, quicker players. Drafting three defensive backs was necessary because the game has changed with teams spreading the field with five receivers at times.



---
News Archives index
Latest News Section
Archives Library
Back to Bills Daily Homepage