Bills Break Three Game Losing Streak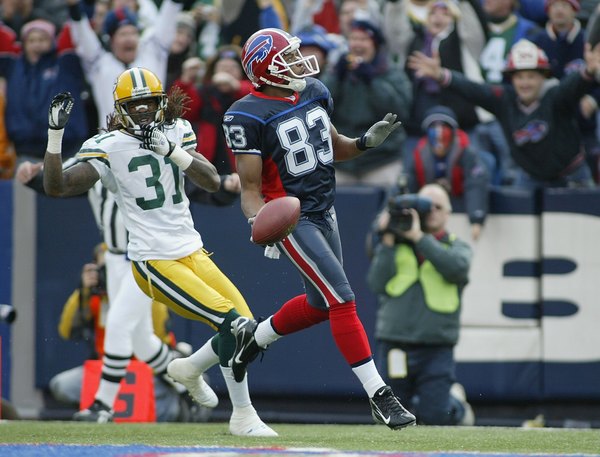 Defense Dominates: It was a solid win for the Bills against the Packers today but not perfect. The offense struggled mightily but the defense and special teams had perhaps their best game of the season and it is reflected in our positon by position grades. Gameday Grades.

Bills Win 24-10: Brett Favre threw two interceptions and lost two fumbles as the Bills were able to capitalize enough on the turnovers to defeat the Packers 24-10 at Ralph Wilson Stadium. Willis McGahee left the game early with a rib injury but Anthony Thomas rushed for 95 yards and the final touchdown. The defense shined on this day, London Fletcher returned an interception for a score and Ko Simpson picked off a pass in the end zone and returned it 76 yards to setup Thomas' score. Lee Evans broke a 10-10 tie in the fourth quarter with a 43 yard touchdown grab. Game Review.

McGahee, Reed Hurt In Win: Willis McGahee suffered what appeared to be a fairly serious rib injury in the first quarter of the win. He was carted back to the locker room after being helped off the field and did not return. Josh Reed suffered a kidney injury and was reportedly taken to the hospital in an ambulance. Kiwaukee Thomas was banged up late in the game but appeared to be ok. Injury Page.


Saturday November 4, 2006


Denney, Reyes Practice: Ryan Denney practiced fully for a second straight day on Friday and it appears likely he will play against Green Bay. Tutan Reyes returned to practice on Friday and should be ready to go as well. Sam Aiken was limited once again and may not play as he will be a gametime decision. Injury Report.


Friday November 3, 2006


Denney Practices Fully: Ryan Denney practiced fully yesterday and it appears like he may be ready to go on Sunday. Tutan Reyes and Sam Aiken both practiced on a limited basis. All three remain listed as questionable and Coach Jauron said they will be gametime decisions. Injury Report.


Thursday November 2, 2006


Game Soldout: The Bills will announce today that Sunday's game will be the 27th sellout in the last 28 home games but the streak may end there. The final four home games will be tough to sellout partly because there are an unusually high number of late season home games and partly because the team is floundering. There are 7,500 seats left for the Jacksonville and Miami home games, proving that the Dolphins rivalry isn't what it once was. There are 10,000 seats left for the San Diego game and more than that for the Tennessee home finale on Christmas Eve day.

7 Years Of Futility: Have you wondered why the Bills have been stuck in a rut of bad play over the most part of the past seven years? Tony Bogyo takes a look back at the main personnel moves over that time and shows why the team has not made the playoffs since the 1999 season. Complete Story.


Wednesday November 1, 2006


Three Questionable: The Bills have three players listed as questionable for this week's game against Green Bay. Tutan Reyes, Sam Aiken, and Ryan Denney are on the official report for the Bills. They all participated in practice today with Denney doing a bit more then the other two according to Dick Jauron. For the first time all year Matt Bowen isn't on the report, neither are Ryan Neufeld and Jabari Greer who were banged up entering this week. The Packers are more banged up and will be without RB Vernand Morency and may be without FB Brandon Miree and CB Charles Woodson. Injury Report.

Stadium Improvement Plans: Last spring New York Governor George Pataki pledged $20 Million in state funds to improve Ralph Wilson Stadium. The Bills have unveiled what they plan to do with the money if it gets through the legislature. They will move the press box to a corner end zone, it will replace the Red Zone club that has seen sagging ticket sales since it was constructed. They will then put premium seating in the old press box area which sits in the middle level along the sidelines. No decision has been made on what type of premium seating it will be. The teamn also is expected $5.45 Million from Erie County over the next two years as part of their capital improvements agreement under the lease agreement. That money will go to replace the aging video scoreboard in time for next season and the two sideline message boards for 2008. The big improvements are expected to also be done for the 2008 season.


Tuesday October 31, 2006


Sunday's Game Winnable: The Bills come back from the bye week with a battle against the Packers. Green Bay has won two straight games but this is a winnable game for Buffalo and they really need a win. That doesn't mean they will win the game since nothing is a sure thing with this team. They need to be able to move the ball and stop the foolish errors to come away with the win. Game Preview.


Monday October 30, 2006


Reed Makes It To Practice: Updating a previous report on Josh Reed. He did make it to practice and participated despite being delayed by a late flight. It was previously reported that he did not make it back in time to practice with the team.

Neufeld, Aiken, Denney Miss Practice: The Bills are back on the practice field today after a three day weekend. Ryan Denney, Ryan Neufeld, and Sam Aiken missed practice due to lingering injuries. Denny had a hamstring and groin injury. Nuefeld has a heel injury and Aiken also has a hamstring problem. Jabari Greer, Roscoe Parrish, and Tutan Reyes returned to practice after missing some time last week. Matt Bowen continues to practice and said he's back at full health and ready to play. Injury Page.



---
News Archives index
Latest News Section
Archives Library
Back to Bills Daily Homepage