Bills Get Upset Win In Miami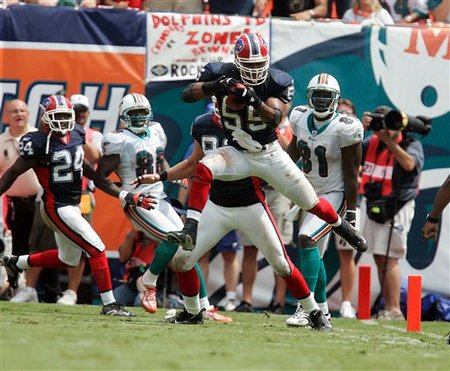 Defense Shines In Win: It was a beautiful victory that saw the special teams come up with some big plays while the offense didn't make any mistakes. It was the second straight game without a turnover. The star unit was the defense however. Perry Fewell's crew took it to Mike Mularkey as they dominated the game with seven sacks and a shutout for the first 58 minutes. That effort is featured in our position by position grades. Gameday Grades.

Bills Shock Dolphins: The Bills went in to Miami shutdown former head coach Mike Mularkey's offense on their way to a 16-6 upset win against the division rivals. The Bills led 3-0 at the half and 16-0 in the final minutes. The defense got seven sacks including three by Bills Daily player of the game Ryan Denney. They also had an interception by Angelo Crowell and a crucial two point conversion breakup by Donte Whitner. Miami fumbled twice in the game. The Bills didn't do too much offensively but didn't have to. Willis McGahee had a solid performance in his hometown gaining 91 yards on 25 carries. Rian Lindell hit all three of his field goal attempts while J.P. Losman hit Josh Reed for the Bills lone touchdown. Game Review.

Villarrial Banged Up: Takeo Spikes and Matt Bowen did not play as we reported before the game. Terrence McGee came out for a few plays after getting banged up with what may have been a stinger. He came back and played the rest of the way. Chris Villarrial came off limping in the third quarter but did return. Duke Preston replaced him while he was out. Injury Page.

Spikes Will Not Play: As expected Takeo Spikes will not play today because of his hamstring injury. He was a gametime decision and the team decided to make him inactive. Also inactive is Matt Bowen as he continues to struggle with a lower leg injury. The other five inactives are all healthy, they are: Shaud Williams, Ashton Youboty, Brad Butler, Aaron Merz and Eric Powell. Angelo Crowell will slide over to Spike's strongside spot while rookie Keith Ellison starts in Crowell's weakside spot.

Heat Will Be A Factor: As you would expect in South Florida in mid-September, heat will be a major factor in today's game. The high temperature will be 88° with a slight chance of a thunderstorm. Wind will not be a factor. Thanks to the humidity it will feel like 93°.


Saturday September 16, 2006


Spikes Likely Not Playing: Takeo Spikes missed practice once again yesterday increasing the likelihood that he will not play tomorrow against Miami. There is a better chance that he will play in the home opener against the Jets next Sunday. Spikes has had some good workouts on the side the last few days with trainer Bud Carpenter. Jauron said he will take the decision on Spikes right up to gametime. The Dolphins are doing the same with CB Travis Daniels who has taken part in limited practices this week. He missed the opener with a sprained ankle. The Dolphins likely will be without mammoth DT Dan Wilkinson who missed practice all week while defending himself against a civil lawsuit. Injury Report.


Friday September 15, 2006


Matt Bowen and Takeo Spikes still appear to be gametime decisions for Sunday's game against Miami. Bowen is less likely to play than Spikes. Angelo Crowell will slide over to the strongside if Spikes can't go and Keith Ellison will start in Crowell's spot. Injury Report.


Thursday September 14, 2006


Spikes Misses Practice Again: Takeo Spikes did not practice again today increasing the likelihood that he won't play in Sunday's game. Dick Jauron was on Sirius NFL Radio today and he said he is being cautious with Spikes and said if there is any doubt he won't play. He officially calls it a game-time decision. Injury Report.

Spikes Upset: Takeo Spikes always shows his emotions on his sleeve and it was no different yesterday when he talked to the reporters about Troy Vincent. He called the move baffling and said it definitely spells that the team is in a rebuilding project. While he showed support for the rookies he said you can't beat the experience of Vincent and is shocked he was put on IR when it isn't a season ending injury. He goes on to say if you go by that logic than he should be put on IR with his hamstring injury.

Spikes Says He's Fine: Takeo Spikes told the media yesterday that he is fine and that his hamstring injury is a minor pull. He called himself day to day. He doesn't feel it will keep him out a long time but the only thing he can control is taking it day by day. He is listed as questionable on the injury report this week. Injury Report.

Vincent Hanging Around: Although players on injured reserve do not need to stay with the team, Troy Vincent is a consummate professional and will be hanging around to help the young safeties learn quicker. He called it part of his responsibility and quickly went into extra film sessions with Ko Simpson and Donte Whitner. He doesn't know if he'll travel with the team but will do whatever the coaches want. He doesn't know if he'll hang with the team the rest of the season but will be around for at least a few weeks.

Mularkey No Big Deal: To a man yesterday when questioned by the press, none of the offensive players said it was a big deal facing Mike Mularkey who is now the offensive coordinator of the Dolphins. The players seem to think he may help Miami since he knows the personnel but he doesn't know the completely different offense that they are running this year. Nobody showed any regrets or anger at Mularkey for suddenly resigning in January.


Wednesday September 13, 2006


Vincent A Team Player: Troy Vincent seemed to be ok with the move to place him on IR. He said at this point they don't really know how long he would be out anyway and they need to do what is best for a team that is in transition. He understands that they need to have healthy bodies on the field and it is the nature of the business. He did not appear frustrated when talking to reporters.

Leonhard Signed: The Bills moved quickly to replace the injured Troy Vincent on the roster. They have re-signed Jim Leonhard. The former undrafted free agent made the team last year and was one of the final cuts this offseason. Leonhard is expected to be back on the practice field with the Bills tomorrow. Depth Chart.

Bowen, Spikes Do Not Practice: Matt Bowen and Takeo Spikes did not practice today as well as Troy Vincent who has been placed on injured reserve. Spikes did some light jogging but it appears unlikely he will play Sunday as well as Bowen. Spikes is officially listed as questionable. They are the only two Bills on the injury report. Injury Report.

Vincent Placed On IR: In a surprising move the Bills have placed Troy Vincent on injured reserve with his hamstring injury ending his season. His injury would have kept him out three to four weeks and the Bills felt they needed to make a move since they only have three healthy safeties. No word yet on who will take his roster spot. You think the Bills miss Rashad Baker right now? Jim Leonhard would be a likely candidate to be brought back. Depth Chart.

Bills Make Practice Squad Change: The Bills made a small move today. They switched tackles on the practice squad. They have signed Walter Stith and released Robin Meadow. The Bills had added Meadow to the squad just over a week ago. Stith was an undrafted free agent signing by Cleveland but was released last month.

Bills Must Continue To Improve: The Bills are now in preparations to face another tough division foe on the road as they head down to sunny and hot South Florida to take on the Dolphins on Sunday. The Bills played well at times last week and must continue to improve for a chance to pull off the upset in Miami. The Dolphins won't be looking past the Bills based on the near upset in New England. Do you think the Bills will win? Take our poll on our homepage and let us know. Complete Preview.


Tuesday September 12, 2006


Close Loss Tough To Take: Very few realistic fans thought the Bills had a chance to win on Sunday against the Patriots. The fact that they came so close made things more difficult for most fans. We get a last look at the loss as Tony Bogyo returns for another season with his funny analysis of the defeat in his home area of New England. Complete Story.


Monday September 11, 2006


Team Hurts More Today: The players and coaches watched the film from yesterday's loss to the Patriots and some like London Fletcher said it was harder to take a day afterwards since they saw how many mistakes they made. Terrence McGee said the problem was in the details and they will correct that in practice this week. Dick Jauron said he doesn't feel better today than he did yesterday. He felt the team did some things well but they made enough mistakes to lose the game. He said he's concerned about the run defense but optimistic about the play of the rookies in the game.

Injury Update Wednesday: Dick Jauron told the media after today's workout that he will have an update on the injury status of Takeo Spikes and Troy Vincent on Wednesday. Both of them suffered hamstring injuries early in the loss yesterday to New England. Spikes said after the game his pull is minor and he would be back next week. Vincent re-injured the same hamstring he hurt in training camp. He said he hopes to practice during the week but was hurting pretty badly after the game. Injury Page.



---
News Archives index
Latest News Section
Archives Library
Back to Bills Daily Homepage