Bills Don't Plan On Trading Lynch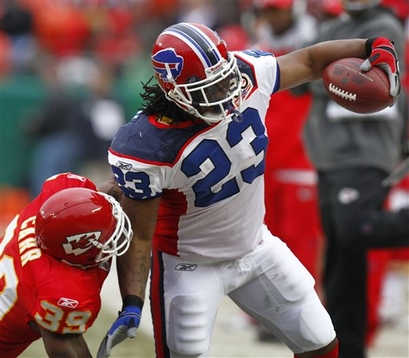 Schedule Release Tuesday:The NFL releases the schedule on Tuesday and speculation and reports will leak out between now and Tuesday night at 7 when it is released. The Buffalo News reports speculation is that Chicago will be the opponent in Toronto. Almost everyone feels the Toronto game this year will be early instead of in December like it has been the past two years. We will have the complete schedule on the right side of the homepage and on our schedule page shortly after the release.
Friday April 16, 2010


Levitre To Stay At Guard: One of the issues that Buddy Nix addressed during the draft luncheon on this week was the future of Andy Levitre. He was the starting left guard last year before being forced outside to play tackle because of injuries late in the year. That is the position he played in college. Nix said he can play outside but they feel he was rightly slotted at guard so he will stay inside this year.


Wednesday April 14, 2010


Lynch Should Stay: Buddy Nix spoke about Marshawn Lynch at the beginning of today's draft luncheon and said that they expect him to be in Buffalo and the trade talk is not coming from the Bills. Him being traded is not up to him and they expect him to show up when it is mandatory. Nix said the team needs Marshawn.

May Take Best Player:Buddy Nix said at the media luncheon that you read about the team's needs and the way the team sees the players is different than the perception is. He has a different opinion of the team's tackles and quarterbacks. If hypothetically they think their are two left tackles that can come in at number nine and make an immediate impact that is what they would want but they don't always get what they are looking for. If one of those hypothetical two aren't there they will look at their next need which may be quarterback, running back, etc. If the impact player that fills a need isn't there at nine they will take the best player on the board. He also said they think highly of Demetrius Bell who is still injured. The team is open to moving up or down but it is hard to find a partner some times.

Nix Not Worried What Others Are Doing: Buddy Nix said he's not worried about what Miami and the Jets have done this offseason. He has enough work to do and they are looking to upgrade in anyway they can and will not get impatient or change their course based on what the rest of the division does.

Modrak Talks Prospects: Tom Modrak spoke about some of the top tackles in the draft at today's luncheon. He said Brian Bulaga works very hard and has good technique and continues to improve. Anthony Davis is a top talent at left tackle but he's very young and needs to grow. There will be more ups and downs with him at the beginning. On Tim Tebow, Modrak said he's improved and will continue to improve himself it is unclear how far that will go but he has the will to win which should help him produce.

Report: Bills Want 2nd For Lynch: Trade rumors continue to swirl around Marshawn Lynch. A Yahoo report says while the Bills aren't actively shopping Lynch internal sources say they would listen to offers and would like a 2nd round pick for Lynch. The report also says the Seahawks may be interested and have held internal discussions about lynch. They hold the 28th pick in the 2nd round which is 60th overall. It's unclear if they would be willing to part with that pick for the disgruntled running back.


Tuesday April 13, 2010


Offseason Dates Set: The Bills announced today that their mandatory mini-camp will take place June 23rd through 25th. It is the crowning jewel of the offseason program and the only session that all players must attend. The team will hold a rookie mini camp on May 7th through the 9th. It's mandatory for rookies and voluntary for veterans. There is also a voluntary mini-camp June 4th - 6th. There will be five organized team activities. May 25-27, June 1-3, 8-10, 15-17, and 21-22.


Monday April 12, 2010


Bills Add RB: The Bills continue to add low level running backs to their depth chart. On Wednesday, they signed Walter Mendenhall. Today they added Rodney Ferguson. He spent some time on the Titans practice squad last year. Front Office Page.

Draft Page Launched: Bills Daily has launched our 2010 draft page. Right now it shows you the entire draft order by round and overall picks. We will soon add our draft preview, our first round mock draft, and our seven round Bills mock. During the draft we will fill out the board and link to scouting reports on each new Bill. We will also do our annual draft capsules of each drafted player as well as our final grade. It is a great one stop for all Bills fans through the draft! Draft Page.



---
News Archives index
Latest News Section
Archives Library
Back to Bills Daily Homepage