Gailey Tabbed As Bills New Coach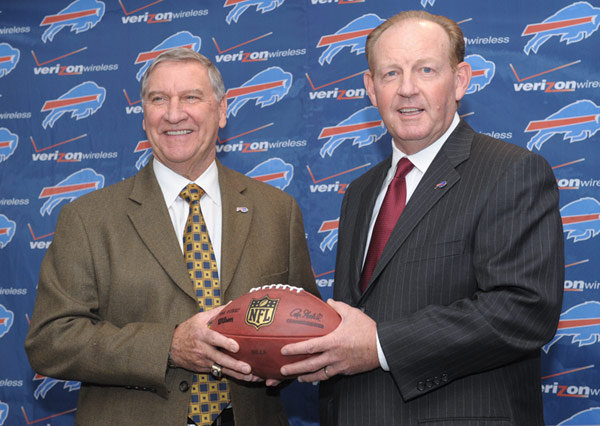 Pees For DC? A report out of Boston says former Patriots defensive coordinator Dean Pees may be in the running for the defensive coordinator job in Buffalo. He was considered a shoo-in for the job in Denver but it now seems like he won't be getting that job. Pees stepped down after three years in New England. He would likely bring the 3-4 defense to Buffalo. Chan Gailey said he's not against that defense although it would mean a change in personnel. Aaron Schoble told a Texas newspaper that the 3-4 may be a better fit for him but he's not thinking about football right now as he continues to ponder retirement.
Saturday January 23, 2010


Report: Modkins Offensive Coordinator: Reports out of Phoenix say that the Bills have signed Cardinals RB coach Curtis Modkins to be the new offensive coordinator. The job will be different in Buffalo since Chan Gailey said already he will be calling the plays so Modkins will not have the typical responsibilities of a coordinator. He was with Gailey in Kansas City in 2008 as the RB coach and was with him at Georgia Tech from 2002 to 2007. He was the DB coach in 2002 and the RB coach the rest of his time at Georgia Tech. He previously coached the cornerbacks at New Mexico from 1998 to 2001.

Waiting For Coaching Staff: Now that Chan Gailey has bee the coach of the Bills for four days we should start hearing about who will fill out his coaching staff. With the Senior Bowl in Mobile Alabama next week Gailey would presumably like some of his key coaches in place for the visit. He would also likely use the trip to interview potential candidates for spots on his staff. Everyone agrees the most important hire will be defensive coordinator since Gailey plans to handle the responsibilities of offensive play calling himself. Check out the newest box on the right side of the homepage that gives you the important dates for the 2010 offseason. Also don't forget to hit up our front office page for a quick glance at all the offseason moves.


Friday January 22, 2010


Bates Interviewing? A report out of a San Diego radio station says that Jim Bates is interviewing for the Bills defensive coordinator spot. This makes some sense since Bates has worked with Chan Gailey in the past. He was Gailey's defensive line coach in Dallas and they were on the same staff in Miami.

Reeves To Buffalo? Dan Reeves has a history with Chan Gailey going all the way back to when Reeves coached Gailey in little league baseball. Reeves has toyed with coming back to the NFL for years and said he'd be very interested in joining Gailey in Buffalo. It is unknown in what capacity he would join the Bills and he did say he has not been contacted by Gailey about coming on his staff.

Tolbert gone: Another former Bills assistant has found a job as WR coach Tyke Tolbert has agreed to join the Carolina Panthers coaching staff. He will have the same position he held in Buffalo. Tolbert met with Chan Gailey after he was hired and was told he would be considered for a position with the Bills but he did not offer any guarantees. Front Office Page.


Thursday January 21, 2010


Studesville To Denver: There hasn't been official confirmation yet but another Bills coach has found a job. Running game coordinator Eric Studesville is headed to Denver to be the running backs coach with the Broncos. It will be interesting to see if any of the remaining coaches that haven't found jobs will end up back on Chan Gailey's staff in Buffalo. Front Office Page.

Changes? The Bills have hired a new GM and a new head coach. They have fired John Guy as well but does that constitute changes at One Bills Drive or is it the same old same old? Tony Bogyo takes a look at the eventful first few weeks of the offseason in his latest commentary. Complete Story.

Guy Fired: Late last night in a two sentence statement the Bills announced the firing of John Guy as Vice President of Pro Player Personnel. Guy had been with the team since 2001 and was promoted to vice president in 2008. He was repsonsible for brining in free agents and has had little success since the Tom Donahoe era began. Most people thought he would go in what was suppose to be a house cleaning but has been more of a straightening up.


Wednesday January 20, 2010


Teaching Coaches: Chan Gailey said in his press conference yesterday that don't look for big name coaches on his staff. He will hire assistants who are good teachers and not necessarily someone who will make a splash. He will act as his own offensive coordinator but may have someone else have the title so he can hand it off to that person way down the line in the next few years.

Cowher, Reeves Endorsement: Both Bill Cowher and Dan Reeves came out with glowing endorsements of Chan Gailey yesterday. Both men said he is a good fit for the organization and commented on how flexible he is as a coach. They also both said how his previous experience as a head coach will help him in this job. Reeves said his knowledge of the game is second to none. Cowher calls him an unbelievable competitor who's very passionate.

3-4 Defense? Chan Gailey said he's not against switching to a 3-4 defense especially after years of struggling to play against it. He will talk with Buddy Nix before the draft about getting players to fit whichever scheme he decides to go with defensively. Gailey admitted Nix has final say on all player decisions but the two men are on the same page.


Tuesday January 19, 2010


Wilson Turns Down Marty Ball? The Bills may have a coach but the rumors aren't stopping. ESPN.com's Tim Graham is reporting that Marty Schottenheimer wanted the job badly but Ralph Wilson didn't want him as the next head coach. Publicly Schottenheimer stated he wasn't interested in returning to coaching but people close to him told ESPN that he wanted the job. It would have reunited him with his good friend Buddy Nix and you would think Nix would have given him the job if Wilson signed off on it. No word on why Wilson didn't want Schottenheimer to coach. This could also explain why is son Brian wouldn't interview for the job.

Gailey Likely To Be Own Coordinator: Chan Gailey said if you want to do something right do it yourself and he expects to be his own offensive coordinator. He reportedly has his staff pretty much in place but there have been no announcements yet. Gailey said Nix has final say on coaches but they are on the same page.

Gailey Named Head Coach: Chan Gailey was officially introduced as the new head coach of the Buffalo Bills at a press conference this afternoon. He said the Bills will be successful and GM Buddy Nix introduced him and chastised the media for their discontent over the pick for the new head coach. Nix said they set out to get the guy who will win football games for them and they got that in Gailey. Nix said that 80% of what was reported was not true and they definitely got the right guy and he has full confidence in him. He said he wouldn't hire a coach that didn't meet Ralph Wilson and Gailey was the only candidate invited to meet the owner. The GM also said they had 35-40 people call them for interviews and that people wanted the job. The perception was that most qualified candidates were not interested in the position. Gailey said there are coaches that want to win and those who expect to win. He expects to win and they need to get the players in there, get organized, and get this thing going.

Gailey Hiring Today; 2pm Press Conference: The Bills have called a 2pm press conference persumably to introduce Chan Gailey as the Bills new head coach. It appears it was Bill Cowher who recommended him for the job and would have made him his offensive coordinator/assistant head coach if he came back this year. The Bills were rebuffed by many candidates and kept coming back to Gailey. They interviewed him last week and were impressed by the fact he has had offensive success with some lower tier quarterbacks. We will have snippets from the press conference later this afternoon. What do you think of the hire? Let us know what you think by taking the poll on our homepage!


Monday January 18, 2010


2nd Interview Today? Jay Glazer is reporting that the Bills secretly interviewed Chan Gailey last week and the second meeting, presumably with Ralph Wilson, is happening today. If all goes well Gailey is expected to be offered the job and could be the next head coach as early as tomorrow.

Gailey The Guy? The Buffalo News is reporting a new name for the Bills coaching list which they certainly need since almost all the old names have turned them down. A league and team source told the News that Chan Gailey is not only on the list but perhaps the lead candidate for the job. These sources also told the paper that the coaching search could come to a quick conclusion in the next day or two and Leslie Frazier will not be getting the job. GM Buddy Nix said he'd like a guy with head coaching experience and a guy with an offensive background as always been perferred. They get both of those with Gailey. He coached the Dallas Cowboys to two playoff appearances in two seasons as their head coach in 1998 and 1999. He was the head coach and Georgia Tech from 2002 to 2007. He was the Chiefs offensive coordinator in 2008 but let go by the new regime shortly before this past season.

No Frazier? Since Leslie Frazier now seems to be the only candidate the Bills have for the head coaching job, the talking heads have started talking about the probability of him becoming the Bills next head coach. He helped his case with a great defensive gameplan against Dallas yesterday. The Bills can't talk to Frazier again until Monday. Adam Schefter reports on ESPN that he doesn't think Frazier will end up in Buffalo. He did not quote any sources and it seems to be just his opinion. He didn't offer up an opinion on who might be the next head coach.

2010 Front Office Page Released: We have now released our 2010 front office page. Like it past years it will give you all the team's transactions, contract signings, and free agent list all on one page! We also let you know what we think will happen with this year's free agent group. 2010 Front Office Page.

Top 2009 Players: We have taken our player of week winnes and put them on one easy page to view complete with their big stats from the game. We do this every year and it really shows you who the team's MVP is. We gave our player of the year award to Fred Jackson and it shows as he one the player of the week award six times including five in the last seven weeks of the season. 2009 Top Players.



---
News Archives index
Latest News Section
Archives Library
Back to Bills Daily Homepage