Defensive Prospects Visit One Bills Drive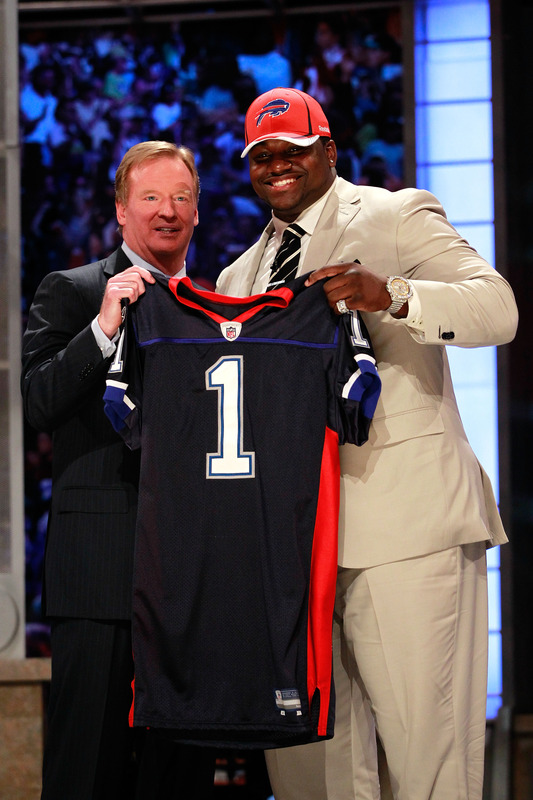 No Undrafted Signings Yet: With the lockout back on, at least temporarily, teams are not allowed to scramble to sign undrafted free agents. So the normal end of the draft frantic phone calls did not happen since no contact is allowed. The coaches hope that the rookie minicamp scheduled for two weekends from now will happen. That is on hold right now as well.

Nix, Gailey Wrap Up The Draft: Shortly after the last pick was made Chan Gailey and Buddy Nix appeared before the media to recap the draft. After talking about what a beast Michael Jasper is they gone on to their philosophy. Chan Gailey said they were just looking to help their football team. This year they needed more help on defense so they concentrated there. Buddy Nix said Justin Rogers has good speed, quickness, and is a good cover guy. Gailey confirmed they will put Chris Hairston at right tackle and he has good short area quickness. He knows how to come off the football and block for the run game because he has played in a three point stance. He has tenacity to him as well. Gailey said nothing is given to any of these guys they have to go out and earn it. Gailey expects to start Chris White at inside linebacker even though he may be able to play outside. Gailey feels they got nine guys that have a chance to upgrade the football team. There is no guarantees but each one of them has skills that gives them a chance to be successful at this level. On RB Johnny White, Gailey said he's a physical guy, who can catch the ball well, and can block. He can run inside and outside. He's thickly built but has good speed and is a versatile back who can do a little of everything. We know who are first two backs are, he can come in and give them some depth and play special teams. On Da'Norris Searcy, he is a different guy since he's very big at 223 lbs for a safety and can play corner as well to cover some short area stuff. They talked aobut drafting a tight end but the right fit was never there at the right spot.


Saturday April 30, 2011


Jasper Conference Call: Michael Jasper held their last player conference call of the draft. He called it a blessed event and a dream come true. He was estatic on the phone as he didn't think he'd be drafted coming from a small school. The Bills did show the most interest in him. He met with Bills scouts and they liked his size. He was at 448 lbs at one point and played from 430-440. He now has it down to 375 which has added speed and quickness to his game. It was dedication and hard work to lose the weight. He played at Bethel (TN) two years. He started on defense in a 3-4 after playing offensive guard all last season. He likes defense better because it is battle in the trenches.

Jasper Last Pick: The last pick by the Bills was the biggest one of all. 430 lb. Michael Jasper from little known Bethel (TN) gave the Bills 7 picks on defense out of nine overall. They set out to rebuild the defense in the draft and they really worked hard it. In the process that brought in big, versatile, talented players at need positions. By almost all accounts it was a homerun. We think so do that is why we gave them a Grade of an A in our immediate analysis of the draft. What do you think? Take our poll on our homepage and let us know. Draft Grade Analysis.

Rogers Conference Call: Justin Rogers feels his experience at Richmond will help him transition smoothly to the NFL. He feels they played tough competition. He worked hard in the weight room to get his weight up from 140 lbs in high school. He appreciates the opportunity to come to Buffalo. He has a high interception total in college as he always seems to get his hands on the ball. He can play the nickel a bit as well but better suited for the outside because of his speed and size.

Moody On Rogers: Bills Scout Darrell Moody spoke about the Bills pick of Justin Rogers early in the 7th round. He called him very athletic with good ball skills. He also has good speed and moves his hips well. Moody said he'd be shocked if Rogers doesn't make somebody's football team.

Chris White Conference Call: Chris White addressed the media in a conference call, he said he thought the Bills coaching staff worked them hard at the Senior Bowl to try and win. He said he will come in and work hard to get better. He said he can play in the middle and outside it doesn't matter, he will do what they say. He says he gives an all out effort every play and try to get to the ball. His journey came through a junior college and he feels he is very good at recognizing the play.

Third DB Goes In Round 7: The first of two 7th round picks the Bills have is the third defensive back picked today by Buffalo. Richmond CB Justin Rogers was the pick there as he adds depth and he is a solid kick and punt returner as well. Does not have ideal size to play corner at this level but has very good speed and should help on special teams. He has natural hands and good instincts but not a great cover guy. Draft Capsules.

ILB White Should Help Special Teams: Bills scout Shawn Heinlen said Chris White runs very well for his size and will become part of the core special teams right away. The Bills know him well since he was coached by the staff at the Senior Bowl. He's an instinctive player who plays downhill. He diagnoses plays very well and gets a great jump on the snap.

ILB White Picked In 6th Round: The Bills went back to defense in round 6 and took their second inside linebacker of the draft and their second guy named White today. Chris White from Mississippi State is the team's pick early in the 6th round. He led the team in tackles and has success rushing the passer. He is a good special teams player as well. Draft Capsules.

White Conference Call: In his conference call with the Western New York media, Johnny White said he considers himself a running back even though he played wide receiver out of necessity at North Carolina. He describes himself as a balanced runner who will always move forward and has some explosiveness. He feels it's a given that he will help out on special teams and enjoys doing it.

Hairston Conference Call: The 2nd of the two 4th round picks Chris Hairston spoke to the media on his conference call. He said he grew every year in college at Clemson and worked hard to learn how to play the game of football. His hard work has paid off. He feels he still has a lot of work to do but pass blocking is his strong suit and he takes a lot of pride in his pass blocking abilities. He is looking forward to blocking again for C.J. Spiller. He didn't play much right tackle in college but expects to go there in the NFL.

White Could Be Third Halfback: 5th round pick Johnny White has played wide receiver during his college career at North Carolina but is a running back. The Bills do have a need for a third back so a fifth round pick can fill the need. Several draftniks say he is very underrated and has a chance to succeed at the next level. He is a good worker, with good straight line speed and was well respected at North Carolina. Draft Capsules.

RB White Taken In Round 5: The Bills raised a few eyebrows by taking a running back in round 5. For the second time in the draft they took a player from North Carolina. He ran for 720 yards on 130 rushes last year and added 288 yards receiving. Bills scout Tom Roth said the big thing with him is his versatility. He has good hands out of the backfield and hits the hole hard. He has played some wide receiver but he is a running back. He is a very good special teams player and that is where he will help the team right away. He is a real good gunner and can return punts. He is not the biggest kid but has speed and is very talented. He has a great personality as well.

Hairston Is Huge: Chris Hairston will instantly be one of the tallest players in team history as he is 6'6" tall. Not a faster guy but good in pass protection. He has good hands but doesn't use his body that well. He is incredibly strong in the weight room. Draft Capsules.

Bills Take OT Hairston Late In Round 4: The Bills took an offensive tackle with their second fourth round selection. They chose Chris Hairston from Clemson. Scout Tom Roth said he is extremely big, long, and a good athlete. He is more of an inline guy than a space player although he is productive in space. He said he fits more on the right side at tackle. He is very smart did very well on the wonderlic test and all his intangibles are very good. There is a learning curve but they think he will get the scheme down quickly.

Searcy Conference Call: Da'Norris Searcy talked about the Bills drafting him on his conference call with the Buffalo media. He said he could play Safety, nickel corner, or return punts giving the team added value from his pick. He was not cleared to play early last year because of a clerical mixup. He said he knows he will have to get use to the tempo of the game and knows he has to re-establish himself at this level. He has to prove himself to the vets and coaches. He played linebacker in high school and still has some of that mentality as he loves to come up and help support the run.

Searcy Brings Safety Depth: Da'Norris Searcy will play safety for the Bills and is big but has good speed and can cover receivers in a zone coverage. Has good feet and instincts. He also can return punts. He will give the team some depth which they need especially if Donte Whitner leaves if he is an unrestricted free agent. Another player to help sure up the defense and he can help on special teams. Draft Capsules.

Bills Chose Safety Searcy: The Bills stayed on the defense to start day three of the draft. They chose North Carolina cornerback Da'Norris Searcy with their first of two fourth round picks. He projects as a strong safety in the pros and could be the eventual replacement for Donte Whitner who may be a free agent. Scout Darryl Moody talked to the media after the pick about his versatility as he can play both strong and free safety. He has good speed, good hands, and plays fast for a big safety.

Bills To Get Busy: The Bills had three picks in the first two days of the draft and they now will have six picks today including two in the fourth and seventh rounds starting with the third pick of the day. The Bills took one player at each level of the defense on the first two days. They said they have done what they set out to do on that side of the ball. Will they go offense finally? They still need help at offensive tackle and tight end along with a possibility of a quarterback to be added as well. Best available players include OT Marcus Cannon, TE Luke Stocker, and QB Ricky Stanzi. What do you think of the first two days? Take our poll on our homepage and let us know!


Friday April 29, 2011


Sheppard Plugs A Need: Kelvin Sheppard could be a solid addition to the middle of the Bills defense as he projects inside in the 3-4 defense. He has good instincts and reacts well. Despite not having top end speed he can play well in a zone in pass protection. He is a good tackler and strong as well as technically signed. He brings size to the unit. Draft Capsules.

Sheppard Conference Call: Kelvin Sheppard told the Buffalo media that his emotional playing style has always worked with him. He said he can't wait to get up to Buffalo. He said his pre draft visit to Buffalo was like coming home after being coached by them at the Senior Bowl. He feels it's a good fit and the biggest asset to his game is being able to get a playbook on Monday and being able to spit it out on Tuesday. He feels great about playing inside in a 3-4 defense. He loves the contact and loves to get in there and take blocks and make plays.

Sheppard Picked In Round 3: The Bills chose ILB Kelvin Sheppard from LSU in the third round. They had him in the senior bowl and had him up for a visit. Chan Gailey called him a 250 lb linebacker who can move and help them play the line. He plays sideline to sideline. He brings emotion to the football field and his personality is one of his strengths. He understands everything they were trying to do in the senior bowl. They weren't sure he would be there in round three but he brings them more help on defense. They have now picked all defensive players in the first three rounds as they have concentrated on fixing the defense as they said in the pre-draft luncheon. They feel they have now done that and will concentrate on the best available player going forward. Gailey did acknowledge positions like WR they aren't concentrating on. Gailey said the way Ryan Fitzpatrick played last year gave them the freedom to not take a quarterback.

Williams Conference Call: Aaron Williams said he's very emotional about getting picked by the Bills. He's celebrating and excited. He called the Bills a great organization and he wants to help wherever possible to get as many wins as possible. He said he played mostly inside last year but he feels he can definitely play inside or outside and will play where they want him too. He feels he's a corner but not a safety though he would do the best he can no matter where they put him. He said he feels real comfortable going against big, good receivers. He needs to use his technique and play hard and expects everything to fall into his place. He feels he got no interceptions last year because he didn't finish all his plays. His goal this year is to finish them and get turnovers.

Florence Says Goodbye? Drayton Florence is a free agent and feels his time in Buffalo is now over after the pick of Aaron Williams. He tweeted that he guesses he is goodbye with the pick of Williams and said it has been great and compliment the fans of the Bills. This is a bit of an overreaction because Buddy Nix said tonight that they would like to see Florence come back. You can never have enough corners.

Williams Has Good Size: Bills 2nd round pick Aaron Williams has great size for a cornerback as he is just under 6' tall. Has good speed for his size but can be beaten deep. He is very tough and is an excellent tackler which will help in run support. Needs to improve his route running and should be able to do that. Prototypical outside corner who can play the slot because of his good footwork and can also play safety. He isn't a sexy pick like one of the quarterbacks that quickly went after him tonight. He is a solid player who can help at a position that could be weakened by impending free agency and the age of Terrence McGee. What do you think of the pick? Take our poll on the homepage! Draft Capsules.

Williams Taken In Round 2: The Bills took Texas CB Aaron Williams with the second pick of the second round of the draft. Buddy Nix said Williams is talented and a good athlete. He's a big corner and can play in the slot as well as safety. They will start him at corner but could move him inside if they need to. He's tough, smart, and a good tackler, but receivers can get separation on him on deep patterns. Nix said they haven't given up on re-signing Drayton Florence. He said the right quarterback wasn't there at the right time but will add a quarterback but it may not come from the draft. It could be a college free agent or a veteran. They just didn't see a franchise QB being there for the taking.

Dareus Press Conference: Marcell Dareus was introduced at a press conference this afternoon. He said he hopes to help turn the team around and take them to another level. He expects to be a pros pro off the field and the starter piece in the turnaround. He feels it all begins up front and they will set the tone for the defense. He expects playing in Alabama will make his transition to the pros smoother especially playing under Coach Saban. He said he wants to be the best player he could be and has now made it. He said he won't let adversity keep him down, you just have to keep going. He said he loved Buffalo during his visit. He thinks it may be his type of city since it's big with a small town field. All that matters is there are a lot of people that want to win and are behind them. It doesn't bother him at all that the team has struggled the past decade. He will help bring them back and give everything he has.

Bills Have Second Pick Today: After taking Marcell Dareus with the 3rd pick in the draft yesterday, the Bills now have the 2nd pick today. They will also have the fourth pick in round three which will also take place this evening beginning at 6pm. Many people figured before the draft that the Bills would go with a quarterback in the 2nd round. After 4 went in the first 12 picks those hopes started to fade. No other quarterbacks went in the first round however leaving the Bills with three second tier candidates if they are interested. Nevada's Colin Kaepernick, TCU's Andy Dalton, and Arkansas' Ryan Mallett. The Patriots have the first pick today and it would be a shock if they took a quarterback. They could trade down but they already traded down once in the first round and may be looking to take a pick. If the Bills don't go with a quarterback, they are several other options including OLB Akeem Ayers, DE Da'Quan Bowers who surprisingly has slipped out of the first round. TE Kyle Rudolph is an option here as well as Texas CB Aaron Williams. Who do you think they should pick? Take our poll on our homepage and let us know!


Thursday April 28, 2011


Dareus Wants To Bring Warmth: Marcell Dareus addressed the Buffalo media for the first time in a conference call tonight. He said he knows Buffalo is cold but he wants to bring warmth to the city. He says he's ready to play and ready to go. Playing for Nick Saban in Alabama has prepared him well for the NFL. He says he's a hungry, young man who will come ready to play everyday.

Versatility Rules For Dareus: Everyone wonders whether Marcell Dareus will play defensive end or tackle? The answer is both, they chose the logical route with the third pick in the draft in taking the incredibly talented Dareus. He has the power to rush the passer and to stop the run. He can play outside in the 3-4 and inside in the 4-3. Draft Capsules.

Dareus Is A Force: Buddy Nix and Chan Gailey addressed the media bout the pick of Marcell Dareus third overall in the draft. They said he will play at defensive end for the time being but he could move to other spots. Nix called him a force and plays havoc on the offensive side of the ball. He fits in every scheme which works for the Bills since they will play 3-4 and 4-3 schemes. He is a good pass rusher outside and inside. They expect him to have an impact on the passing game. They were hoping Dareus would be there but didn't think he would be until the past couple of days. They wanted to take the best player at a position of need and they got that with Dareus. They love his consistency and Gailey thinks it will be an easier transition for him to a 3-4 team. He says he will be on the field they just don't know where yet.

Dareus Bills Pick: The Bills got their man with the third pick in the draft selecting Alabama defensive lineman Marcell Dareus. He is versatile and could play in the middle of the line or on the end in the 3-4 defense. He is considered a premier run stuffer who can push the pocket and get to the passer as well. We will have much more on this pick as the night progresses. Also follow us on twitter for ongoing commentary over the next three days. Draft Page.

It's Draft Time! It is now draft time! We will be here all three days to give you complete coverage of the Bills picks. We will link to player profiles on our home page and our draft page. Our News page will have snippets from Bills scouts and executives press conferences as well as from the newest Bills. Our draft page will have the complete draft board, links to fantasy news, grades, and our exclusive capsules after the players are picks. So stay with us all weekend!

Lockout Over: The NFL has told its teams how to operate without a CBA and with the lockout now over thanks to the Judge's decision. Facilities will be open to players tomorrow morning and playbooks can be handed out. CBAs, and minicamps will also resume under the previous CBAs rules. Coaches can also talk to players about off season conditioning programs. Details on trades and free agency will be announced tomorrow.

First Round Mock: We have put together our annual first round mock draft. In this mock, along with our seven round mock draft, we have the Bills taking Marcell Dareus. We have Cam Newton going first and Von Miller second. Check out our picks! Complete Story.


Wednesday April 27, 2011


Players In Limbo: The Judge ruled on Monday to basically end the lockout but while the owners get ready to appeal everything is in limbo. Leodis McKelvin was one of several players league wide to try to enter his team's facilities. He was turned away by Russ Brandon who said Chan Gailey would call him and the rest of his teammates when they know what's going on. Last week, Ryan Fitzpatrick hosted several offensive players near his home in Arizona for workouts including Fred Jackson, Levi Brown, Donald Jones, David Nelson, Stevie Johnson, Naaman Roosevelt, and Marcus Easley.


Tuesday April 26, 2011


Interesting 2nd Pick: All eyes are on the Bills first pick of the draft but the more interesting pick may be the second pick. That is likely where a quarterback will be picked and they may need to trade up to get one. It will make for an interesting draft after the third overall pick is selected. Complete Story.


Monday April 25, 2011


Seven Round Mock: We have put together our annual Bills seven round mock draft. We think the Bills will take Marcell Dareus with the third pick in the draft. Of course there is a good chance he will go at number two to the Broncos. If that happens, they will take Von Miller. We think the Bills will address the QB issue in the second round by taking Christian Ponder. Check out our picks! Complete Story.



---
News Archives index
Latest News Section
Archives Library
Back to Bills Daily Homepage