Policy Changes At Ralph Wilson Stadium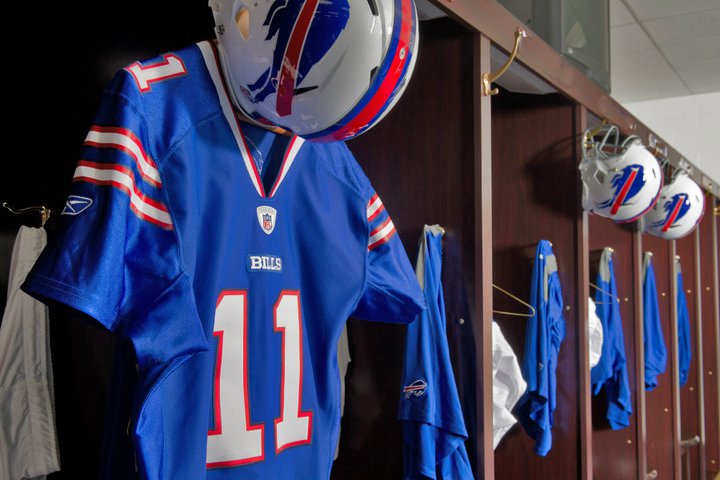 New Turf Being Installed: The media got the first look at the new turf being installed at Ralph Wilson Stadium. Changes include a 30% larger logo at midfield. There also will be blue and red outlines of both 20 yard lines. The end zones will now be blue.
Friday June 24, 2011


McKelvin, Spiller Switch Numbers: The Bills announced that C.J. Spiller and Leodis McKelvin have switched numbers as the new jerseys go on sale. McKelvin will now wear #21 and Spiller will wear #28.

New Uniforms Unveiled: The Bills unveiled their new uniforms during a ceremony at Ralph Wilson Stadium tonight hosted by Steve Tasker. He told a story about sleeping the night on the 50 yard line with his family shortly after retiring. The Tom Sartori Band was the entertainment. The jerseys were unveiled by members of the military and several Bills alumni were on hand wearing the uniforms including Jim Kelly, Thurman Thomas, and Charley Ferguson. What do you think of the uniforms? Check out our gallery of pictures that we will be updating throughout the night. Then take our poll on our homepage and let us know what you think! Uniform Gallery.

Uniform Unveiling Tonight: The Bills officially unveil their new uniforms in a ceremony tonight at Ralph Wilson Stadium. The parking lot opens at 4:30 for tailgaiting. Gates open at 5:45 and the ceremony starts at 6:30. The actually unveiling happens at 7:15pm followed by a viewing of the 2010 highlight film. That will be followed by a viewing of the movie Blindside. 17,000 tickets have been handed out for the event. The helmets are expected to go back to white but have the familiar charging Buffalo. Home jerseys are expected be more like the traditional royal blue. Road jerseys are expected to have royal blue pants. The entire event will be streamed live on the team's website.


Wednesday June 22, 2011


Players Likely To Unrestricted After 4 Years: As the league and players move towards labor peace details of the probable CBA are being leaked. It appears players will be unrestricted free agents after four years. That would mean for the Bills that Donte Whitner, Paul Posluszny, Keith Ellison, Quinton Ganther, John McCargo, and Ashton Youboty. This means the tender the Bills put on Whitner and Posluszny will be null and void.

Players Working Out Together: Some groups of players continue to get together and workout as they wait for the lockout to end. In Buffalo this week Ryan Fitzpatrick, Jon Corto, David Nelson, Donald Jones, Naaman Roosevelt, Marcus Easley and Paul Hubbard have been working out at fitness center. Kelvin Sheppard, Marcell Dareus, and Jairus Byrd have been working out in Atlanta.



---
News Archives index
Latest News Section
Archives Library
Back to Bills Daily Homepage