Bills Land Huge Fish In Free Agency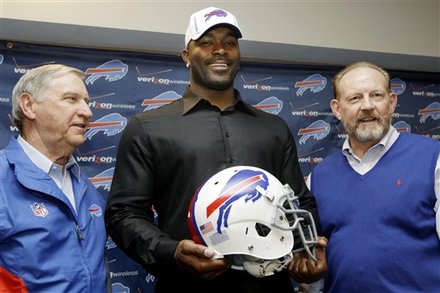 Williams Contract Details: The complicated details of the record contract signed by Mario Williams is out. He will get $53 Million in guaranteed money over the next three years including $25 Million guaranteed this year. The next $25 Million his guaranteed against injury only. He got a $19 Million signing bonus and will have an $8 Million option next year. The contract is setup in a way that won't kill the team salary cap wise down the line. According to the Buffalo News the Bills still have about $13.5 Million in cap space and $12.9 Million in cash to the cap money . Player Contracts.

The quickest way to get breaking news from Bills Daily is to

follow us on twitter!
Friday March 16, 2012
Ticket Office Busy: Russ Brandon told WGR that the signing of Mario Williams along with some contract extensions have shown the fans that they are committed to winning. He said they sold around 800 season tickets since yesterday morning and had a renewal of around 1,000 season tickets since then as well. On the subject of the lease, Brandon said he shares the optimism of the Erie County Executive in trying to get a lease done sooner rather than later.
What's Next? Now that Mario Williams is in the fold what do the Bills do next? Buddy Nix suggested during his press conference that the team may be done with free agency thanks to the huge deal signed by Williams. Later on WGR he said they still have some cap space to work with and they always look to improve the football team. He did say that the team has not had any contact with free agent WR Mario Manningham and it now looks like for the most part they will turn to the draft. They do have contract offers out for two of their own free agents in Demeterius Bell and Bryan Scott and waiting to hear back from them once they explore the open market. So while there still may be a free agent or two visiting Western New York don't expect any big moves to come. Buddy Nix re-iterated that they would like to get a new deal done with Fred Jackson by training camp.
Thursday March 15, 2012
Gailey On Signing: Chan Gailey called Mario Williams a piece of the puzzle. He said he told Mario not to feel the pressure of having to be an unbelievable entity of the football team. He just wants him to go do what he does and they will be a better football team. He feels the front office did an unbelievable job and they are one step closer to where they want to be. They now need to go out and do it. He feels they have got a lot better and improved the pass rush tremendously in the last 45 minutes. Williams role is to go out and produce on the field to help them win a championship not to get up and be a talker. He was the guy he wanted since he was the top guy available.
Nix Introduces Williams: Buddy Nix started the press conference that started over two hours late due to contract details. He said it was a long two days but it was worth the wait. He thanked Ralph Wilson for spending the money and said it has always been the owners philosophy to spend the money when they needed to and he proved that again. He also thanked Russ Brandon and Jim Overdorf for helping get the deal done. He also thanks the coaches and the fans. He said they made him feel like he was wanted in Buffalo thanks to all the signs. Nix said Mario was the number one guy o their free agent board since day one. He said it has been fun since it turned out right. He feels this signing will help in the recruiting of other players since half of it is the area and the other half is football. This signing doesn't change their philosophy of building through the draft. Nix said they did what they said they would do about going after a game changer at a position of need. He said he told the media they would be done with free agency on Friday he said half jokingly they may be out of the free agency business now after you have seen Mario's contract.
Williams Talks: Mario Williams spoke to the media and immediately thanked Mr. Wilson. He said he is so excited to come to Buffalo. He said once he got there he saw everything the great city has to offer like seeing his name on signs and pizza. It really got the message across that he was wanted. He saw the endless possibilities of what they are trying to do. The great guys in the front office sold him immediately. He said you don't get that many chances to be the guy that comes in and helps get them over the hump and that is what he is there to do. He called it a great opportunity to succeed for the fans of the city and he is ecstatic and is ready to get out there and make things happen. He said he's tired after the long couple of days but it's worth it. He feels the love and commaradrie with his teammates and the coaches. He sees the bond in Buffalo and can't wait to get started. He said the comfort level that surrounded him when he got there from the players and coaches and especially Jim Kelly, who was at the press conference, who did some heavy recruiting talking about the hunting in the area. Everything he heard about the city that was negative is not fair he sees that already and knows people there have his back. Having Kyle Williams and Marcell Dareus here was a huge reason for him coming here. Everyone has been a great help in helping him adjust to what life will be like in Buffalo. When he looked around he was ready to come here before talking about numbers. He loves that there are deer in your backyard here. It feels a lot like where he grew up. He said the reason he came to Buffalo first was because he had never been there but had been to other cities. 50% if his decision was based on the area and 50% was based on football and he was comfortable in Buffalo to sign. The only pressure he feels is to succeed as a team.
Williams Signed! The Bills have signed Mario Williams after two long days of negotiations. The team will not disclose the terms but reports say it's a six year deal worth $96 Million with $51 Million guaranteed. We will have snippets from the press conference at 1:45pm as it happens.
Deal Close? Several reports now say that a deal is close between the Bills and Mario Williams. Adam Schefter reports that the Bills have met most of the conditions and they are close to a deal. The deal should be finalized soon according to several sources. Joe Buscaglia of WGR says there has been a lot of stirring around One Bills Drive late this morning. Drayton Florence tweeted that the deal is basically are done and they are just working on logistics and family stuff. Florence says it's about an 80% chance that he signs today. He has reportedly inquired about buying a house already.
Mario Watch Day 3: Today is the third and hopefully final day of the Mario Williams watch. He remained in Buffalo last night according to the team and there were conflicting reports on whether or not he was at the Sabres game where fans were chanting his name. His agent texted to AP that talks are continuing. He is due back at One Bills Drive this morning with a rumored visit with another team also scheduled for today if he doesn't finalize his deal with the Bills.
The quickest way to get breaking news from Bills Daily is to

follow us on twitter!
Wednesday March 14, 2012
Williams Staying Another Night: This seems like the longest free agent visit ever and it will continue into tomorrow. The Bills announced that Mario Williams left the facilities this evening but will stay overnight and return to One Bills Drive tomorrow morning. He is going to sleep on everything he learned today. At this point it's impossible to tell if that is a good sign or not. It is good that he hasn't left town yet. Pro Football Talk reported that he was due to leave this evening. He originally had another unspecified visit scheduled for tomorrow. Stay tuned...
Long Day For Williams: Mario Williams was back at One Bills Drive late this afternoon as the Bills try to get a deal done with him before he leaves town. Williams had a physical this morning followed by meetings at One Bills Drive. He then went to the airport and picked up his Fiancee who flew in to town and the two of them toured the area with Bills officials. No word yet on if the visit will stretch into tomorrow. He reportedly did have another visit planned for tomorrow but according to the team's website he has no definite travel plans at this time.
Bell In Arizona: There are other free agent notes besides Mario Williams today. Demetrius Bell has started his free agent tour as he is in Arizona to meet with the Cardinals today. Adam Schefter reports the Bills are one of three teams that are talking to WR Mario Manningham right now. Miami and San Francisco are the other two. Bell may be a good fit in Arizona as they are rebuilding their entire line. A quick Mario Williams update, he is touring the area with his fiancee and Bills officials this afternoon.
Williams Update: Paul Peck of WIVB-TV reports on twitter that he ran in to Mario Williams at the airport. He told Peck that he was there picking up his fiancee. When asked what that means, Williams said, "we'll see." If this is true his fiancee coming to town is a good sign.
The quickest way to get breaking news from Bills Daily is to

follow us on twitter!
Williams At Facility: The team's website confirms that Mario Williams is at One Bills Drive this morning and meeting with Buddy Nix. He had a physical earlier in the day which is standard procedure for free agent visits.
Kyle Williams Optimistic: Kyle Williams was on WGR this morning and said he has a good feeling that Mario Williams will sign with the Bills but did say it's not a lock. Kyle joined Mario and Bills brass for dinner last night and plans to meet with him at the facilities today. Mario was excited about possibly playing with the interior of the Bills defensive line. Kyle said if he joins he feels they will have the best line in football and he said Mario agrees. He is planning on getting married so was wondering how the wives get along and how the chemistry was in the locker room. Mario told Kyle he wants to go somewhere that he can help a team get over the hump and Kyle told him that is exactly what they need. Kyle did joke that if all else fails he will get a few thousand people to lay on the tarmac at the airport to not allow him to leave.
No Deal For Williams: Reports say that Mario Williams has not agreed to a deal with the Bills and has at least one more visit scheduled on Thursday. He is still in town and will continue his visit with the Bills this morning. It is bad news if he does leave town without a contract after wining and dining him and reportedly offering him a ton of money.
Meachem To Chargers: The Bills lost out on Robert Meachem as the free agent wide receiver signed with the Chargers during the wee hours of the morning while he was probably still in Buffalo. The deal is a four year deal with San Diego worth $25.9 Million and $14 Million guaranteed. That is a lot of money to give to your number two wide receiver as that position appears to be the big winner early in the free agent market. Very few big and fast wide receivers are let on the market. The Bills will likely turn their attention towards Laurent Robinson now.
Tuesday March 13, 2012
Williams, Meachem To Sign Soon? Joe Buscaglia of WGR radio reports that league sources tell him the Bills fully expect to sign Mario Williams and Robert Meachem within the next 24 hours. Sources say that Bills players feel they will get Williams as well. Chances are neither deal will be finalized tonight as both players are expected to continue their visit tomorrow morning.
Williams, Meachem In Town: The Bills have confirmed that Mario Williams and Robert Meachem are now in Buffalo. They are both having dinner with Russ Brandon, Buddy Nix, Dave Wannstedt, Kyle Williams, and Chan Gailey. Nix and Wannstedt flew down to pick Williams up. Offensive Coordinator Curtis Modkins and WRs coach Bob Bicknell flew down to pick up Meachem. The Buffalo News is reporting the Bills hope to get a deal done quickly with Williams and are willing to make him the highest paid defensive player in the league.
Williams, Meachem Visiting: Adam Schefter is reporting that the first free agent visit for the Bills is the biggest name on the market. Mario Williams reportedly will visit with the Bills Tuesday night. Another report says WR Robert Meachem is also visiting the Bills tonight. Williams would be a huge signing and his visiting Buffalo first gives them a possible edge on getting him. The only worry is that he could be using the Bills to drive up the price that is why the Bills need to not let him leave without signing a contract. Michael Lombardi of the NFL Network reports that the Bills are offering Williams more money than any other team. Meacham is the deep threat receiver to complement Stevie Johnson. If the Bills somehow get these guys signed they are infinitely better and that is a huge splash that Buddy Nix said they would do.
Nix On WGR: Buddy Nix appeared on WGR this morning and spoke about the beginning of free agency. He still sounded like the team will be aggressive. He hopes the team will make a big splash and then be done with free agency within a week perhaps as early as Friday. It sounds like he's looking to bring in two big name players to plug holes. He said they need to help the pass rush and will do that in free agency or the draft. He hopes to find a defensive end in the open market. He feels if they can fill as many holes as possible now that is less they need to fill in the draft. He is happy that the players are confident enough in the team's direction to help the recruiting process for free agents. He also said he isn't scared if Peyton Manning ends up in the AFC East.
Free Agency Starts Today: 4pm is the time that things will get real interesting around the league and at One Bills drive. The Bills say they will be aggressive this year in the free agent market time will tell if they mean it. They have a lot of cap space and a lot of holes to fill. Buddy Nix said if there is a difference maker they will go after him early instead of waiting for things to shake out like they have in the past. The Bills will be looking for a number two wide receiver, pass rush help, possibly an offensive tackle and depth at linebacker and cornerback. The more holes they fill in free agency the less they have to draft for need. The team may also still be looking to re-sign a couple more of their own free agents. Demeterius Bell will be on the open market if not re-signed by this afternoon. He may get big money on the open market something the Bills may not be worth paying for someone that is injured a lot. There are reports they will not try to re-sign Roscoe Parrish. The team is interested in bringing back Bryan Scott and he would like to return so we will have to see if something is worked out. We will be with you throughout the wild ride here and on twitter. We will also keep track of all free agent visits on the right side of our homepage.
The quickest way to get breaking news from Bills Daily is to

follow us on twitter!
Monday March 12, 2012
Bills Tender Restricted Free Agents: As expected the Bills have tendered restricted free agent guards Kraig Urbik and Chad Rinehart. That gives the Bills the right of first refusal on any contract offers they receive. The Bills did not divulge the level of the tenders offered. If it's low level tenders the Bills would receive a third round draft pick if they did not match an offer for either player. A mid level tender would give the team a 2nd round pick as compensation and a high level tender would be a 1st round pick.
The quickest way to get breaking news from Bills Daily is to

follow us on twitter!
---
News Archives index
Latest News Section
Archives Library
Back to Bills Daily Homepage