Bills Blown Out In Season Opener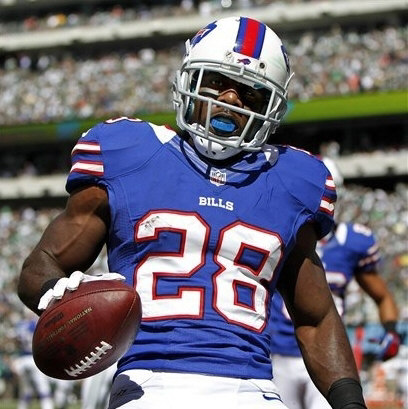 Gameday Grades: As you can imagine our first player grades for the year are not good at all. Read them if you dare. Gameday Grades.

Jets Embarass Bills 48-28: Ryan Fitzpatrick threw three interceptions, one was returned for a touchdown as the Jets blew out the Bills early and beat Buffalo 48-28 on opening day. The Jets also returned a punt for a touchdown in opening up a 27-7 halftime lead that swelled to 41-7 before the Bills made the score a little more respectable with three straight touchdowns in garbage time. C.J. Spiller was the lone bright spot with a career high 169 yards rushing on just 14 carries and a 56 yard touchdown run. Fitzpatrick threw three late touchdown passes to Scott Chandler, Donald Jones, and Stevie Johnson. Shonne Greene ran for 94 yards for the Jets and Mark Sanchez threw for 266 yards and three touchdowns. Bills Blitz.

Nelson, Jackson Hurt: Fred Jackson and David Nelson both left the game with knee injuries and neither player returned. Chan Gailey said after the game that Nelson's injury is more serious but they will know more tomorrow after both players undergo MRIs. Jackson took a bad shot that saw the knee bend back but he was walking pretty well on the sidelines. Nelson also went off under his own power but his injury appears more serious. Injury Page.

Beautiful Weather For Opening Day: After a rough weather day in the New York metropolitan area yesterday, the skies have cleared for perfect football weather for today's season opener between the Bills and the Jets. Sunny skies with low humidity levels will greet the players at the Meadowlands in New Jersey. The temperature during the game will go from the mid to upper 70s with light winds around 7mph at of the Northwest.

For live updates from Met Life Stadium

follow us on twitter!
Saturday September 8, 2012
Gameday Tomorrow: The Bills head to New York as gameday approaches. Everyone should be on the flight as every player practiced on Friday. It will be an interesting game as both teams know it is a big game for opening day as these two teams on paper are pretty evenly matched. It may mean a bit more for the Jets as they try to shed the circus label that they received after getting Tim Tebow. The fact that they are at home gives them an edge but puts more pressure on them to perform well early or the fans will turn on them. Bills Daily will be at the game and fill everyone in on the atmosphere with tweets during the day. We will have our usual full report including our blitz and grades Sunday Night on our gameday homepage.
The quickest way to get breaking news from Bills Daily during tommorrow's game is to

follow us on twitter!
Friday September 7, 2012
Johnson Practices: Stevie Johnson practiced today as expected. He was officially limited and is listed as questionable for Sunday's game but he did everything they wanted him to do on the field in practice. With his return to the lineup everyone practiced today and should be available for the opener. Johnson's groin tightened up during practice on Wednesday and he sat as a precaution yesterday. He said this injury will not linger like last year. Kraig Urbik was limited in practice but is listed as probable and will play. Brad Smith practiced fully including some wildcat looks and also will play. Injury Page.
The quickest way to get breaking news from Bills Daily is to

follow us on twitter!
Thursday September 6, 2012
Stevie Sits: After being limited in practice yesterday, Stevie Johnson did not practice at all today after his groin tightened up. Johnson says this is not a huge setback and it was expected from time to time after the surgery. Chan Gailey said after practice that he thinks they will get him back in practice tomorrow and the indication is he will play on Sunday. He was kept out as a precaution and could have practiced. Johnson said this will not linger like last year and re-affirmed that the groin feels much better since the surgery. He does not Kraig Urbik returned to practice today but was limited. He should be able to play. Chan Gailey was surprised how good Brad Smith looked and it now looks like he'll play as well. Terrence McGee and Erik Pears are also ready to go. Injury Page.
Tough Division Battle Ahead: The NFL season kicks off and the opening game for the Bills looks to be the biggest in years. While one game won't make or kill a season, this opener carries a little more weight than others. The Bills and Jets figure to battle for 2nd place in the AFC East and possibly the same wild card spot so the winner of this game will have the confidence and a big early edge in that fight. We have put up our first game preview of the year on our gameday homepage. Game Preview.
Urbik, Johnson Ok: Kraig Urbik said he missed practice yesterday with a sore lower back and was out as a precaution. He says he's fine and will practice today. Stevie Johnson was limited with his ongoing groin issues raising some concerns but he also says he's fine. It appears Johnson may get some more limited practices to keep the groin muscle solid during the season. Johnson had surgery in the offseason and says he's 90% but that he's much better than he was last year. Injury Page.
Wednesday September 5, 2012
Smith Back; Urbik Sits: Brad Smith was back on the practice field today working with the wide receivers. Chan Gailey said he is getting him some work and hopes to do more tomorrow with him as they try to get him ready to play on Sunday. The coach said if he can't go they will not run the wildcat this week. Kraig Urbik was the only non-participant as he was riding the stationary bike on the sidelines. No word yet on why he is not practicing. The coach also said that he expects Erik Pears to be ready for Sunday and that Tyler Thigpen will be the number two quarterback this week.
Wilson Home: The Bills confirmed that Ralph Wilson is now home from the hospital and is doing very well as he recovers from a mild infection that had him in the hospital for a week. Chan Gailey said he expects to talk to the owner soon and said he is very tough.
Captains Named: The Bills named six captains today. Ryan Fitzpatrick and Fred Jackson return as offensive captains for the second year in a row. Kyle Williams and George Wilson are the defensive captains. Brian Moorman and Corey McIntyre are special teams captains. Each player will have a C on their jersey for the first time. Moorman is a captain for the seventh straight season. Wilson is a captain for the fifth straight year but for the first time on defensive, the other times he was a special teams captain. Williams is defensive captain for a second straight year.
Media Day: Wednesday is Media Day in the NFL and today will be the first one of the season. Players and coaches from both teams will meet with the media in both cities and the first injury report of the week will come out as well. Wednesday is the first big practice day of the week as well. We will have a full report later today.
The quickest way to get breaking news from Bills Daily is to

follow us on twitter!
Tuesday September 4, 2012
Bills Re-Sign WR Martin: The Bills couldn't go into the season with just four wide receivers and an injured Brad Smith. The team re-signed recently cut Ruvell Martin and placed Ron Brooks, as expected, on injured reserve designating him to return later in the season. Martin is a solid special teams player but not as talented a wide receiver as recently cut Derek Hagan or the two receivers on the practice squad. Front Office Page.
Bills Fill Out Practice Squad: The Bills added their eight and final member to the practice squad today. They have signed DT Jay Ross who was with the team this summer. 6 of the 8 members of the squad came from the training camp roster. Front Office Page.
Bradham Pushes Moats: 4th round draft pick Nigel Bradham may end up being the third draft pick from this year's class to end up in the starting lineup sooner rather than later. Bradham is now taking some first team reps at strongside linebacker. Arthur Moats is the starter at this point out there after he unseat Kirk Morrison for the job. Morrison is now backing up Kelvin Sheppard in the middle. Chan Gailey said that Moats knows the position and Bradham is learning it but he is pushing him at this point. Depth Chart.
The quickest way to get breaking news from Bills Daily is to

follow us on twitter!
Monday September 3, 2012
McGee, Anderson Practicing: The Bills hit the practice field today for the first time in the regular season and are healthier. Mark Anderson says he is ready to play after rehabbing his groin injury and is practicing. Terrence McGee also says he is ready to play but it is clear he isn't close to 100%. He is also back on the field today along with Erik Pears who may be limited still with his groin injury. Eric Wood insists he is full go for a full load in the season opener. Brad Smith did not practice today with his groin injury. The only other player to sit was Ron Brooks who is likely headed for injured reserve. Injury Page.
Bills Add Two To Practice Squad: The Bills added two more players to the practice squad by signing CB T.J. Heath and TE LaMark Brown leaving one open spot. DE Clifton Geathers wrote on his twitter account that he has been added to the Bills practice squad but that is an unverified account and there had been no word from the Bills. Heath appeared in five games with Jacksonville last year and was most recently released by Cincinnati. Brown was with Atlanta this summer as an undrafted free agent but was released. Practice Squad.
Regular Season Routine: The Bills are in their regular season mode now as they are practicing today before having tomorrow as their usual day off. Wednesday the game plan begins in earnest as the Bills look at how to contain the Jets wildcat offense. They are looking at game film from Tim Tebow's time in Denver last year and from Tony Soprano's time in Miami. They are using their resources as well. Wildcat guru QB coach David Lee and Brad Smith are helping prepare the defense. Terrence McGee and Erik Pears are scheduled to practice today although Pears should be more limited than McGee. We have launched our Gameday Homepage for the 2012 season. It will be your one stop shopping for all gameday articles starting with our game preview on Thursday.
Thigpen Pay Cut: Adam Schefter tweeted that Tyler Thigpen took a $1 Million pay cut to remain with the Bills. This makes sense since they could have cut Thigpen and has $2.5 Million salary and re-signed him for less. This way he stays on the roster in case they need him week one at the reduced price already.
Practice Squad Add? The Bills put five players on the practice squad yesterday leaving three open spots. Chan Gailey said he is looking at players on other teams to sign to the squad. One man appears to be DE Clifton Geathers. He tweeted that the Bills have signed him. He was released by Dallas and has been on four other teams in his three year career.
---
News Archives index
Latest News Section
Archives Library
Back to Bills Daily Homepage