Bills Beat Panthers In Dramatic Fashion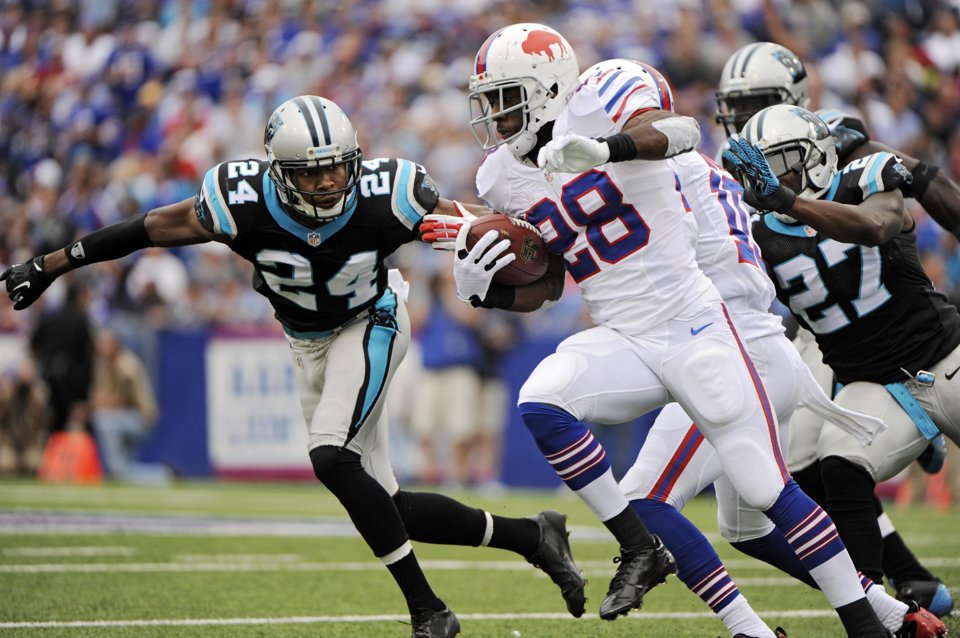 Bills Pull Out 24-23 Win: EJ Manuel hit Stevie Johnson for a two yard touchdown pass with :02 to go to give the Bills a 24-23 win over the Carolina Panthers. The Bills defense held the Panthers to three field goals in the fourth quarter after Manuel turned the ball over on two straight possessions leading to three points each time. Mario Williams had his best day as a pro with four and a half sacks as he terrorized Cam Newton all day long. After the Panthers went up 23-17 with 1:38 to play the Bills went 80 yards in 9 plays to the winning score. The big play on the drive was an interception that was overturned by a pass interference penalty. Manuel finished 27 of 39 for 296 yards in the game. Stevie Johnson caught 8 passes for 111 yards and C.J.Spiller had 103 yards on just 16 carries. Bills Blitz.

Dareus Banged Up: The Bills seemed to get out of the win healthy. Marcell Dareus missed a few plays after bruising his calf. He said he will be sore but is ok. There didn't seem to be any other players hurt in the win. Injury Page.

Nice Weather Again: For the second straight week the weather is nice for today's game against the Carolina Panthers. It should be mostly cloudy by kickoff with temperatures rising into the upper 60s. Wind may be a factor as they will be out of the South West from 10 to 20mph. We will be at the game live tweeting the atmosphere from the Ralph. Tonight we will have our usual Bills Blitz a bit later than usual and we will not be doing our gameday grades this week.

Bills Daily will be at the game

follow us on twitter for updates from the Ralph on Sunday!
Friday September 13, 2013
Byrd Doubtful For Game: The Bills practiced outside in the stadium today as they had their last full practice before Sunday's game against Carolina. The official injury report was released today and Jairus Byrd is listed as doubtful. He was limited in practice once again today. Marquise Goodwin, Ron Brooks, Stephon Gilmore, Doug Legursky, and Dustin Hopkins have been ruled out. The team is now hoping Hopkins can resume kicking on Sunday or Monday. If Byrd is out as expected than there is just one healthy player that needs to be inactive. Injury Page.
Bills Daily will be at the game

follow us on twitter for updates from the Ralph on Sunday!
Thursday September 12, 2013
Beason Sits: The Bills had no changes to their injury report but there were a few changes to the Panthers report. The most notable being starting LB Jon Beason. He was limited on Wednesday but sat out Thursday's entirely. RB Kenjon Barner also went from limited to not practicing. WR Domenik Hixon (hamstring), S Mike Mitchell (calf), and G Amini Silatolu (hamstring) returned to practice fully after being limited on Wednesday. Injury Page.
Next Two Games Soldout: The Bills announced today that Sunday's game against Carolina is sold out and the television blackout has been lifted. They also announced the next home game against Baltimore on September 29th is also soldout. All three September games sold out but it will be much tougher to sell out any of the remaining four Ralph Wilson Stadium games.
Panthers Preview: The Bills have their second straight home game to open the season on Sunday as they take on the Carolina Panthers at Ralph Wilson Stadium. Carolina is coming off of a tough defensive struggle against Seattle where they fell short. The front seven of the Panthers is very good and will cause headaches for a Bills offense that is looking to get C.J. Spiller going and looking to get the vertical passing game on track as well. Game Preview.
Hall Of Fame List: 16 people with ties to the Bills are on the preliminary list of nominees for the Pro Football Hall of Fame. All 16 of them were on the list in previous years. The list includes Andre Reed, Steve Tasker, Cornelius Bennett, Drew Bledsoe, Doug Flutie, Kent Hull, Fred Smerlas, Ted Washington, Larry Centers, Darryl Talley, and Troy Vincent.
Bradham Charge Dropped: Nigel Bradham had his marijuana charge dropped if he stays out of trouble for six months. He had a traffic court hearing on Wednesday night where the judge made the ruling. He was arrested when he was pulled over for tineted windows and the police officer smelled marijuana. Bradham handed over a small bag. The tinted windows charge was also dropped. He reportedly has been placed in the NFL's confidential drug intervention program but reportedly has not been suspended because it was a first offense.
Wednesday September 11, 2013
Gilmore On Bike: Nothing unusual on the injury front as the team hit the practice field Wednesday. Dustin Hopkins, Stephon Gilmore, Marquise Goodwin, Ron Brooks, and Doug Legursky were not practicing. Jairus Byrd was limited. Gilmore and Legursky were in attendance and Gilmore did some stretching along with some riding of the bike on the side. He hopes to return quicker than the original 6-8 week timetable and will visit with the doctor next week. Injury Page.
Brandon On Byrd: Russ Brandon was on WGR this morning and said the team is not or did not look into trading Jairus Byrd and there has been no talks from inside the organization about trading him. That does not mean that Byrd or his agent aren't working behind the scenes to see if they can orchestrate a deal. It just means the Bills aren't exploring it. Brandon also said that 1,600 tickets remain for Sunday's game and he is optimistic it will be a sellout. They have until 1pm tomorrow to sell those tickets to lift the television blackout.
Tuesday September 10, 2013
Bills Fill Spot: The Bills filled the open spot on their practice squad by adding DB Brandon Smith. He replaces Johnny Adams who was signed to the active roster today. Smith came into the league as an undrafted free agent with the Panthers in 2011. He was recently released released by the Packers after being in their camp this summer. He spent time last summer with the Seahawks.
Ross Released: The Bills have released DT Jay Ross to open up a roster spot. They used that spot to activate CB Johnny Adams off of the practice squad. It was a move they had to make with just four healthy corners on the team. Adams is a rookie you spent time in Houston and Indianapolis this summer before signing with the Bills practice squad. Depth Chart.
Tickets Left For Sunday: the Bills tweeted yesterday that 2,500 tickets remain for Sunday's game against the Panthers. They have until 1pm on Thursday to sell them to lift the television blackout. It is likely with so few tickets left somebody will buy out the remaining seats to make the game a sellout and allow it to be on TV. It is unusual for an early season game like this to struggle selling out.
Monday September 9, 2013
Brooks, Goodwin Out Indefinitely: Marquise Goodwin and Ron Brooks are both out indefinitely with broken bones. Goodwin had surgery Monday on his broken hand while Brooks will have surgery on Tuesday for a broken foot. It's the same foot he broke last year. Neither injury is considered season ending but it is not known yet if one of them is a candidate for the IR designated to return spot. Injury Page.
Same Old Bills: Some may take solace in the fact that the Bills gave the Patriots all they can handle. Some are tired of moral victories after losing to these guys over and over and over again over the last decade plus. Count Tony Bogyo in the latter category as the Boston based writer lets us know what he thinks of the heartbreaking loss yesterday. Complete Story.
---
News Archives index
Latest News Section
Archives Library
Back to Bills Daily Homepage