GM Search Gets Underway
Saturday May 6, 2017
Bills Interview Eagles Exec: The Bills interviewed Eagles Director of College Scouting Trey Brown for the general manager job today in Florida. Ian Rapoport was the first to report the interview. He also says that the first round of interviews are being done without Sean McDermott present but he is expected to take part in any callback interviews. Brown is only 32 years old and joined the Eagles in 2013 as an area scout and then as the assistant Director of College Scouting before being promoted last year. He was a member of the Patriots scouting staff from 2010 to 2013.
Friday May 5, 2017
Gaine Interviewed: The Bills announced that they interviewed Texans director of player personnel Brian Gaine for their general manager position. They also clarified that this interview and the one yesterday for Brandon Beane were for the title of general manager. Beane is considered a hot front office candidate like Beane.
13 Undrafted Free Agents Signed: It took a few days but the Bills have finally announced 13 undrafted free agents that they have agreed to terms with. That gives them 92 players on the current 90 man roster which means two moves will have to be made when everyone officially signs. Among the 13 newest Bills are two guards, two wide receivers, two safeties, and two tight ends. The leader of the pack is former University of Buffalo running back Jordan Johnson. He was a 1,000 yard runner last year for the Bulls. Depth Chart.
Thursday May 4, 2017
Beane Interviewed: The Bills made it official today, they announced that they interviewed Panthers Assistant GM Brandon Beane today. An interesting point was they said it was a front office position, they did not say for the General Manager's job. That leads to speculation that whoever they hire will not be a standard GM with Sean McDermott being the man in charge. If that is the case than one would think it would give Carolina an opening to block the move since a case could be made for it not being a true promotion to GM.
Wednesday May 3, 2017
GM Candidates: John McClain of the Houston Chronicle reports that the Bills have received permission to interview Texans director of player personnel Brian Gaine. He is considered a rising star in NFL circles and would be a solid candidate. LeSean McCoy tweeted his favorite for the job today saying that Chiefs co-director of player personnel Brett Veach is "our man". Veach was in Philadelphia with McCoy and Sean McDermott and is on many lists as a candidate for the Bills GM job.
TE Visitng: The Bills are visiting with former Browns TE Gary Barnidge according to Mike Garofolo of the NFL Network. Barnidge has a history with Sean McDermott as he was with Carolina during the coach's first two years there. Barnidge was released after the Browns traded up to take David Njoku in the first round of the draft. The Bills can use some veteran depth at the position and they failed to take on during the draft and didn't sign one in free agency. He is a nine year veteran who had 134 catches the past two seasons. He had 79 catches for 1,049 yards in 2015 before a sports hernia hampered his production last year.
Tuesday May 2, 2017
Bills Get Another CB: The Bills now have 10 cornerbacks on their depth chart after being awarded Charles James off of waivers from the Colts. He is the second addition at the position in as many days after drafting Tre'Davious White in the first round on Thursday. James was a "star" on Hard Knocks with the Texans. This will be his fifth year in the league and played in 21 games the last two seasons in Houston. He was orginally with the Giants after signing as an undrafted free agent in 2013. Front Office Page.
Bills Decline Option On Watkins: The Bills have declined to pickup the 5th year option on Sammy Watkins. Vic Carucci reported during the draft that they were not going to as well but the final decision came down to the wire. The reason for this is the fact that he has missed so many games because of injuries since being drafted. The option figure would have been $13.3 Million for him and that is a lot of money because it's guaranteed against injury. The team still has options however if he indeed stays healthy this year. They could still work out a long term deal with him or place the franchise tag that will be around $3 or $4 Million more than the option figure. Sean McDermott released the following statement: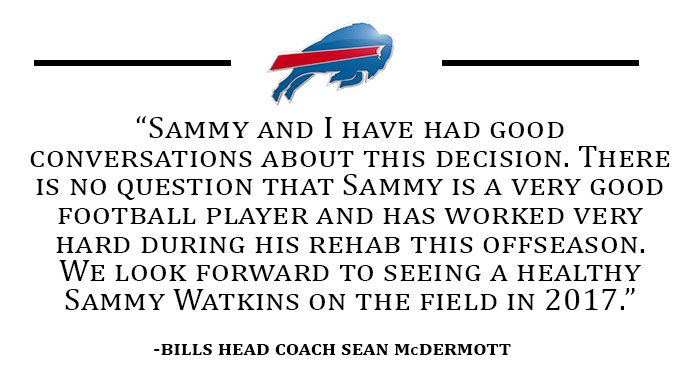 Monday May 1, 2017
GM Search Begins: The search is underway as Wendi Nix of ESPN reports that the Bills have requested permission to interview Panthers Assistant GM Branon Beane. Charles Robinson of Yahoo reports that the Bills are very intersted in talking to Chiefs executive Brett Veach. Both men are highly regarded in NFL circles and have a history with Sean McDermott. That seems to be a must since McDermott has the power in the organization which was made clear this week.
Bills Sign FA: The Bills are done with the draft and finishing up undrafted free agent signings but they continue to tweak with the roster by signing veteran free agent cornerback Shareece Wright. The former Raven visited with the Bills earlier in free agency. The run stuffing corner was a third round pick of the Chargers in 2011 playing in 67 games with them. He played in Baltimore the last two seasons making 15 starts including an 11 tackle effort against the Bills in the season opener last season. He has 42 career starts in 67 games played with 213 tackles, 31 passes defended and one interception. Front Office Page.
---
News Archives index
Latest News Section
Archives Library
Back to Bills Daily Homepage