Meet The Draft Class Of 2017
Sunday April 30, 2017
Draft Review: Very busy Sunday as we try to wrap of the draft here at Bills Daily and deal with the house cleaning of the organization at One Bills Drive. We released our grade earlier today on our draft page and now our final draft analysis is up as well. The team went for players with versatility and high character and succeeded in getting help for the short term and long term. Complete Story.
Pegula Presser: Terry Pegula addressed the media this morning after the firing of GM Doug Whaley and the entire scouting staff. He said it wasn't an easy decision as he enjoyed working with Doug since he is a very good person and he confirmed that they relieved the entire pro and amateur scouting department of their duties. He made it clear that the decision was made by Kim and him. They look forward to hiring their first GM as owners of the Bills. He said the move was made now as opposed to the end of the season because this is the end of the scouting year for the pro personnel department. They ran a process after the season ended and made the decision at this time. Jim Monos and Kelvin Fisher are part of the house cleaning. On Jim Overdorf, that decision will be made by the new GM if he stays or go. The new search will be run by Kim and him but they will use every resource they have inside and outside the organization for their input including Sean McDermott. On the coaching search that landed McDermott, he said while Whaley led it he wasn't the only one involved in the hiring of him. The Pegulas are in charge of both the Sabres and Bills GM processes right now, they regret not being more involved in the last Sabres GM hiring. They will talk about the obligations and duties of the new GM but Sean is the head coach and the new GM will be the GM. He likes collaborative organizations so the power structure he envisions is someone that works with them and Sean to make a good team. It still will be decided if Sean will report directly to the Pegulas or to the new GM. Russ Brandon is a member of the organization and will be asked for input on the search as well. In the draft room he said McDermott didn't run it, it was a collaborative effort. He is talking about hiring a GM but it will be whatever they decide moving forward so a football czar type is not off the table. Pegula said Doug Whaley put the whole draft today but they ran there process and decided right after the draft to make the change. There are certain aspects that need to get better. Communication was not a problem and Doug is a good communicator. He is very personable and he will land on his feet somewhere. There were a few tears around the building after Whaley was let go since he was a good guy. Pegula said they have not started compiling a list of candidates. Fans have to believe that the Pegulas will hire the right people because they are the owners it is their decision.
Entire Scouting Staff Out: There now several reports out that the Bills indeed did clean house and the entire scouting staff has been fired as well. Ian Rapoport reports that Terry Pegula will decide if the new GM has final say or not. If he doesn't that may keep some candidates at bay. The complete housecleaning is at the right time as the beginning of the new scouting season starts right after the draft.
Draft Grade: We have released our annual draft grade on our draft page. The three trades have a lot to do with grading this draft especially getting a first round pick in next year's draft. So the finally chapter of this year's draft will be written well down the line and will be tied to next year's draft. Besides all that the team really filled some holes with their draft picks and it seems like it was a solid draft. Of course you don't know for a few years how good or bad it really was. Draft Grade.
Pegula Statement: Here is Terry Pegula's statement on the firing of Doug Whaley.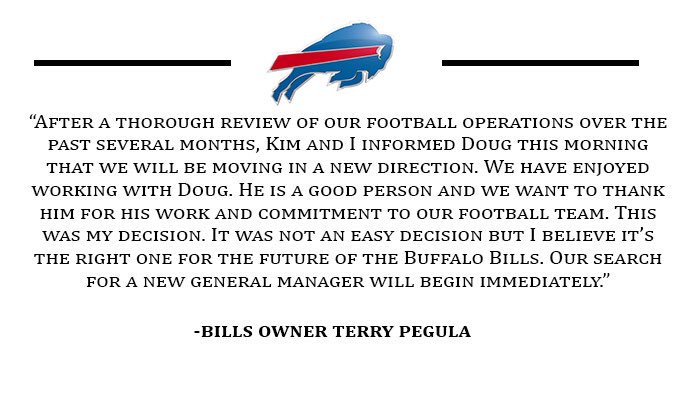 Bills Fire Whaley: The expected move has happened. The Bills announced early this morning that have indeed fired GM Doug Whaley. He had been with the Bills since 2010 and has been the GM since right after the draft in 2013. Firing of GMs after the draft is actually the right time to do it but firing him when they got rid of Rex Ryan would have been cleaner. Expect wholesale changes to the scouting staff as well. Vic Carucci is reporting all the scouts will be let go as well. Terry Pegula released a statement that said the search for a replacement would start right away. The odds on favorite appears to be Panthers assistant GM Brandon Beane. The Pegulas are busy people these days looking for GMs for both their sports organizations. These shows once and for all that Sean McDermott is in charge of the football operations. It will be hard to get a real quality GM in here with a rookie coach already in place with so much power unless it is a guy like Beane that knows McDermott so well. Despite those issues it was obvious to me that Whaley needed to go ironically it comes after what is being widely perceived as a solid draft for the Bills but it is no doubt that McDermott was ton our front office page. Sean McDermott has spoken a lot about how important these signings are calling them priority free agent signings. Our list he man behind the picks.
Undrafted Free Agent Signings: Tweets and reports are filing in of undrafted free agent signings by the Bills. We are listed the unofficial signings has nine names so far plus there will be others that are invited to the rookie minicamp as tryout players, they are not listed. Unofficial Undrafted Free Agent Signings.
Saturday April 29, 2017
House Cleaning Tomorrow? Jason LaCanfora is the latest to report about the possible house cleaning at One Bills Drive. He said it is now probable that the scouts and GM Doug Whaley will be let go as early as tomorrow. The report says that they have been asked to come to the headquarters for a meeting tomorrow. The report goes on to say that Panthers assistant GM Brandon Beane would be the top candidate for the general manager job. He obviously has a history with Sean McDermott who is clearly running the show now. The 39 year old Beane interviewed for the 49ers GM job last year.
McDermott Presser: Sean McDermott addressed the media after the Bills were done with the draft. He thanked everybody in the organization at the beginning of the press conference. They got their hands on good football players today. Matt Milano has played safety and linebacker gives them speed and is a smart tough football player who sees the field well. Nathan Peterman they liked when he visited. His success speaks for itself at the position. Showed tremendous grit after undergoing adversity while at Tennessee. His accuracy and timing of the throws as well as the ability to work under center was important to them. On Tanner Vallejo he's similar to Milano in terms of speed at the position and tremendous production around the football. He's relentless and gives them value at special teams. The coach knows the importance of the QB position so combining that with the grade they had on Peterman and taking him in the late 5th round was a no brainer. He thinks they can do good things with him. They saw it as an opportunity to take a good football player who happens to be a quarterback. They feel good about Peterman being able to come in pro ready but they will have to see. Something good is happening when you go down and beat Clemson like he did at Pitt. The coach feels good about the quarterbacks. He likes what he sees when watching them work going back to Tyrod Taylor's work ethic. They are getting that position right and they will continue to add good football players that will compete at all positions to get this thing pointed in the right direction. He gave a lot of consideration to all positions of need and they are not done as they look to the undrafted free agent period coming up which he calls priority free agency. On being the lone Bills spokesman he said as long as he's the head coach he will go with the one voice approach. He said it wasn't imperative to come out of the draft with a quarterback. On Mike Milano he will start off at linebacker although he could play safety. He praised Doug Whaley and his staff for doing a phenomenal job. On Sammy Watkins he is still working through the process on if they will pick up his option. Draft Page.
Final Pick Is Another LB: It took to their last pick that the Bills actually picked with their assigned pick. With the 195th pick in the draft in round 6 the Bills selected Tanner Vallejo another OLB from Boise State. He battled injuries the past two years but has tremendous upside. Another versatile linebacker who played on the strongside in their hybrid 4-3 defense. Solid speed and toughness. He is a good tackler that was routinely around the ball. Will get a chance to contribute right away on special teams and is more depth at the depleted outside linebacker corps. The Bills took three players on each side of the ball. Draft Capsules.
Bills Take QB Not Named Kelly: Chad Kelly won't be a Bill because Buffalo took Pitt QB Nathan Peterman with their second of two fifth round picks in the draft, 172 overall. The Bills have been linked to him throughout the process and he was a good value at this spot. He was a two year starter at Pitt and he completed 61.5 percent of his passes for 2,287 and 20 touchdowns as a junior and threw for 2,855 yards and a 27-to-7 touchdown-to-interception ratio last year. He has the prototypical traits at the position and will likely battle Cardale Jones for the third QB spot. His decision making needs to improve but has good size, arm strength and mobility. Draft Capsules.
Bills Take LB With First Of Fifth Round Picks: The Bills had a long nearly three hour wait this afternoon but they stayed put and with their first of two fifth round picks they took Boston College LB Matt Milano with the 163rd overall pick in the draft. He is a special teams star who fits well with the hole the team has at the position. He needs to learn cover skills and will not start right away. He is a high character guy who is another captain that they took. He played for the Eagles like Luke Keuchly did before him who Sean McDermott coached in Carolina to great success. He played on the strong side at BC and adds immediate depth at a position of need. He has versatility like every other pick he can play 3-4 or 4-3. He is a big hitter but undersized and athletic. He had 58 tackles, 11 for loss, 6.5 sacks, one interception, and a blocked punt. According to PFF he missed just five tackles last year. Draft Page.
Friday April 28, 2017
McDermott On Dawkins: The Bills traded up to get another good, versatile player and he was the guy they wanted so they went up to get him. He's long, athletic and goes along with their philosophy of running the ball and controlling the line of scrimmage. McDermott sees him competing and he can play both tackle and guard and both sides of the line. They are going to continue to look at every option in the draft if they have the ammunition to move up for a player they want they may do it, they also are open to moving back. There are a lot of picks between now and where they pick next but nobody is leaving at this point. They evaluated the long break between picks when they made the move but the caliber of the player was enough so they feel good about the move. They are really placing a value on versatility and that includes special teams play which he is a big believer in. They saw an opportunity to help the running game with this pick so they went up and did it. They looked at the player first and he was well coached in college. They spent a long time looking at his arrest for assault outside a Philadelphia nightclub in 2015 and they are comfortable with the details of that situation. It still is to be determined which position he will play they want him to first learn the system and get acclimated with the NFL and get comfortable before deciding where he will lineup. If he ends up playing guard it is a crowded position with John Miller, Richie Incognito, and Ryan Groy there. He feels really good about the three players they have got so far. They will all come in to compete and join their family. They know they will be sitting around a bit now but they will maximize their opportunities to improve the team. They moved around a lot but they got the guys they believe in. Depth Chart.
Bills Move Back Into 2nd Round: The Bills are wheeling and dealing as they moved back into the 2nd round in a trade with the Falcons. They moved up 12 spots as they gave Atlanta their 75th overall pick and two of the four fifth round picks, the 149th and 156th overall. The 149th was the one they got from the Rams. So this time the Bills gave up three picks to move up 12 spots. The Bills filled another hole, this one at tackle by taking Temple OT Dion Dawkins. He may play guard in the NFL which is not a position of need so I expect them to give him a shot at right tackle although many experts feel he is better suited at guard. With this pick they are likely done for tonight and don't have a pick scheduled again for 100 picks as they gave up their first two fifth rounders. Their next schedule pick is at #163. They are now back down to the 6 picks they had before not matching the tender of Mike Gillislee after being up to 8 picks. They have not picked in their spot yet. Draft Capsules.
Report Says Watkins Option Not Happening: Vic Carrucci reports that an NFL source says the Bills will not pick up the option on Sammy Watkins while he is recovering from foot surgery. They have until May 2nd to make the call but it appears they won't do it and the drafting of Zay Jones may make the decision easier. I don't agree with this move since I think Watkins will get healthy and it takes an option away from the team. Of course if he plays lights out this year they can franchise him which would cost another $4 Million or so over the option figure. They could also work out a long term deal. Other than those two options they are facing a situation where Watkins will be an unrestricted free agent after the season which is very discouraging for a very talented player they mortgaged the farm to get.
McDermott On Zay: Sean McDermott addressed the media on the Zay Jones selection. He says it has no bearing on whether or not they pick up the 5th year option on Sammy Watkins although Vic Carucci reports the Bills are not expected to pick up the option they have while he is recovering from foot surgery. They have until May 2nd to decide. He did say the connection with Phil McGeoghan did play factor on the pick which is obvious. The coach said finding players that stay out of trouble is getting harder now so they do value high character players like Jones. He said you can't ignore the numbers he put up at East Carolina. He said the "ice was getting thin" that is why they felt the need to trade up. He did say he will have to fight for the #2 job.
Bills Trade Up For Zay: The Bills moved up seven spots in round two and took East Carolina WR Zay Jones. His receivers coach in East Carolina Phil McGeoghan is now the Bills WR coach. The Bills gave up their 44th overall pick and the #91 pick in the draft, the third rounder they got from Kansas City. In return they picked up their fourth 5th rounder, the 149th overall. So the move up didn't cost them any picks just swapped a third for a fifth. The pick they swapped wasn't theirs before yesterday anyway, so it theory they moved up seven spots and gained a 5th rounder from where they were yesterday. McGeoghan wanted his guy and got him. This was a nice pick for the Bills he will step in to the starting lineup opposite Sammy Watkins. He had incredible production with 399 career catches in college for 1,746 yards. One of the most prolific receivers in NCAA history. He has the most career catches in FBS history and 158 in one year is also a record. His Uncle and Father both played in the NFL. He is a man of high character as well a three year captain with the Patriots. According to PFF he only dropped 6 of 164 passes last year. Draft Capsules.
White Presser: The Bills introduced first round pick Tre'Davious White at a press conference this afternoon at One Bills Drive. White said he can tell people how excited he is about it and he can already tell how passionate Bills fans are. He knows they already have some great players that he watched while at LSU and he's looking forward to just adding to the great players they already have like Jordan Poyer, Micah Hyde, and Ronald Darby. He feels he can bring depth to the secondary. He felt going back to LSU for his senior year he would mature as a person and become more of a complete player and get his college degree which was important to him. He was also able to achieve most of his goals by returning for his senior year. He had a great meeting with Sean McDermott at the combine. He is very passionate about defense and he can relate to that because that is how it was at LSU. He is very humbled about being McDermott's first draft pick. He won't take lightly being one of the building blocks to turn things around and he takes that with pride. He knows what type of players they have in the secondary and he will learn from them and everything will be fine. After football, he would like to become the head coach of his High School football team or an athletic director. He feels above all his versatility is an asset. He can shadow number one receivers or play inside. There was also a package for him to play safety. He is his own worst critic and he knows he has to work on his tackling. It's not willingness about hitting it's a technical thing about him being consistent. He learned how to respond to adversity by going through three defensive coordinators in his last three years at LSU. It's all about how you respond and react to things. He just wants to be different, his mindset is difference. He had family members and friends go the wrong route when he was younger. He wants to motivate and inspire. It's not just about football, it's inspiring people to get a degree and an education. He compared the passionate atmosphere at LSU with Buffalo in terms of the RVs lining up two days before the game. He needs to come in and learn from the leaders and when the time comes for him to be a leader he needs to be ready for it. He wants to be one of the best to go down at defensive back. He will come in and compete against all pros and it's a privilege but he's a competitor and is ready to get to work.
New Pricing Structure: A few things are changing in individual game ticket sales for the Bills. First they go on sale much earlier this year on May 8th. Second the team has announced a new dynamic pricing structure in which prices will rise and fall based on the demand for tickets. The opener against the Jets is the highest priced game as the lone platinum game. The games against Denver, Oakland, and the Patriots are gold games while the Tampa Bay and New Orleans interconference games are silver. The late season games against Indianapolis and Miami are bronze while the preseason has their own lowest price ticket prices. That price structuring will go up and down depending on sales of tickets. Prices could decrease below their initial box office offering but will never go lower than the season ticket price for the game.
Thursday April 27, 2017
White On WGR: Tre'Davious White joined WGR shortly after the pick and he said had no expectations for draft day but he is overfilled with joy and is grateful for the opportunity. He calls himself a versatile guy which Sean McDermott knows. At LSU they thrive on special teams and he never took it lightly and he has been a great special teams guy the past four years. He wants to get into the locker room and earn the respect of his teammates. When he gets on the field he will be the best player he could be.
McDermott On White: Sean McDermott said the value they got for moving down that far made them feel good about the trade getting next year's first, they don't find that everyday. They feel good about the pick of Tre'Darious White. Solid person, solid football player who they had high on their board. He's versatile and a returner which brings in special teams value as a punt return. He will have to come in and earn his spot. Since they lost Stephon Gilmore there was a need there. Overall he likes the quality of the football player not even thinking about the need. He feels good about the pick but he's not satisfied. They are looking to put the organization in the best position to be successful. They will continue to look at the draft board to see how they can get better. He was asked about the possible changes in the scouting staff but he said he's totally focused on the draft.
Bills Take CB: It was a long wait but the Bills finally selected a player late in the first round. LSU CB Tre'Davious White was the pick. He is small at 5'11" but physical and plays larger than his size. He is versatile which the coach likes, he can play anywhere at corner in any scheme and has good reaction skills. The Bills made the pick with the 27th overall pick after trading down 17 spots with Kansas City. It was the lowest spot the Bills have drafted a player in round one since 1994 according to Howard Simon of WGR. Draft Capsule.
Bills Trade Down! It's going to be a long night as the Bills made a deal with the Kansas City Chiefs to move down from 10 to 27. With many of the blue chip prospects on the board the Bills felt they can move that far down. The Bills got the 91st pick overall (third round) in this year's draft and a first round next year to go along with the 27th overall pick this year. Shockingly 3 WRs and 2 RBs were taken before the Bills were on the clock at #10. TE O.J. Howard, LBs Haason Reddick and Reuben Foster, S Malik Hooker, CB Marshon Lattimore, DE Jonathan Allen, and QB Deshaun Watson were all on the board when the Bills would have picked at number 10. On the draft chart the Bills gave up 520 points in the move down and got back 136 points for the third rounder. Making the 1st rounder next year a great value at 384 points which is a 2nd round value. The Bills now have two number ones next year they can use them to trade up for a QB next year if need be or trade one to move back up tonight. Draft Page.
Draft Time! The NFL Draft is here! As we have done for 18 years we will have complete coverage here at Bills Daily and will have running commentary on twitter. Our draft page is your one stop shopping for all Bills related draft news. We will have the draft board constantly updated with links to player scouting reports shortly after each Bills pick. We will also have our draft capsules that will have a quick blurb and all the pertinent combine stats for each new Bill. There are also links to your preview article and mock drafts along with links to other draft news around the web. Keep checking that page throughout the draft! This page will have snippets from press conferences and conference calls with the newest Bills. Our depth chart and front office page will also be updated after all the picks. On Sunday we will grade the draft and have a complete wrap up of the draft along with our review article. Draft Page.
For commentary throughout the draft

follow us on twitter
Wednesday April 26, 2017
7 Round Mock: We have once again took a stab at a seven round mock draft for the Bills. Check it out and let us know what you think! We have the Bills going with sky rocketing LB Haason Reddick in the first one before addressing needs at cornerback and wide receiver on day two. Bills Mock.
Report Says House Cleaning Coming: Pro Football Talk reports that the Bills scouts are bracing for a house cleaning after the draft. A league source told them that they "are all getting fired next week". If true, this likely means the end of Doug Whaley's tenure in Buffalo as well. He has taken a backseat to Sean McDermott since the new coach got to Buffalo. Getting rid of scouts and a GM after the draft is the right time to do it. The Bills released a statement to PFT in response that said, "right now, our focus is on the preparation for this week's draft. Like every year, evaluations of our player personnel staff take place following the draft. And this year will be no different." Not exactly a vote of confidence for the scouting department.
Tuesday April 25, 2017
Draft Preview: We have released our draft preview article and talk about what we think the Bills philosophy should be during the draft. The Bills need to fill many holes with their seven picks in the draft so trading down would be ideal if possible to add more picks to fill out the depth chart. They have to fill holes at wide receiver, cornerback, right tackle, linebacker, and tight end along with the newly added opening at running back. Complete Story.
Monday April 24, 2017
Gillislee A Patriot: The Bills took all the time they had before announcing they have not matched the offer sheet for Mike Gillislee and he now joins the New England Patriots. The Bills get back $1.7M in cap space and a fifth round draft pick, the 163rd overall that the Patriots originally got from Denver. The Bills now can add running back as an area of need behind LeSean McCoy on the depth chart. They now have three picks in the 5th round within 15 spots of each other. Draft Page.
Gillislee Deadline Looming: The Bills have until 4pm to match the offer on restricted free agent Mike Gillislee. If they match it, he will count nearly $4 Million against the salary cap instead of the $1.7 M tender. If they let him go, they will receive the 163rd overall pick in the draft from the Patriots which is a 5th rounder. It will give them a 7th draft pick to fill holes.
---
News Archives index
Latest News Section
Archives Library
Back to Bills Daily Homepage