Bills Hire Brandon Beane As GM
Sunday May 14, 2017
Bills Hire Asst. GM: Brandon Beane has started filling out the front office staff by hiring former Dolphins Director of Player Personnel Joe Schoen as his right hand man naming him Assistant General Manager. Like Beane he got his start as an intern in the Panthers organization. He was a ticket office intern in 2000 and is considered a tireless worker. He was a member of Carolina's scouting department from 2001 through 2007 before joining Miami in 2008. He served in their scouting department before being named assistant director of scouting in 2013 and then to Director of Player Personnel the following year.
Friday May 12, 2017
Pegula On WGR: Terry Pegula joined the John Murphy Show on WGR shortly after the press conference. On the dual GM search he said the Sabres job was a more pressing one to fill with the expansion draft coming up and a lot of moving pieces going on in the NHL at this time. On the Bills GM search, they talked to people around the league and had their own internal list of names as well. Brandon Beane stuck out but he feels the relationship between Beane and McDermott isn't the reason he is here and more is being made out of that then should be. If Beane wasn't the right guy the relationship wouldn't have mattered. They had their prerequisites which included someone that wasn't just a pure scout (which Whaley was). They wanted someone that ran an office and was good at putting it all together. He also has done more scouting than people realize. For an organization to survive everyone needs to be on the same page. While Beane has the 53 he will talk to everyone because colloborating is very important to success. Sean and Brandon are across the board organization wise and team players as is the new Sabres GM.
Beane Presser: The Bills introduced Brandon Beane as their new general manager at a press conference this morning with him and Terry Pegula. Here are snippets from that presser: Terry Pegula said Brandon is embodies everything they want in a GM. He's a cum late grad and quickly rose through the ranks in Carolina. They learned he's highly regarded in the NFL, the Panthers love him, he's smart, dedicated, humble, a hard working, and a team player. Beane said it's a very exciting time as he thanked the Pegula family for believing in him. He called it an awesome opportunity and he can't wait to get started. This was an opportunity he couldn't pass up and he is so excited to have it. He thanked the entire Panthers organization and said he will miss them. Beginning today he's a Buffalo citizen and can't wait to get started. He will jump right in and watch the rookie minicamp after the press conference. He said he was blown away by Terry and Kim Pegula. When he left the interview he knew he wanted to be a Buffalo Bill. The Pegulas will do anything they can to help him and Sean McDermott build a winner. You will find he's a hard worker and humble. It's not his team or Sean's team or Terry's team. It will be a collaborate effort that was how it worked in Carolina and that is how it will work here. On his relationship with McDermott, he says it was huge that he is here. He called him a great man and they built a strong trusting relationship in Carolina. He thinks you will see a heck of a partnership between the two men. He will be very involved in contract negotiations. All the of the negotiations in Carolina over the last five or six years he was involved with and he will be doing that in Buffalo. As far as not coming through the scouting ranks, he said he was fortunate to be behind the scenes in Carolina learning about scouting. He has always been involved in the draft and has seen how it's done. He said it won't be an issue. The Pegulas checked every box for him. He had questions about leaving a place he has been for 19 years but they answered all of them. The unique thing Sean and he has is respect. He respected how McDermott earned his way and he thinks he feels the same way about him. They always bounced ideas off each other to make their defenses better in Carolina and now they will do the same thing for the entire roster in Buffalo. He doesn't feel coming in at this time is an issue he will have the time to learn the players. He will have to follow the process in building a scouting staff. He knows a lot of guys around the league and they will take their time to get the right guys. Pegula confirmed Brandon has the 53 man roster but he will collaborate with Sean on it. Terry felt his all around front office knowledge separated him from the group. He was a GM in every way except for the title. He said he, Kim, and Russ Brandon put the list together along with others. Beane was on all the lists they made and they picked the candidates they wanted to interview. Sean McDermott's involvement was no more than writing 7 or 8 names on a piece of paper. Beane said the setup will be similar to what they had in Carolina. He will be on the football side while Sean will have control of the coaching side. It is a team effort that works. On Jim Overdorf, his future will be decided by Beane. He said he is coming in with his eyes wide open about everyone. He has known him for a long time and he looks forward to getting to know his process and they will see where it goes from there. On the QB situation he said obviously Tyrod Taylor is the starter and he's a great young man who has done a lot of good things on tape. A good GM needs to know and be involved in all sides and he feels he can do that. Doug Whaley was never involved in contracts but Beane will. He said his philosophy is to build through the draft and then keep those players if they produce. They will not make big splashes in free agency. They will plug a few holes in free agency and then draft for need. The goal is to win the division and they know the task is big with the Patriots having a stranglehold on that. He feels what Sean said about getting the culture right is on the money. You want to build the team from the ground up and he wants to sit down with Sean and talk about it since he hit the ground running in January with the team. You have to look at what the other team is giving you but he sees them being a tough, physical team on both sides of the ball. You have to be able to run it or you will struggle. Of course, you need to be able to throw it as well. He though the collaborate effort durign the draft was great. He loved the draft and thought they got a lot of good pieces. He talked about how Sean introduced his oldest son to wrestling and the two of them would run together so they were friends off the field.
Rookie Minicamp Underway: Today starts the three day rookie minicamp consisting of the six draft picks, 13 undrafted free agents, some practice squad players from last year, and 25 rookie tryout players. Those players according to Mike Rodak of ESPN are: DL Chas Alecxih (Pittsburgh), Donte Wilkins (Virginia) and Jamari Ford (Miles College); LBs Abner Logan (Albany), Anthony Harrell (Georgia Tech), Fletcher Collins (Montana State) and Sean Folliard (Northern Illinois); CBs Isaiah Jackson (Western Colorado), Justin Jemison (Jackson State) and Terrence Singleton (Prairie View); S Adam Maxie (Coastal Carolina); P/K Brett Benes (Charleston), QB Dan Collins (Maine); FB Adam Cox (Iowa) and FB Andrew King (Texas-San Antonio); WR Dres Anderson (Utah), Jordan Williams (Edinboro) and Jalen Robinette (Air Force); TE Kenny Johnston (Florida Tech); OL Michael Selby (Marshall), Voghens Larrieux (Coastal Carolina), Ryan Melton (Texas State), Gavin Andrews (Oregon State), Jay Guillermo (Clemson) and Jac'Que Polite (Winston-Salem State).
Thursday May 11, 2017
Two Draft Picks Signed; 3 Players Released: The Bills got their roster down to the 90 man limit by releasing three players today. The team released cornerbacks Marcus Roberson and Marcus Cromartie along with wide receiver Corey Washington. The Bills also began to get their draft class under contract by signing their two drafted linebackers. 5th round pick Matt Milano and 6th rounder Tanner Vallejo have signed, leaving four picks unsigned. Depth Chart.
Rookie Minicamp: The rookies are arriving at One Bills Drive today as the rookie minicamp gets underway tomorrow. It will be a busy day as the team will introduce new GM Brandon Beane at a press conference at 10:30am. He arrived in Buffalo today. Sean McDermott will address the media tomorrow afternoon after the first rookie workout. We will have complete snippets of Beane's introductory presser as it happens tomorrow.
Tuesday May 9, 2017
Rivera On Beane: Panthers coach Ron Rivera released a statement on the Bills hiring on Brandon Beane as their new general manager: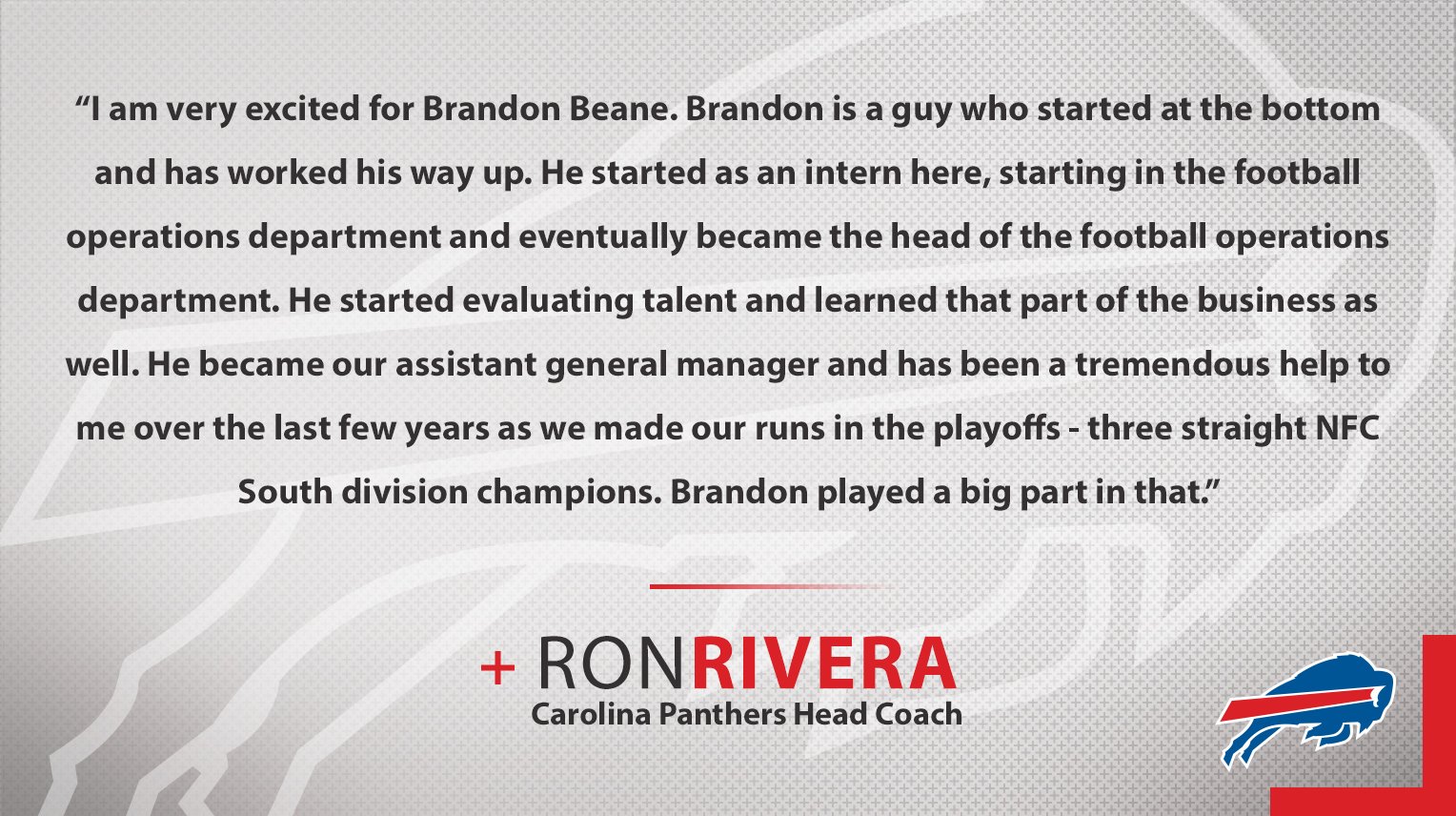 Bills Hire Beane: Nine days after firing Doug Whaley the Bills have a new general manager and he's the man who has been considered the favorite from the beginning. The team announced the hiring of Brandon Beane as the team's new general manager. He will be lockstep with Sean McDermott since the two worked closely together in Carolina. His contract runs concurrent with McDermott's. The 40 year old Beane has spent his entire 19 year career with the Panthers in many different roles. His most recent title was assistant General Manager and he was considered the heir apparent for Carolina. He was one of just four candidates interviewed for the job and he completed a 2nd interview today in Florida with the Pegulas. He was the interim GM in 2012 for 10 weeks and was the Director of Football Operations for 7 years. The team will introduce him at a press conference on Friday at 10:30am. Terry Pegula released a statement announcing the hiring: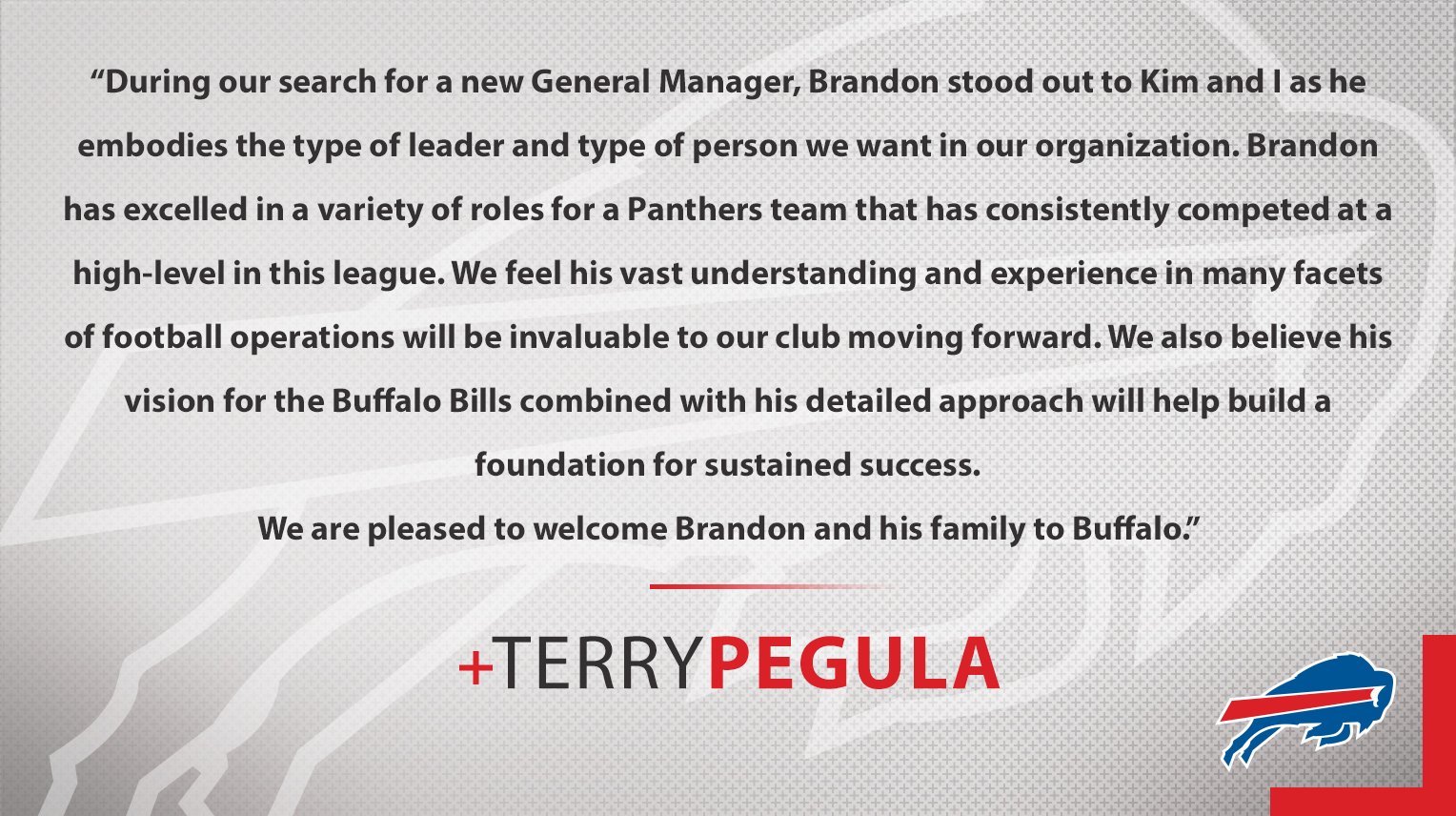 Bills Add LB: The Bills signed free agent LB Carl Bradford today. He was a fourth round draft pick of the Packers in 2014 and was most recently with the 49ers at the end of last year. He was released last week. He only has five career tackles but could be a special teams contributor. Front Office Page.
Monday May 8, 2017
GM Search Update: Reports are out of a 2nd interview for one candidate while the Bills announce the interview of another. Adam Schefter is reporting that Brandon Beane will be getting a 2nd interview in Buffalo today. He has been the odds on favorite for the job since the beginning because of his relationship with Sean McDermott. The team confirmed an Ian Rapoport report that they interviewed Packers Director of Player Personnel Brian Gutekunst. He is a highly sought after executive like Beane and both of these candidates interviewed for the 49ers job.
---
News Archives index
Latest News Section
Archives Library
Back to Bills Daily Homepage