| | |
| --- | --- |
| Bills Daily Week in Review - Nov. 1st - Nov. 7th, 1999 | Previous Week |
Bills Scalp Skins 34-17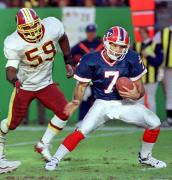 Doug Flutie threw two touchdown passes and Antowain Smith ran for two more as the Bills stunned the Redskins 34-17 in Washington. The running game exploded as Jonathan Linton flirted with the 100 yard mark and Smith ran with authority as Flutie chipped in with some "magical" runs. The best run of the game came on a 4th down gamble with the game tied at 10 in the second quarter. Flutie dodged some defenders and scrambled for the first down to keep alive the scoring drive that ultimately gave the Bills the 17-10 halftime lead that they would not relinquish. Check here for MORE.
November 7, 1999
Gameday Notes: Eric Moulds and Ruben Brown are both expected to play today but a final decision won't be made until right before kickoff.
Bills Players Arrested: Two Bills players and a former player were arrested Friday night after in altercation in a bar. Brian Edwards, a former member of the practice squad, and Jeremy McDaniel, who is currently on the practice squad, along with active player Marvcus Spriggs were involved in the incident. Edwards allegdely grabbed the crotch of a patron who happened to be a police officer. McDaniel and Spriggs got involved and all three were arrested on a number of charges, including sexual abuse and harassment.
November 6, 1999
Early Inactives: The four early inactives include Thurman Thomas, Joe Panos, Sheldon Jackson and Victor Allotey. Allotey is the only healthy scratch so far.
November 5, 1999
Reed Latest: Coach Phillips said Andre Reed being held out of practice on Thursday wasn't an unusual occurence. He has rested on a few other Thursdays this year. Reed said his ankle was a little bit sore after Wednesday's practice. He is expected to start on Sunday.
November 4, 1999
Reed's Role Reduced? Shout! is reporting that Andre Reed was demoted from the starting lineup on Wednesday and re-instated after meeting with the coaches today. There is speculation that his role will be reduced as his relationship with Doug Flutie is not good. Question: How can you demote a hall of famer who was the only one catching passes last week including two big catches in the final drive?!
Reed Doesn't Practice: Although not listed as injured, Andre Reed did not practice today. John Holecek and Sheldon Jackson joined Reed on the sidelines and won't play Sunday. Eric Moulds practiced today for the second straight day but did so on a limited basis. He is hoping to play this week.
November 3, 1999
Injury Report Released: Eric Moulds and Ruben Brown are both listed as questionable. Brown and Moulds both practiced. Phillips said it would be "amazing" if Moulds played since its a 3-4 week injury and they don't want to risk re-injury. John Holecek and Sheldon Jackson are listed as doubtful and won't play.
Gordon To Be Active: Expect Lennox Gordon to be active this week to take Jackson's place on the roster. He may play some fullback while Sam Gash may see some time at tight end in the multiple TE set.

November 2, 1999
Tough Road Ahead: halfway through the season the Bills are struggling and won't get any easier. The combined record for their opponents the rest of the way is 36-23 (that is included the Patriots 6-2 twice). It is obvious that from here on out, the Bills need to bring their A game every week.
Moulds Returning? Eric Moulds says he is ahead of schedule and will return this weekend against Washington.
Thomas Out 4 More Weeks: A recent cat scan shows that Thomas' liver is healing but has not completely healed, he will be out at least four more weeks.
November 1, 1999
Injury Update: John Holecek started but left the game in third quarter after injuring his other knee. An MRI today showed a bruise to the right knee. He may miss this weeks game against Washington but it is not serious. Sheldon Jackson hurt his leg in the fourth quarter and it was revealed today that he will miss a month of action. Jay Riemersma and Phil Hansen played the whole game.
RB Change? It is apparent to almost everybody now that Jonathan Linton is the main running back. Even Antowain Smith told the coaches that Linton should be in the game on the final drive. Phillips also said that Linton will be playing 2/3 of the time since he is the back in the one back set and he will continue to split time with Smith in the two back set.
QB Controversy?Here's a good quote by Leo Roth of the Rochester D&C regarding Flutie: "Buffalo's coaches seem mesmerized by the fact Flutie can make miracle plays that other quarterbacks can't. Right now, though, Flutie can't make the routine plays all quarterbacks should." Perfect quote, Flutie's magic may be running out, he had a QB rating of 32.8 in the game. It may be time to start looking toward the future, and the future is Rob Johnson. Phillips has said that Johnson will not play unless Flutie is hurt or a game is a rout.
Other Game Tidbits: Here are some notes coming out of yesterday's squeaker:
The Bills three scores were setup by two defensive turnovers and a blocked field goal by the special teams. The blocked FG late in the second quarter gave the Bills their first edge in the battle for field position and kept the team in the game before the fourth quarter heroics by the defense.
On the positive side for Flutie he became the fifth player in football history to surpass the 50,000 yard passing mark for his pro career. A truly great achievement.
Jonathan Linton's TD reception was the first of his career.
Flutie is now 7-0 against AFC Central teams.
Wilson Married: Congatulations to Owner Ralph Wilson who got married last week.
---
1999 News Archives Index
Back to Bills Daily Homepage