| | |
| --- | --- |
| Bills Daily Week in Review - Oct. 25th - Oct. 31st, 1999 | Previous Week |
Bills Escape With 13-10 Win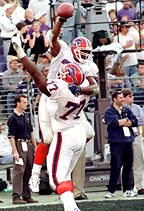 Doug Flutie scrambled his way to a 5 yard game winning touchdown pass to Jonathan Linton with 1:35 to play to give the Bills a 13-10 win over the Baltimore Ravens. It was the first lead of the game for the Bills as they fell behind, as usual, 10-0 in the first quarter. Flutie threw 3 interceptions and had another 3 almost picked off as the defense played a stellar game. The defense kept the Bills in it and then took it upon itself to make the big plays as they forced two turnovers in the fourth quarter leading to the 10 Bills fourth quarer points. The big offensive play was a Flutie run of 17 yards on 4th and 15 on the game winning drive. MORE....
October 31, 1999
Holecek to Play: Despite earlier reports, John Holecek will play today and he'll be in the starting lineup. He tested his injured knee this morning and gave the green light to play. He will be vital in stopping RB Eric Rhett
Gameday:The Bills will try to end their two game losing streak in Baltimore today and they will do it shorthanded due to injuries again. Where's the bye week when we need it! It looks like John Holecek probably will not play. Earlier in the week he was optimistic that he would go, but he is probably at least a week away. A late week injury to Kevin Williams could be critical. Williams has a nerve problem that is effecting his hip and he is questionable for the game. If he can't go expect Kamil Loud to see a lot more playing time as the third receiver.
October 29, 1999
Early Inactives: No surprises here, the early inactives are the Thurman Thomas, Joe Panos, Ruben Brown, and Eric Moulds.
Practice Squad Cuts: The Bills have dropped RB Brian Edwards and DT Geno Bell from their practice squad. That leaves the team with just two players on the practice squad.
Injury Updates: WGR is reporting that it looks like John Holecek and Phil Hansen will be back in the starting lineup. They both practiced yesterday. Kevin Williams sat out of practice with back spasms but should play.
October 28, 1999
4 Bills on Hall of Fame Nominee List: 71 players have been nominated for election into the Pro Football Hall of Fame next year. On the initial list is four prominent Bills that have been on the list in the past. Former Coach Marv Levy and owner Ralph Wilson are back on the list. Former players Joe DeLamielleure and James Lofton return to the list also. The list will be pared down to a group of finalists. Levy was one of the finalists last year.
Dime Safety Controversy: There seems to be a discrepency regarding who will be replacing Manny Martin in the lineup. Wade Phillips said that rookie Keion Carpenter will be the man but Defensive Coordinator Ted Cottrell says it will be Darryl Porter. We will see on Sunday.
Johnson Gets Reps: Rob Johnson is getting more reps in practice this week to keep him sharp and to give Doug Flutie's tired arm a rest.
October 27, 1999
Injury News: Shout! is reporting that John Holecek may be able to play Sunday. He has said all along that he will be back quicker from the sprained knee injury than anybody expected he would be. He did practice sparingly today. Jay Riemersma practiced today and should be OK for this week's game. The Bills also hope to have Phil Hansen back in action.
October 26, 1999
Roster Moves: For the first time this season the Bills have made roster moves, and they made three of them. The first move was putting Manny Martin on the injured reserve list since he's lost for the season. He was replaced on the active roster by RB Lennox Gordon who was on the practice squad. His spot on the squad was taken by Safety Raion Hill. Hill was on the training camp roster but didn't make the final cut. The Bills still have an open spot on the practice squad. For a complete look at the status of all the players and moves check out our front office page.
Porter to Replace Martin: The Bills have confirmed that Manny Martin will miss the rest of the season with his ACL injury. Darryl Porter will replace Martin in passing situations at Safety. Henry Jones will stay in his cornerback positon in the dime defense.
October 25, 1999
Banks to Start Against Bills: The Ravens announced today that third string QB Tony Banks will get his first start of the year Sunday against the Bills. Banks as a member of the Rams last year brought his team back from 18 points down to beat the Bills on his last second touchdown run early last season.
Martin Season May Be Over: The Bills had only one new injury in the loss in Seattle, but that injury could be major. Nickel safety Manny Martin may have suffered a torn ACL to his knee which would end his season. He will have an MRI to confirm the seriousness of the injury.
Game Tidbits: Here are a few notes from the loss:
Peerless Price's 100 yard receiving day was the first for a Bills rookie since 1985. Price was a surprise starter as Wade Phillips said earlier in the week that Kevin Williams would get the start.
Doug Flutie's 50 pass attempts were the most in his NFL career and the third most in a game by a Bills quarterback.
'
Jay Riemersma played only one play since his groin injury was bothering him. That one play was a touchdown reception in the fourth quarter. The two rookies, Sheldon Jackson and Bobby Collins split time in his place, Jackson got the start.
Phil Hansen missed only his second start since 1994 because of a calf injury suffered in practice last week. Shawn Price got his third career start, Sean Moran and Marcellus Wiley saw ample time as well.
Poor field position by the Bills and 6.1 yard average per play by Seattle is a recipe for defeat.
---
1999 News Archives Index
Back to Bills Daily Homepage