| | |
| --- | --- |
| Bills Daily Week in Review - Oct. 19th - Oct. 24th, 1999 | Previous Week |
Awful First Half Dooms Bills 26-16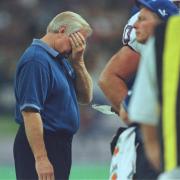 The Seahawks dominated the first half enroute to a 23-3 lead at the half. The Bills struggled to comeback in the second half but were outmanned by Seattle. The big play alluded Doug Flutie and the Bills offense throughout the game as the Bills lost the turnover battle 3-0. It didn't help that the Bills were without five starters for most of the game as Phil Hansen joined Eric Moulds, Ruben Brown, and John Holecek on the sidelines. Jay Riemersma also missed most of the game but did come in late in the game to catch a touchdown pass. MORE
October 23, 1999
Early Inactives: The first four inactives for Sunday's game is not a surprise as it is the four players who are out for the game. John Holecek, Eric Moulds, Joe Panos and Thurman Thomas.
Injury News: Phil Hansen has been added to the injury report with a lower leg injury. He is expected to play, but with him and Ted Washington banged up expect a lot of playing time for the second wave of linemen. Pat Williams, Marcellus Wiley, Shawn Price, and Sean Moran have played very well lately. Coach Phillips actually said they outplayed the starters last week, so this may not be a bad thing if they get more playing time. Washington and Jay Riemersma were held out of practice on Thursday. The team is now in Seattle and will work out their today.
October 20, 1999
Injury Report Out: The one surprising listing is that Ruben Brown is listed as questionable and not doubtful. He is not expected to play on Sunday.
Bills Begin to Prepare for Seahawks: With the Raider game in the rear view mirror it is time to look ahead to the difficult task of going to the west coast and facing a tough opponent without three starters in a dome stadium where the Bills usually struggle. The Bills will leave Friday for Seattle instead of Saturday so they can get over their jet lag and acclimate themselves to the coast.
WR Situation: It is expected that Kevin Williams will be the #2 WR in the two receiver set while Eric Moulds heals his hamstring. Peerless Price will be the third receiver, and not the starter, because the rookie is struggling in his patterns and is definitely not on the same page with Flutie and not as good a blocker as Williams. They will both play in the three receiver set and look for Kamil Loud to be the fourth receiver in the spread offense.
3-4 or 4-3 Defense? Although it would seem to easy to move to a 4-3 in the absence of John Holecek the Bills are not going to do that. Joe Cummings will replace Holecek on the inside in a base 3-4 defense. With Holecek only missing a couple of games it doesn't make sense to change the whole defense. Cummings will be an adequate replacement but Holecek will be missed.
Defensive Line Woes: The big three of Ted Washington, Bruce Smith, and Phil Hansen were totally outplayed by their backups Shawn Price, Marcellus Wiley, Pat Williams, and Sean Moran. It seems the rotating of the lineman is giving the backups some valuable experience as the starters start to show a their age a bit.
October 19, 1999
Three Starters Ruled Out: As expected the Bills have ruled out of the Seattle game Ruben Brown, John Holecek, and Eric Moulds. They are hopeful Brown will just miss this game but Holecek will miss at least two and Moulds will miss up to four games.
Thomas Recovery Slow: The Bills were hopeful they would get Thomas back against Baltimore on Halloween but it now looks like he will miss the whole three game road trip. He has not been cleared to practice as the liver contusion is not healed.
---
1999 News Archives Index
Back to Bills Daily Homepage