| | |
| --- | --- |
| Bills Daily Week in Review - Nov. 8th - Nov. 14th, 1999 | Previous Week |
Bills Dominate Dolphins 23-3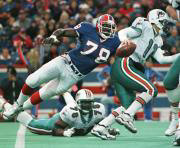 The Bills put together their most dominating effort in a longtime, as the defense welcomed Damon Huard to his first NFL game in Buffalo. Antoine Winfield picked off Huard's first pass and that started the Bills off in the right direction. The offense scored on its first four possessions to open up a 16-0 early in the second quarter enroute to the 23-3 rout. Miami managed just 101 total yards of offense. That is the second least amount of yards in one game in their illustrous history. Antowain Smith became the first runner to get over 100 yards against the vaunted Miami defense this season. He rushed for 126 yards playing almost exclusively in the second half after Jonathan Linton left with a knee sprain. Smith than left the game with turf toe giving Lennox Gordon is first NFL experience. MORE.
November 14, 1999
Phillips to Buffalo? With Lawrence Phillips impending departure from San Francisco talks of him coming to the Bills have surfaced. The Bills were very interested in him over the summer and currently have a shortage at the running back position. Both Antowain Smith and Jonathan Linton got got banged up today and if either of them miss any time the club may have to bring in another Running back since Lennox Gordon is the only other halfback on the roster. Stay tuned...
November 13, 1999
Early Inactives: No surprises here the injured three are on it: Thurman Thomas, Sheldon Jackson, and Joe Panos. The fourth is also a usually on the list, OL Victor Allotey.
November 12, 1999
Another Injury: One more player goes down in practice. Dan Brandenberg has been added to the injury report as questionable with an ankle injury. Holecek practiced again today and should play.
Weather Report: It will be a typical fall day in Western New York. The forecast calls for a breezy day with rain likely and a high around 50°. This should lend more credence to the theory that it will be a low scoring game with both solid defenses dominating.

November 11, 1999
Holecek Upgraded: John Holecek practiced yesterday and today and has been upgraded to probable on the injury report. Eric Moulds and Dusty Ziegler were both added to the report but should play.
November 10, 1999
Flutie Named Player of the Week: What a difference a week makes. After an awful performance in Baltimore, Doug Flutie was named the AFC offensive player of the week for his effort in Washington. Ironically, one of the defensive backs Flutie will be trying to avoid this week was named defensive player of the week. Sam Madison picked off three passes in Miami's win on Sunday night.
Injury Update:Coach Phillips confirmed the obvious, that Thurman Thomas, Joe Panos and Sheldon Jackson will not play against Miami. John Holecek is listed as questionable, he practiced some today and will likely play on Sunday.
Sellouts Becoming Norm Again: There is no blackout controversy this season because this Sunday's game will be the fifth straight sellout this season at the Ralph. The ticket office also said that the New England game is sold out and the Giants game has single seats available. That leaves the January 2nd battle with the Colts as the only game that may not sell out this season. There are about 30,000 seats available for that showdown. It's a good bet that there will be major playoff implications decided in that game, so expect them to sell it out also. A far cry from 1997 and the early part of last season.
Training Camp Move Becoming Reality: The finishing touches are being put on a deal to move the Bills training camp to St. John Fisher College in Pittsford, just outside of Rochester. The deal will be a multi-year contract and requires the college to get a special activities permit from the town.
November 9, 1999
Injury Update: Kurt Schultz broke his thumb in the Washington game but will play on Sunday. John Holecek is also expected back which will make the Bills the healthiest they have been in weeks. For the Dolphins it looks like they will be without Dan Marino. There is a remote possibility that he will dress as the emergency QB.

Police Blotter:Marcus Spriggs, Jeremy McDaniel and former Bill Brian Edwards pleaded innocent to all charges from Saturday morning's altercation at a bar. The Bills will not take any disciplinary action on Spriggs and Mcdaniel until they see how the charges play out in court.

Spriggs played some special teams against Washington and McDaniel remains on the practice squad.

November 8, 1999
Game Tidbits: Some more numbers and notes from the victory:
The Offense established season highs in points (34), yards (413) and third down efficiency (9 for 15).
This was the first game the Bills did not turn the ball over since last December against the Raiders.
They are now 5-0 when Antowain Smith gets 10 carries or more.
The club has now won their last 10 games against NFC East opponents.
This was the second 200 yard rushing game for the Bills this season, the other one was against the Jets.
Kurt Schultz played in his 100th NFL game yesterday and picked off a pass, he had another interception called back on a penalty.
Bobby Collins made his first career start as the Bills came out in a two TE set. He also caught his first NFL touchdown as his only catch.
Injury Update: The Bills got through the game in good shape as the only player banged up was Eric Moulds who turned his left ankle in the game but his hamstring did not bother him. He was limping slightly after the game.
Reed Vindicated: Andre Reed cofirmed rumors that the Bills planned on getting Peerless Price more involved in the offense and that he took it to mean he was being demoted. That wasn't the case but Reed did move back in to his old slot position in the three receiver set. Reed caught four passes for 51 yards all the catches went for first downs. Price did not catch a pass.
---
1999 News Archives Index
Back to Bills Daily Homepage