| | |
| --- | --- |
| Bills Daily Week in Review - Oct. 5th - Oct. 10th, 1999 | Previous Week |
Flutie and Offense leads Bills to 24-21 Win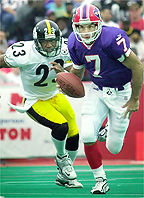 Doug Flutie had by far his best game of the season throwing for 261 yards and three touchdowns to lead the Bills past a surprisingly effective Kordell Stewart and the Pittsburgh Steelers. Eric Moulds and Andre Reed re-emerged in the Bills offensive gameplan to lead the Bills passing attack agianst the top rated pass defense in the NFL. The victory coupled with Patriots kicker Adam Vinateri hitting the upright on a game winning field goal attempt, gives the Bills a share of first place in the AFC East. Check back later for more coverage of the victory. MORE...




October 10, 1999
Game Notes: This could be a game that the Bills get tripped up a bit. The Steelers have a devastating defense and The Bills will probably be without Ted Washington, which could hamper their run defense. Even though Kordell Stewart isn't a big-time QB, he can run and that may cause the front seven fits.
Early Inactives: The usual suspects are here: Thurman Thomas, Joe Panos, Victor Allotey, and Keith Newman. It's interesting that Big Ted isn't one of them.
Gametime Weather: Mid 60's with scattered showers.
October 6, 1999
Holecek Receives Honors: LB John Holecek was named AFC Defensive Player of the Week by the NFL today. It is his first honor and the first for any Bill this season. Holecek had a coming out party on Monday night getting a sack and forced fumble as well as an interception.
Panos to have Surgery: After three epidural shots did not work, Joe Panos has decided to have surgery to repair the bulging disk in his neck. He will have that surgery on Monday. Coach Phillips will not put him on IR and speculated that Panos may be able to return later in the season.
Injury Update: The Bills have six players listed on the official NFL Injury Report. The only new name on it, is Antoine Winfield. He suffered a leg bruise in the third quarter Monday night and was replaced by Donovan Greer in the dime defense. While Greer performed well, breaking up a touchdown pass, Winfield was missed in kick coverage when Madison had the long return.
Winfield Hitched: Speaking of the top Bills rookie, Winfield got married on the Bills off day yesterday.
---
1999 News Archives Index
Back to Bills Daily Homepage