| | |
| --- | --- |
| Bills Daily Week in Review - Sept. 27th - Oct. 4th, 1999 | Previous Week |
Bills Defense Dominates Fish 23-18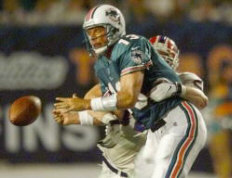 In a game where the offense struggled against the quick fish defense, the defense showed that their effort against the weak Jets and Eagles weren't an abberation. They stifled the Dolphins running game and put pressure on Marino on the way to the 23-18 victory. In the fourth quarter they surrendered their first touchdown in 12 quarters but it was after the special teams gave up a huge kickoff return to setup that score. The big play was a Gabe Northern fumble return for a score that was setup by John Holecek's sack and forced fumble. Doug Flutie put together one 80 yard drive for a touchdown when Miami pulled within one point in the final quarter. That drive along with the outstanding play of the defense led the Bills to the win. Steve's Bills Site will have more analysis on the game later. MORE.
October 4, 1999
Gameday!: The Bills and Miami get fired up to renew their heated rivalry under the national lights of Monday Night Football. WGR is reporting that Ruben Brown and Phil Hansen should be able to start. Expect Alex Van Pelt to be the backup QB to Flutie.
Early Inactives: Joe Panos, Thurman Thomas, Keion Carpenter, and Jay Foreman are all inactive.
October 3, 1999
Injury Updates: Lots of changes to the Injury report including the addition of Jay Riemersma, the upgrading of Ruben Brown and the downgrading of Rob Johnson.
September 30, 1999
Bills Kick It Into High Gear: After practicing without pads yesterday the Bills are practicing hard today and tomorrow. Under Camp Marv they use to be off on Wednesday when they had a Monday Night game coming up. Phil Hansen and Ruben Brown were both held out of practice today. Rob Johnson is progressing nicely from his concussion.
September 29, 1999
Bills Begin to Prepare for Miami: The club returned to practice today after their usual Tuesday off. They will have an extra day of practice to prepare for Miami since the game is Monday Night. The unfortunate thing is that Miami has had an extra week to prepare for the Bills since they had the bye last week.
Brown Update: The injury to Reuben Brown is being called a slight pull. He missed last year's playoff game with a pectoral muscle tear so he desperately wants to play in this game. He is listed as doubtful on the official NFL injury report. He said he will play if he's 95%.
September 27, 1999
Injury Updates: The Bills did get a little banged up in the win yesterday. The biggest injury is to Ruben Brown who may be forced to miss next week's game against Miami with a grade one hamstring strain, he is getting ice treatments and will be re-evaluated later in the week. Joe Panos will miss the Miami game and his return looks to be at least a few weeks away as Coach Phillips says it is a six week timetable. There is also a chance that Rob Johnson won't be available next Monday night.


---
1999 News Archives Index
Back to Bills Daily Homepage