| | |
| --- | --- |
| Bills Daily Week in Review - Sept. 22nd - Sept. 26th, 1999 | Previous Week |
Bills Shutout Eagles 26-0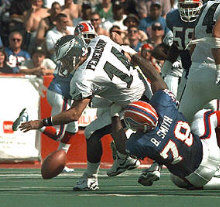 The Bills played their second outstanding defensive game in a row today as they rolled over the Eagles 26-0. The rejuvenated defense has now allowed only three points in two games. Today's shutout was the first by the Bills since 1992. The offense struggled once again in the red zone but Steve Christie made four of five field goal attempts with touchdowns by Jay Riemersma and Antowain Smith sandwiched in between the kicks. The Bills dominated from the start and the score could have been much worse if not for the red zone woes. MORE
September 26, 1999
Early Inactives: No surprises on the early inactives. RB Thurman Thomas, OL Joe Panos and Victor Allotey, and LB Keith Newman.
Washington to Play: As expected Ted Washington said he will play today despite his sore ribs.
Check out comments from a Bills fan.
September 24, 1999
Washington Added to Report: The Bills added Ted Washington to the injury report with sore ribs.
All the Number Favor Bills: Check out some of these meaningless numbers. Flutie is 45-3 in home games since 1993, the Eagles haven't won a road game since 1996 and the Bills haven't lost an NFC East home game in 12 years. What does all this mean? Nothing. This should all add up to a Bills win, but the law of averages have to come in to effect sooner or later, let's hope it's later.
September 23, 1999
Game Sold Out: Sunday's game soldout in time to lift the television blackout. The few remaining seats were sold this morning.
Bruce Pulls Hamstring: Bruce Smith pulled a hamstring in practice yesterday but he says he should be fine to play on Sunday.
Eagles Road Woes: The Eagles haven't won a road game since December of 1996. That's 17 straight games without a win in enemy territory. They do have one tie in that stretch though.
September 22, 1999
Thomas To Return Early? There is a chance that Thurman Thomas will miss less than the six weeks he is expected to miss. He told ESPN that he feels much better and may miss only a couple of more weeks.
---
1999 News Archives Index
Back to Bills Daily Homepage