| | | |
| --- | --- | --- |
| | Serving Bills Fans Since 1998 | Index |
---
Johnson Is The Man At QB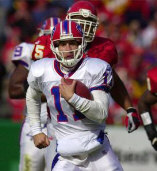 The busy early part of the week saw the Bills brass finish the combine, decide on a quarterback, and cut three more players to get under the salary cap. Rob Johnson as the choice over Doug Flutie highlighted the week. We tackle the issues and more in our latest week in review complete with our take on the issues:

The big news of a very busy week was highlighted by the choice of Johnson over Flutie as the man to lead the new look Bills into the 2001 season. Tom Donahoe announced his decision on Wednesday night saying that the entire organization was behind the move and he said Johnson was the man best suited to run the football team. He said money and age wasn't a factor. Johnson supposedly scored very well in his interview with the coaching staff and said he is looking forward to being the number one man during a conference call on Wednesday. Our Take: We have said it time and time again, Johnson was the right choice we go into greater detail in our article on the subject. Things in Johnson's favor include the fact there wasn't any top notch QBs at the combine. Now all the players can take their mind off of the controversy and unite behind one man.



Johnson addressed the media in a conference call on Thursday and said some candid things. He agreed that he did not see eye to eye with Flutie from day one and agreed that nobody handled it well especially the coaches who were also taking sides in the issue. He is very high on the new coaching staff and expects them to make him a better player. He expects to challenge for a division title with a great corp of young players. Johnson also took a shot at the criticism of him not being around. He will be in town on March 11th to work with the coaches. Our Take: Johnson showed candor in his interview and basically seems at ease at being the main guy. He knows if he plays poorly he will be gone. Expect him to rise above the controversy to have a very good season next year.



The Bills finished getting under the cap by cutting Flutie along with Sam Rogers and Ethan Albright. The club also kept Phil Hansen after he agreed to take a pay cut of $500,000. One player that has yet to restructure is Johnson who may do something before the draft. They did have enough money to tender contract offers to four restricted and two exclusive rights free agents. Keion Carpenter and Jeremy McDaniel were tendered offers. These moves effectively tie the two players to Buffalo. The four restricted free agents tendered offers were: Jonathan Linton, Bill Conaty, Robert Hicks and Victor Allotey. The Bills now have the right to match any offers they get. Two restricted free agents were let go and they were Darryl Porter and Ray Hill. Our Take: It is nice that the club will be able to keep a warrior like Hansen. It is a shame to see Rogers go since he is such a solid player. It's a surprise they tendered an offer to Allotey and Linton and not Porter. Everything you need to know is on our front office page.



On Tuesday before all the moves started happening, the Bills looked back at the past by having a ceremony for Thurman Thomas as he signed a one day contract and retired as a Bill. Former players Jim Kelly, Darryl Talley, Steve Tasker, and Kent Hull were on hand for the ceremony as was former GM Bill Polian. Marv Levy had a glowing letter read likening Thomas to the great Walter Payton. Thomas said, "Even though I am retiring today, this is a place that I'll always remember, it will always be a special part of my heart." Thomas gave much of the credit for his success to former running backs coach the late Elijah Pitts. Thomas said he may decide to pursue a career in coaching down the line. Our Take: It was nice to have one more of those nostalgic days of looking back at the great teams of the early 90s and realizing how great those teams were.


---
Talk about it on The Stadium Wall
Week in Review index
Latest News Section
Archives Library
Back to Bills Daily Homepage