| | | |
| --- | --- | --- |
| | Serving Bills Fans Since 1998 | Index |
---
Bills Cut Antowain Smith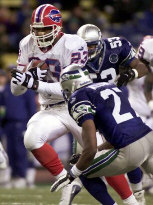 It was a fairly light news week out of One Bills Drive. The Bills did make two roster moves this week including the cutting of running back Antowain Smith. We take a closer look at all the news for the week including our take on the issues:

Early in the week it was learned that Antowain Smith sold his house to WR coach Freddie Graves. That was the pre cursor to his release on Friday. Tom Donahoe said, "We liked what we saw in minicamp from our young running backs and want to give them every opportunity possible." Smith's cutting will save the Bills approximately $1.25 Million in cap money. Our Take: Smith was the one back in the crowded backfield that doesn't fit with the new West Coast Offense. He is a rare first round bust for the Bills who did show flashes of brilliance but wasn't a good fit in Buffalo. He may find a good fit for himself elsewhere and get a chance to show his skills down the line.



The club also added a player on Thursday when they claimed offensive lineman Craig Heimburger off of waivers from the Green Bay Packers. He will sign with the club after clearing waivers. He is a big right guard who will add more depth to the club. He played sparingly for the Packers after being drafted in the 5th round of the 1999 draft but also played tackle. Our Take: Heimburger may be another diamond in the rough but will probably be nothing more than camp fodder. Like everyone else however, if he can prove himself in training camp, he has a chance to make the team that is in desperate need of depth on the offensive line.



Two more people with Bills' ties are headed west to be with John Butler in San Diego. On Wednesday scout Buddy Nix left the Bills for the Chargers. He was the only scout that had his contract expire this off season. The Bills tried to keep him by offering him a promotion but he decided to join his old boss with the Chargers. The other ex-Bill now in San Diego is linebacker Sam Rogers who signed a five year deal with the team on Friday. Our Take: Rogers is a solid player who will help Butler in San Diego, a five year deal is an interesting length as Butler may build the same cap problems he built in Buffalo if he isn't careful. Nix was a solid scout and will be missed this could be a bad omen as the rest of the scouts including Dwight Adams, have their contracts expire next year. They may also leave for San Diego at that time.



Tom Donahoe is wooing a former co-worker trying to boost his front office staff. Former Eagle executive Tom Modrak has been offered "any job he wants" in the organization by Tom Donahoe. He was in town for an informal visit on Thursday. He could be offered the open director of pro player personnel position that his open. He would also probably get the title of Asst. General Manager. Our Take: He would be a huge coup for the club but Modrak may get one of the open top jobs and that is the one position Donahoe can't offer. If Modrak doesn't get the Bears job, then he just might cool his heels in Buffalo while waiting for another GM position to open up.



Larry Centers addressed the Western New York media on Monday. He said Buffalo is the best place for him to play. He said it is a good young team that is serious about making and winning the Super Bowl. Centers expects the West Coast Offense will give him a chance to take advantage of his pass catching skills. He expects to get on the same page with Rob Johnson so he can be a perfect outlet receiver for medium range passes. Centers said he got a real good feeling when he visited mini-camp and saw the high energy level. His deal pays him $550,000 this season and $800,000 next year. Our Take: Centers admitted he won't be in the off season conditioning program full time, that is what cost him his job in Washington. There is a chance this will become an issue.



On Wednesday, Wade Phillips had his appeal heard by the NFL on his salary dispute with Ralph Wilson. The binding arbitration should have a decision soon although no timetable was set. Wilson stopped paying Phillips the guaranteed money left on his deal, saying the coach effectively resigned instead of being fired because he refused to fire special teams coach Ronnie Jones. Our Take: We have stated our take on this before, Wilson should just pay Phillips the money he has a right to under the terms of the contract.



The NFL lawsuit with the Raiders forced the league to divulge closely hidden profit figures. In 1999, the Bills were the 10th ranked team in terms of profits in 1999 with $11.6 Million. That is a huge jump over the previous season thanks to the renovations of the stadium that added luxury boxes and club suites. The league warns that those figures are incomplete however. Our Take: This proves that the NFL is profitable in Buffalo. It should go along way in supporting the fight to keep the Bills in Buffalo even after the buyout period of the lease starts.


---
Talk about it on The Stadium Wall
Week in Review index
Latest News Section
Archives Library
Back to Bills Daily Homepage