| | | |
| --- | --- | --- |
| | Serving Bills Fans Since 1998 | Home |
---
13 Visits In Busy Week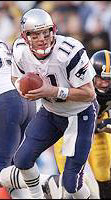 This week has been perhaps the busiest of the off season at One Bills Drive. The Bills brought in eight free agents for visits; signed two of them and looked at 5 college prospects as well. The team also continues to try and solve the quarterback situation as Jeff Blake, Drew Bledsoe, and Chris Chandler remain in the picture. Here's all the news from the past week complete with our take on the issues:

The Bills brought in eight free agents for a look this week and ended up signing strong safety Billy Jenkins and tight end Brady McDonnell. Jenkins will likely be the starter at strong safety as he fits Gregg Williams' style of an aggressive, hard hitting, run stuffing safety. His deal is for 2 years and is worth $1.475 Million. Mcdonnell is a project case that played defensive end in college and missed last season with a knee injury, he also signed a two year deal. The other six names to come through Western New York were: DT Grady Jackson, K Phil Dawson, LB Eddie Robinson, CB Jason Simmons, and S Damon Moore, and RB Richard Huntley. Robinson played with Williams in Tennessee and is deciding between the Bills and the Titans. The Bills offered him a one year deal worth $700,000, the Titans reportedly offered him more money. The Bills and Jackson seemed real interested in each other but Jackson went to New York and had an excellent visit with the Jets. He may be headed there. The Bills apparently weren't interested in Dawson enough to give him an offer sheet. Simmons was a special teams player in Pittsburgh and played for Donahoe. Moore is coming back from an ACL injury and may not be ready to play until September. Our Take: The signing of Jenkins fills up a huge hole in the Bills secondary, it didn't cost them too much cap wise either. McDonnell is a project but the team now has six tight ends on the roster. This may spell the end for Jay Riemersma. Robinson or Jackson would be a nice addition. Moore is somebody the team should keep their eye on, if he gets healthy he could be a steal. Huntley has a connection with Tom Donahoe and Kevin Gilbride but he isn't a fit for this team with three talented young backs on the roster already. One earlier visitor who would look good in a Bills uniform was James Farrior but he has signed with Pittsburgh.



The team also began looking at college prospects. Each team can bring in 10 prospects for visit, the Bills brought in five this past week. In town were offensive tackles Bryant McKinnie and Mike Williams, along with strong safety Roy Williams, defensive tackle Albert Haynesworth, and defensive end Charles Grant. Both McKinnie and Mike Williams said the signing of Trey Teague would not effect them, and they feel the Bills may still pick a tackle. Roy Williams seemed very excited about the possibility of becoming a Bill since the defense is similar to the one he played in college. Mike Williams said the speculation about his knee is unfounded and that it is fine. McKinnie looks at the Bills more closely than other teams, since the rumors have had him coming to Buffalo. Other college visitors scheduled includes Joey Harrington and defensive tackle Ryan Sims. Our Take: The draft is anybody's guess. They may trade down a few spots and take a stud defensive tackle. They may still take one of the behemoth tackles with the number four pick and move Teague elsewhere. We think they will either trade down or trade the pick to New England, or trade down and trade that pick to the Patriots for Drew Bledsoe. If they do get a pick in the first round expect it to be a defensive tackle or Roy Williams. The ideal pick for the Bills would be around number 10, they can get a stud tackle or safety and gain extra picks in a deal. Of course, the signing of Jenkins makes picking Williams less of a priority.



One other positive with the draft, is that the Bills now have four extra picks. They were the only team given four compensatory picks. Three of them are in the seventh round (one of those is considered a non-compensatory pick given to them because of their record to full out the number picks given under the collective bargaining agreement). The other pick is in the third round, presumably for the loss of Marcellus Wiley who went to the pro bowl in his first season with San Diego. Our Take: Although these picks can't be traded, they can use them while gaining the flexibility to trade other picks. For a complete look at where the Bills pick in each round, check out our draft page.



The QB debate continued to take center stage this week. It appears that Drew Bledsoe, Jeff Blake, Chris Chandler, and Joey Harrington are all in the picture at this point. It seems that the Bills and Patriots have swapped trade proposals regarding Bledsoe but the two teams remain far apart on terms of the deal. One report also said that the Bills were readying a three year contract offer to Jeff Blake. Another report says the Bills have also begun contact with Chris Chandler about the quarterback situation. Speculation also says that the Bills aren't interested in Joey Harrington because he has questionable arm strength and will command a signing bonus of more than $10 Million. That won't stop the Bills from bringing him into town this week. Our Take: The Bledsoe situation is the most intriguing. The Bills are hoping the price for him continues to dive with only the Bengals showing interest in him besides Buffalo. Reports out of Cincinnati say the Bengals may part with their number one pick for him. The Bills apparently won't. Bills Daily is on record as saying Bledose should come here. our article by Tony Bogyo says it all as to why we should bring Bledsoe to Buffalo.



The Bills announced this past week that season ticket prices will remain the same for the third straight year. Buried in the press release was the fact that individual game tickets will go up $3 a ticket. Season ticket prices will cost fans $30 or $46 a game. Individual tickets go on sale on July 13th and will cost fans $38, $43, $45, $54, or $56 per ticket per game. Our Take: Keeping season ticket prices steady and raising individual ticket prices is a sound business strategy. It may help sell a few more season tickets, that is something the club desperately wants to do. Of course it hurts the out of town fan that can only get to town for a couple of games but would buy season tickets if they lived closer.



The Bills officially announced that they will make modifications to their uniforms this year. The official release would not say what changes would be made but that details will be released at a later date. Speculation has said that the helmets and main logo will remain the same but the Jersey colors will change while a secondary logo will be added. Our Take: This is a pure marketing move to sell more jerseys and memorabilia with a new logo. It is nice however to see the team get a bit of a spruce up for the 21st century.



The team also announced the dates and times for the four preseason games. Previously announced was the opponents. The team will open up the preseason on August 9th at home against Cincinnati. Our Take: Circle that date on your calendar, just more than five months to real football! Check out the team's complete schedule.



As NFL Europe scrimmages ended several Bills played well as all seven players allocated made final rosters. Reggie Allen caught 3 passes for 33 yards including a 17 yard score. David Dinkins completed 7 of 12 passes for 60 yards. Curtis Alexander carried the ball five times for 20 yards. Our Take: The more work they can get, the better off the Bills will be.



One front office note this week, the Bills hired Karen Marsch as the executive director of business development. She has worked for the Sabres and Buffalo Niagara Partnership in the past. Our Take: The fans will need her to do a good job.



---
Talk about it on The Stadium Wall
Week in Review index
Latest News Section
Archives Library
Back to Bills Daily Homepage