| | | |
| --- | --- | --- |
| | Serving Bills Fans Since 1998 | Home |
---
Schedule Release And Signings Highlight Week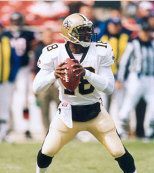 This week was dominated by the release of the NFL schedule and the Bills signing of Trey Teague to fill the hole at left tackle as well as two restricted free agents. The rest of the week was filled with speculation on draft strategy and the QB situation as Jeff Blake is still up in the air. We take a look at all the issues from the week in our week in review:

The schedule was released on Thursday and the team will play 14 of their 16 games on Sundays at 1pm. The other two games are 4pm starts as they will not have a primetime game for the first time since 1987. The Bills have the most games against playoff teams from last year with nine games against playoff caliber teams. That gives the Bills the seventh toughest schedule on paper this year despite finishing in last place in 2001. Our Take: The reason for the Bills tough schedule is there is no more fifth place schedule after realignment and the fact that the other teams in the division all made the playoffs. Of course, you can't always measure a schedule's toughness on last year's schedule as teams get good and bad quickly in this league.



The Bills made a big free agent signing this week by adding Trey Teague to the roster. He will be penciled in at left tackle after agreeing to a 4 year, $10 Million deal that has a two tiered signing bonus. He will get $1.5 Million of his signing bonus immediately and $2 Million next spring if he's still on the team. Our Take: His signing will have a domino effect. John Fina is certain to be gone next year now that his replacement has been signed. He'll be released on June 1st. This also gives the Bills draft flexibility, as they aren't forced into drafting a tackle at number 4. The good money is now on the Bills trading down in the draft for more picks or in a deal with the Patriots for Bledsoe.



The Bills also signed two of their own restricted free agents this week. Chris Watson agreed to a two or three year deal with the team worth over $2 Million. Reports also indicate that the Bills have come to an agreement with Sheldon Jackson on a new deal. In other contract news details of Dave Moore's deal show him having a base salary of $750,000 this year and a cap hit of $1.1 Million. Our Take: Giving Watson more than a one year deal shows the team likes him as a solid nickel back. It is good to get the restricted free agents under contract as quickly as possible to see how much cap room will be leftover after they are signed. The cap value of Moore's deal is very manageable and I don't know why the team felt it needed to bring Jackson back unless they do plan on releasing or trading Jay Riemersma.



The QB debate rages on among fans as reports continue to indicate that the Bills may be serious in their pursuit of Drew Bledsoe. Reports indicate that the Patriots demands have been lowered. They may perhaps swap first round picks and take conditional picks down the line in a deal. The Bills also continue to hold off Jeff Blake who sent a new contract proposal to both the Bills and Redskins that both teams balked at. He seems to want $6 Million in guaranteed money in a weak quarterback market. Tom Donahoe said this week that the team is exploring all their options at QB and will not make a decision in the foreseeable future. Chris Chandler has also been mentioned as an option at QB. Our Take: With the Bengals now out of the picture, the Bills are the only suitors right now for Bledsoe. That gives them the upper hand. If they weren't pursuing Bledsoe they probably would have signed Blake by now. The longer this drags out the better the chance the Bills have of landing Bledsoe closer to draft day. Of course if the team doesn't land Bledsoe and Blake's price doesn't come down there is a chance they will still take Joey Harrington with the fourth pick in the draft.



Free agent visits will start up again this week as former Titans LB Eddie Robinson and Restricted free agent kicker Phil Dawson are coming in for a look along with Packers safety Billy Jenkins. Donahoe has said the team has the money to sign one more free agent. That man could be Kurt Schultz as the team and his agent are talking again about a deal that would bring him back to Buffalo if the contract language could be worked out. The Bills will also eventually sign a Kicker as Donahoe said an upgrade has to happen at that position but it isn't a priority at this point. Our Take: Robinson would add experience to the linebacking corp and Dawson would be a nice fit but he wants to remain with the Browns and they would have the right to match any offer received. The Bills also won't give him an offer at this point. Jenkins would help solve the problems at Strong Safety and Schultz is a good stop gap measure at free safety if he comes for the minimum.



The strength and conditioning program started this week with 30 players coming to the stadium complex. Coach Rusty Jones figures 10-15 more players are due in town in the coming weeks. Our Take: It is nice to see this program continue this year but it doesn't seem like everybody is staying in town like last year.



David Dinkins played well in his first scrimmage as he completed 3 of 5 passes for 100 yards including a 37 yard touchdown pass and a 50 yard strike. Our Take: The more experience he gets the better for his development, he will be the most watched Bill in NFL Europe this spring.



Ralph Wilson acknowledged this weekend that Rob Johnson had left a message on his answering machine saying he was sorry he couldn't do more for the team and that he loved his time in Buffalo. Our Take: If Johnson said this, he goes out with a classy move.



Former Bill John Holecek has signed with Atlanta. He re-joins Wade Phillips who is the defensive coordinator for the Falcons and former Bill Keion Carpenter. Our Take: We have Buffalo West in San Diego and now we may have Buffalo South in Atlanta.



---
Talk about it on The Stadium Wall
Week in Review index
Latest News Section
Archives Library
Back to Bills Daily Homepage