| | | |
| --- | --- | --- |
| | Serving Bills Fans Since 1998 | Home |
---
Blake And Bledsoe Highlight Week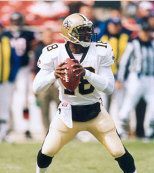 This was a quiet week at One Bills Drive as the coach and General Manager attended the winter meetings and scouting potential draft picks. There were no free agent visits and only one minor signing. The news highlighted all week on Bills Daily surrounded two Quarterbacks: Drew Bledsoe and Jeff Blake. Is either of them headed to Buffalo? We take a look at all the issues from the week in our week in review:

The Bills opened the week with the signing of Dave Moore on Monday. Moore wanted to go the Steelers but the Bills offered him more money and a chance at the starting job. Moore said he feels he can help the team with some of the things he does blocking wise. His deal is a three year contract worth $3.8 Million with a signing bonus of $500,000. Our Take: This was an interesting signing as Moore will now battle it out with Jay Riemersma for playing time at tight end. The Bills will likely play more two tight end sets and the skills of Moore and Riemersma complement each other nicely. Riemersma is a better receiver while Moore is a better blocker.



All week people were waiting to see whom Jeff Blake would sign with. Would it be the Redskins or the Bills? As it turned out, the Redskins gave him a modest offer and the Bills have yet to make him an offer. Appearing on WNSA on Thursday he said he is awaiting an offer from the Bills and hopes it works out with him going to Buffalo. He said an offer hasn't been made because Tom Donahoe was busy this week at the owners meeting and scouting. Our Take: We are still not sold on bringing Blake to the Bills and the delay may have more to do with Drew Bledsoe and less to do with Donahoe being busy.



The Big speculation this week has been that the Bills have put a foot in the door in the Drew Bledsoe derby. Tom Donahoe enquired to the Patriots if they were willing to trade him within the division. The Patriots said that was a possibility. Donahoe admitted his interest in possibly bringing him to Buffalo if the price was right. The Patriots in the past said they need two first round picks for him or they will keep him. The market has been very soft for him so those demands may have to come down. Donahoe said the Bills would only part with a third round pick for him. Our Take: It's interesting and exciting having the thought of Blesdoe in a Bills uniform. Chances are very much against it as the Bills will not give them two number ones and they shouldn't. The Patriots will probably be more willing to compromise with somebody outside the division like Cincinnati.



On Friday a report said the Bills have signed free agent LB Maudianvita Kazadi. The Bills have yet to officially confirm the signing but Kazadi visited with the club last week. He is a special teams player who should help with the linebacker depth. He has not played in the NFL in two years and had his NFL Europe season last year cut short by injury. Our Take: He was signed for the minimum and will have to fight to make the team.



While there were no visits this past week the Bills appear to have scheduled two visits for the first week in April. Former Titans LB Eddie Robinson and Restricted free agent kicker Phil Dawson are coming for a look. Two former visitors will not come to Buffalo. Corey Chavous landed in Minnesota while Trey Teague is expected to re-sign with Denver. Our Take: Robinson would add experience to the linebacking corp and Dawson would be a nice fit but he wants to remain with the Browns and they would have the right to match any offer received. Chavous wasn't going to come here anyway since the team would have moved him to Safety. Teague would have been a solid signing but the Bills appear to be looking to upgrade the tackle position with the draft.



As the draft nears there has been much speculation as to what the Bills will do with the pick. Both Tom Donahoe and Gregg Williams addressed the draft a bit this week and the best speculation seems to be towards drafting one of the two big tackles at #4. Texas' Mike Williams or Miami's Bryant McKinnie. Donahoe acknowledged that he wouldn't draft a quarterback if one is signed through free agency since the club is very high on third stringer Travis Brown. That leaves Joey Harrington out. Other areas of need according to Bills brass is defensive line and safety. They will also likely be addressed through the draft. If a big free agent signing occurs than that may change the draft philosophy. One other prospect looked at this week was Indiana QB Antwaan Randle El who is projected at another position in the pros. The Bills had him working on punt returns. Our Take: Donahoe left the owners meeting early to see Williams in a personal workout. My gut says the team is leaning towards him. They may also trade down for more picks since both lines and Safety are the strongest positions in the draft and the team will be able to fill more needs. Whatever holes remain after the draft will be filled in the next phase of free agency when more players are released after June 1st to alleviate cap problems.



Ralph Wilson was in the news this week from the owners meeting. Early in the week he said that he didn't want a Super Bowl played in a northern city. Later in the week, he reassured fans that the team isn't going anywhere despite a buyout option in the lease that begins in 2003. He said he signed a 15 year lease and will stay as long as the team is supported by the fans. Our Take: Wilson not wanting a Super Bowl in a cold weather site is puzzling. His desire to keep the team in Buffalo is honorable but when he dies, the team will be sold and all bets will be off.



Tom Modrak is back in the hunt for the GM job in Atlanta since nobody else seems to want it. It appears Modrak and Tim Ruskell of the Buccaneers are the remaining candidates. The Falcons have decided not to hire anyone for at least two months. Our Take: This delay means Modrak will be with the club at least through the draft and that is good news.



Jim Kelly donated the following artifacts and memorabilia to the hall this week: Game worn USFL Houston Gamblers jersey; Game worn East Brady Bulldogs #11 jersey; Game worn Houston Gamblers helmet, 1984 USFL MVP Award; 1990 AFC Player of the Year, Game ball awarded to Kelly for 574-yard performance in Houston Gamblers 34-33 victory over Los Angeles, 2-24-85; Game worn Buffalo Bills helmet, 1993 game worn Buffalo Bills jersey; Game worn shoulder pads, Apex football spikes worn by Kelly in Super Bowl XXVII; USFL game ball awarded to Kelly for 1984 season in which he passed for 5,219, 44 TDs, and nine 300-yard passing games; NFL game ball awarded to Kelly after 51-3 victory over the Los Angeles Raiders in 1990 AFC Championship Game; Game ball used during Super Bowl XXVIII versus the Dallas Cowboys; Buffalo Bills game plan and itinerary for Super Bowl XXV and XXVIII; Buffalo Bills game plan for the 1990 AFC Championship Game versus the Los Angeles Raiders; Buffalo Bills safety Mark Kelso's protective helmet. Kelly said he was very excited and honored that the Hall wanted his stuff and that the memorabilia will be in good hands. Our Take: Kelly is going to have the largest contingent of family and friends that the Hall of Fame has ever seen. It will be a great party the first weekend in August!



Marv Levy has been inducted in another hall of fame. He is one of eight people with NFL ties to be inducted in the Jewish Sports Hall of Fame this past weekend. Our Take: Another nice honor for a great man.



---
Talk about it on The Stadium Wall
Week in Review index
Latest News Section
Archives Library
Back to Bills Daily Homepage