| | | |
| --- | --- | --- |
| | Serving Bills Fans Since 1998 | Home |
---
Bills Sign Two; Visit With Nine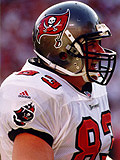 The second week of free agency proved to be even busier for the Bills than the first. This past week the brought in nine free agents and signed two. Dave Moore inked a deal on Monday after visiting last week. Marcus Price also signed after visiting on Monday. We take a look at all the issues from the week in our week in review:

The Bills opened the week with the signing of Dave Moore on Monday. Moore wanted to go the Steelers but the Bills offered him more money and a chance at the starting job. Moore said he feels he can help the team with some of the things he does blocking wise. His deal is a three year contract worth $3.8 Million with a signing bonus of $500,000. Our Take: This was an interesting signing as Moore will now battle it out with Jay Riemersma for playing time at tight end. The Bills will likely play more two tight end sets and the skills of Moore and Riemersma complement each other nicely. Riemersma is a better receiver while Moore is a better blocker.



The rumors surrounding Jay Riemersma were flying before and after the signing of Moore. It had been thought that he would be cut if he refused a pay cut. His agent said that Riemersma had not been forced to take a pay cut and the issue has been dropped. Riemersma will battle for his job in training camp at his current salary figure. Our Take: We think there is room for both tight ends but if the Bills need cap money, Riemersma may be in trouble. If he goes to camp with the team, he will probably stick.



The Bills also signed free agent offensive tackle Marcus Price. He's been a career backup that is looking for an opportunity to start. The club likes his versatility although he has played tackle is whole career. He hopes to fit into the chemistry of the line. His contract is a three year deal worth $1.875 Million with a $150,000 signing bonus. Our Take: For the money it doesn't hurt bringing a veteran backup into camp. Chances are he won't start though as the Bills will bring in either a top prospect draft pick or a bigger name free agent signee.



Price was one of nine free agents to visit Western New York this week. The biggest names were: QB Jeff Blake, LB James Farrior, and OL Victor Riley. Others brought in were QB Jonathan Quinn, Kickers Kris Brown and Mike Hollis, OT Trey Teague and LB Maudianvita Kazadi. Our Take: It's nice to see the steady stream of visitors to Buffalo. The Bills will sign a QB and an offensive linemen in free agency. If they don't they may fill that position in the first round of the draft.



Jeff Blake said after his visit Buffalo has everything he is looking for but it appears to be a tight race for his services with Washington. He visited with the Redskins a day after leaving Buffalo and said if things go right, he may be back there by the end of the week. The main advantage for the Redskins is that Dan Snyder will overpay for players. The Bills main advantage is Blake's relationship with Kevin Gilbride. He played for him at East Carolina. If Blake falls through the cracks, the Bills may sign Jonathan Quinn. He visited with the Bills first since he was very excited about the visit. He said he would welcome coming to Buffalo since he would be able to compete for a starting job. Our Take: If the Bills lose Blake they will probably sign Quinn. He would come cheaper and still has tremendous upside potential. If the Bills sign one of them, don't look for them to draft a QB.



The other players who visited this week seem impressed by the facilities and the coaching staff. James Farrior feels the team is improving and it is a situation he will have to consider. Mike Hollis was the second kicker brought in this week and he said he would not mind kicking in the Buffalo weather. He raved about the coaches being personable and down to earth. Victor Riley said Buffalo would be his second choice behind re-signing with the Chiefs. He feels the team is turning it around. Teague made his first trip to Buffalo since they are serious about signing a tackle. Our Take: The Bills need a big time tackle in free agency or they will have to use the #4 pick on McKinnie or Mike Williams. Victor Riley would be a huge coup but he may be to expensive. Farrior is probably too expensive also and has many suitors but he would help make the Bills linebacking corp one of the best in the leagues. Hollis would also be an upgrade over our current kicking game.



Besides Mike Hollis, the Bills also brought in Kris Brown for a look. They are also supposedly interested in punter Mark Royals as they continue to try to upgrade their special teams. Brown, however chose to sign an offer sheet with the Texans instead of Buffalo since he is from that area. The Steelers can still match the offer that has a $1.2 Million cap figure next year. Two visitors from last week signed elsewhere this past week. Blaine Bishop signed with Philadelphia while Mike Caldwell signed with Chicago. Bishop was earmarked for Buffalo when he was released by the Titans but he went to the Eagles since they are closer to beging a Super Bowl contender. Caldwell was a favorite of director of football operations Tom Modrak but chose the Bears instead. Another player that turned down the Bills was Kurt Schultz. The Bills gave him a generous offer, according to his agent, but it didn't work out for some reason. Our Take: It would have been nice to have Bishop in a Bills uniform but he is an older player who wants to win now. Caldwell isn't a big deal and we are glad they didn't get Brown.



The Bills appear headed for a uniform change. Without confirming the reports that a change was indeed going to happen they released a statement saying that they are conisdering a change and filed the necessary paperwork with the league in case they want to make a change. They said no announcement will be made until a final decision is made. Our Take: They will change their uniforms for marketing purposes.



The Hall of Fame has moved its induction ceremony to the much larger Fawcett Stadium because they are expected large crowds from Buffalo and Pittsburgh for the Kelly and Stallworth inductions. Kelly is donating several artifacts and memorabilia to the hall this week. Our Take: The stadium will hold several thousand more people than the steps of the hall would. This is good news since more fans will be able to see the ceremony.



---
Talk about it on The Stadium Wall
Week in Review index
Latest News Section
Archives Library
Back to Bills Daily Homepage