| | | |
| --- | --- | --- |
| | Serving Bills Fans Since 1998 | Home |
---
Bills Sign Fletcher; Lose Cowart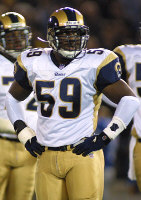 The Bills were very active in the first full week of free agency. They brought six players in for visits signing LB London Fletcher to replace Sam Cowart who departed for the Jets. The club ended the week by signing one of their own free agents by inking Bill Conaty. We take a look at all the issues from the week in our week in review:

The Bills suffered a big blow when Sam Cowart signed with the Jets on Wednesday. Cowart signed a six year deal worth $31 Million with New York. The deal has a low signing bonus of $1.8 Million and guarantees only $3 Million. The Jets can cut him after the first year if he gets injured, or they hold an option for the next five years. The Bills offered Cowart many deals, Tom Donahoe feels they had better offers on the table but the allure of playing with Ted Cottrell may have been the difference. The Bills deal also had Cowart giving a substantial portion of his first year salary back if he gets hurt. That was the deal breaker. Cowart moves outside in the Jets 4-3 defense. Our Take: Cowart has hall of fame potential but his injury history was a huge concern. All along we said if the Bills lose Cowart, Donahoe blew it by not putting a tag on him. It seems the deals were close in money so the Bills could have easily matched it and kept him if they put the tag on him. Donahoe says the tag would have had a detrimental effect on the Bills salary cap. We think it would have kept a superstar on the roster.



Tom Donahoe recovered quickly however by inking London Fletcher to a five year deal hours later to replace Sam Cowart. Fletcher's deal is worth $17.125 Million. It is fairly heavily back loaded as he will receive just over $4.5 Million in the first three years and $8.6 Million over the final two years of the deal. The signing bonus is $4 Million giving him a cap figure of $1.325 Million. Fletcher had other visits scheduled but after meeting with the Bills he decided the other places would be hard pressed to match what the Bills were offering since it was a great organization and a great town. He felt that since he was brought in first that meant a lot to him and he felt it wasn't necessary to make any more trips because he was comfortable in Buffalo. He called his style of play passionate and he gives an all out physical effort. Fletcher said he is excited about playing in Gregg Williams defensive scheme. Tom Donahoe said in a statement that Fletcher will add leadership to go along with his excellent skills and intensity. Our Take: Fletcher was a nice save for Donahoe, it was nice to see him act quickly, and decisively for a change, of course his back was against the wall and he had to make a move. Fletcher puts up similar numbers to Cowart even though he doesn't have as much blue chip talent as Cowart. Fletcher will bring leadership and playoff experience. He is on the smaller side and will require the defensive line to bottle up blockers so he can use his speed to go side to side. For a Rams fan report on Fletcher check out our Complete Story.



The Bills also signed one of their own unrestricted free agents by signing Bill Conaty on Friday. That leaves the Bills with just three low level unrestricted free agents left. He agreed to the deal on his 29th birthday. Tom Donahoe called the guy a warrior for playing all year with an injured shoulder which required surgery early in the off season. Our Take: It was a good move re-signing Conaty, he came cheap and did a decent job at Center. Donahoe said they will still look to upgrade the position and that makes sense since Conaty isn't an all-pro. His signing could spell doom for John Fina. It was rumored that he would move to Center but that might not happen now, although Donahoe said the move is still being considered. Fina may be released after June 1st when the amortized portion of his bonus can be spread out over two years.



Besides Fletcher the Bills brought in five more players to look at in free agency. Coming to Buffalo late in the week were: TE Dave Moore, FS Blaine Bishop, Former Bills FS Kurt Schultz, LB Mike Caldwell, and CB Corey Chavous. Bishop is favored to sign with Buffalo, possibly as early as next week. Caldwell talked to the media after his visit calling Buffalo an organization with great tradition and he feels he would fit in well in Buffalo. Director of Football Operations Tom Modrak was in Philadelphia with Caldwell and praised the player, saying he can play anywhere and in any situation. Chavous is a cornerback who would move to safety if the Bills signed him. He is a smart player with an extensive video library that he studies. Our Take: Bishop may be on the downside of his career but he knows how to play in Gregg Williams' system and would provide more experience and leadership to the secondary. He should sign and be slotted as the starter at free safety now that Keion Carpenter is gone. Schultz would be a fan favorite to come to Buffalo but don't expect that to happen. Caldwell may be here as Modrak loves the guy, he may be a good role player, replacing Jay Foreman. Chavous may not come since it would mean a position change.



The Moore visit was interesting and what has transpired since his visit is even more interesting. A report says that Moore would love to play in Pittsburgh but he may end up in Buffalo since the Bills have offered him more money and the #1 tight end position as well as long snapping duties. That could spell the end of Jay Riemersma's career in Buffalo. He is known to be unhappy with the Bills asking him to take a pay cut and aired his grievance directly to Ralph Wilson. Tom Donahoe denied this week that an ultimatum was given to Riemersma to take the cut or be released. He did acknowledge that he has had talks with Riemersma's agent and hopes things can be worked out while saying the club had a good visit with Moore. Our Take: It appears the writing is on the wall and Moore will come here to replace Riemersma and unrestricted free agent Mo Unutoa as the long snapper. We don't want to see Riemersma leave since he's a great receiving threat. Moore however would serve the dual roles and is an excellent blocking tight end. The one problem is Donahoe would go against his philosophy bringing Moore in since he has already said he wants to play elsewhere. Donahoe wants guys who want to play here, Moore wants to be in Pittsburgh.



The Bills will now turn to the quarterback situation this coming week with visits planned for Jeff Blake and Jonathan Quinn. Also scheduled to be in Buffalo this coming week is Steelers kicker Kris Brown. Donahoe said that the club has some flexibility under the cap but don't expect more big name signings as a regular thing. He did say that a couple of more free agents will be added to help improve the team. Leon Searcy was scheduled to visit next week but that won't happen since he signed with the Dolphins. Our Take: The Bills will sign a QB and most likely it will be either Blake or Quinn. Blake brings experience and Quinn brings long term potential with his big 6'6" frame. Brown was awful in Pittsburgh last year but some blame it on the new stadium. He was a solid kicker before last year. The Steelers still like the guy and will probably match any offer given to him. We don't like Brown and would like the team to look elsewhere for a kicker. Blake is another Alex Van Pelt, experience but no real success. Quinn at least has an upside. Our next great QB needs to come from the draft no matter what they do in free agency.



In ex-Bills news, Rob Johnson did a sudden about face and signed with the Tampa Bay Buccaneers on Saturday. His deal is for one year and is worth around $1 Million and is heavy with incentives. He will battle Brad Johnson and Shaun King for the starting job. He was all but signed in Houston early in the week but the deal broke down. Keion Carpenter signed a one year deal worth $450,000 to re-join Wade Phillips in Atlanta. Our Take: Johnson could have received more money and a better shot at the starting job with Buffalo if he took the pay cut and stayed. The bottom line is the guy would never have succeeded here, so he left but it doesn't appear he is finding greener pastures. He will not win the starting job in Tampa Bay and will have to deal with another nasty QB controversy for less money in a strange city. Carpenter made a good move since Phillips seems to get the best out of him.



Erie County is putting $2.3 Million worth of improvement into Ralph Wilson Stadium. This is part of the lease agreement and the money will be used to add restrooms and put artificial turf on a practice field along with other concrete and railing upgrades. Our Take: Anything that will help the Bills stay in Buffalo for the long term is nice but we don't know if this is what will do it.



It appears that the Bills will be making some changes to their uniforms next year. They will be making the colors a deeper blue and adding some gray and red. The team also will probably use a new secondary logo on the uniforms although the main logo and helmets aren't expected to change. The Bills have not confirmed the changes. Our Take: This is a pure marketing move to get fans to buy new jerseys and other memorabilia and paraphernalia.



---
Talk about it on The Stadium Wall
Week in Review index
Latest News Section
Archives Library
Back to Bills Daily Homepage