| | | |
| --- | --- | --- |
| | Serving Bills Fans Since 1998 | Home |
---
Free Agency Begins As Bills Cut Johnson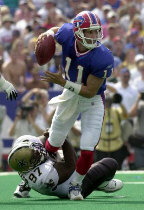 The busy part of the off season is upon us as free agency opened up this past week. The Bills opened up cap room by releasing Rob Johnson and Ken Irvin. They also tendered offers to 10 of 13 restricted and exclusive rights free agents. Five Bills became unrestricted free agents including Sam Cowart. We take a look at all the issues from the week in our week in review:

The Bills parted ways with Rob Johnson and Ken Irvin this week opening up over $8 million of space on the salary cap. The Bills actually tried fairly hard to come to an agreement on a new deal for Johnson to keep him in Buffalo. An agreement could not be reached and he was cut. Donahoe called Irvin a class act after releasing the veteran cornerback. Our Take: The Bills handled this situation right. They wanted to keep Johnson since he was better than most people available to them in free agency. He sealed his fate when he appeared on Fox Sportsnet and said he was happy to be leaving Buffalo. For more on the Rob Johnson era check out our Complete Story.



The Bills have five unrestricted free agents; the group is led by Sam Cowart and Bill Conaty. The talks with Cowart started showing progress as free agency approached. He changed which agent was handling the negotiations and they seemed to some concessions regarding when and how a bonus would be paid. Talks immediately moved to a positive light when Paul Healy took over negotiations. He acknowledged that the Bills have legitimate concerns about Cowart's health. They met up to and after free agency started at the scouting combine in Indianapolis. The two sides seemed to be working on a one year deal with a club option for five more guaranteed years after Cowart shows he's healthy next year. Negotiations are still promising despite the fact that the Jets and Packers have shown interest in him. The Bills also hope to re-sign Conaty although no deal will get done until he can pass a physical. He's recovering from off season shoulder surgery. Our Take: Last week we ripped Donahoe for not putting a tag on Cowart. His gamble may be paying off, the market is very bad for free agents this year and the early signings are bearing that out. Cowart realizes as damaged goods he won't be getting a big time deal elsewhere. Expect a deal to be completed this week between the two sides. Conaty is a warrior type player and should be welcomed back. If he does return it may spell the end for John Fina who may get cut June 1st if he isn't moved to center to replace Conaty.



The Bills tendered offers to six of seven restricted free agents and four of six exclusive rights free agents this week. The Three players that weren't tendered offers were Craig Heimburger, Keion Carpenter, and Kenyatta Wright. They are now unrestricted free agents. The other 10 players were tendered minimum offers and the Bills will have the right to match any offers they receive. Our Take: It is a bit surprising that the Bills wouldn't even tender an offer to Carpenter who started most of the past two seasons for the Bills at free safety. The $563,000 price tag is cheap for a player with his experience. We always liked Wright and don't be surprise to see the Bills invite him to training camp if he is unsigned in July. No surprises on the 10 tendered offers, although we would have liked to see Shawn Bryson get a higher tender to discourage teams from pursuing him.



Now that free agency is here there are many rumors and reports about whom the Bills will sign. They are at least $9 Million under the cap and have money to sign free agents. Tom Donahoe said that the club will go after a few modestly priced free agents but they will not go overboard since they are very close to being out of cap jail. One name mentioned as possibly coming to Buffalo is Jeff Blake, who was recently released by the Saints. Other teams interested in Blake include Baltimore, Houston, Chicago, Washington, and Carolina. Coach Williams also may be eyeing three former Titans. DT Jason Fisk, SS Blaine Bishop, and OLB Eddie Robinson are high on the coach's list. One other rumor has the Bills giving an offer sheet to Steelers' kicker Kris Brown. Our Take: We don't see Blake as the answer at quarterback. If the Bills sign him another controversy will develop between Blake and Alex Van Pelt. We rather see the Bills draft their quarterback of the future. We have no problem with Williams raiding Tennessee for three defensive players that will make his 46 scheme work. The only bad thing is Robinson would push Jay Foreman out of the starting lineup and we think he came along very nicely last year. Brown would just add to the Bills kicking problems, don't expect Donahoe to go after him just because it would put the screws to the Steelers.



Because the Bills are in a better cap situation this year, then last year there isn't a huge purge of veterans. One surprising cut may happen still however. Jay Riemersma has been asked to restructure his contract that would amount to a pay cut. The club has offered him a deal that would add $500,000 in incentives but it won't make up for the cut he would have to take to give the Bills more cap room to sign free agents. If he doesn't restructure he is expected to be released, possibly after June 1st. Our Take: If Riemersma doesn't take the restructure then he probably should be cut. He is a smart, loyal player and will probably realize that the market is bare this year and take the deal.



The Atlanta GM job remains open but it still appears that Director of player personnel Tom Modrak won't get the job as it is expected to be offered to Buccaneers personnel director Tim Ruskell. Our Take: As we have said all along it is good news if the Bills have Modrak for another year.



At the scouting combine Tom Donahoe spent a lot of time looking at Oregon QB Joey Harrington. He is expected to go in the top five and may still be there when the Bills pick at number 4. Harrington had a great combine peaking many teams' interests including the Lions and Panthers who pick ahead of the Bills. Our Take: A few weeks ago I would never have thought that the Bills would be looking at a QB with the fourth pick but I'm beginning to think if Harrington is there, the Bills may grab him. It would be nice to have a high first round QB pick to groom as "the future".



---
Talk about it on The Stadium Wall
Week in Review index
Latest News Section
Archives Library
Back to Bills Daily Homepage