| | | |
| --- | --- | --- |
| | Serving Bills Fans Since 1998 | Home |
---
Cowart Not Tagged; Could Leave Bills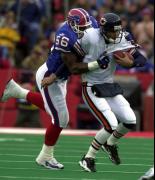 The Bills decided on Thursday not to use a franchise or transition tag on Sam Cowart. That means he will become a free agent if he is not signed by March 1st. We think the Bills may have blown it here, we take a look at this issue along with our take on all the news from the week in our week in review:

At the last minute on Thursday the Bills decided not to franchise or transition tag Sam Cowart. If the Bills used a franchise tag it would have cost them $5.5 Million against the salary cap. A transition tag would cost them $4.7 Million against it but it would have also given the team the right to match any offer. Cowart's agent and the Bills are playing hardball over how a signing bonus should be handed out. The Bills want to move 3/4 of it until after next season, Cowart's camp wants it all by opening day. Agent Gene Burrough said there is about a 50-50 chance that Cowart will be playing elsewhere next year. Our Take: The Bills don't seem to want to gamble a ton of bonus money that would inhibit their salary cap in future years on a player that may be damaged goods. Cowart's camp doesn't want what amounts to a one year audition. Both sides say they want to work out a deal but the stance is way too tough on both ends. Why not compromise and give him 60-70% of his bonus money before the season starts? It seems silly a deal can't be reached when both sides agree on money and the bonus but can't agree on payment plans. It would not have hurt the Bills at all to place one of these tags on him to guarantee them a chance at signing him if there is a big offer in the open market. Donahoe is gambling hard that there won't be a huge market for a damaged linebacker. That is why he is pulling his last offer off the table on March 1st so Cowart can't compare offers. Donahoe's history in Pittsburgh was to let young, star linebackers go in free agency, he appears to be bringing that philosophy to Buffalo. Expect Cowart to be elsewhere next year unless the market is softer than expected for him. If Donahoe isn't right he is open to much second guessing.



The expansion draft was last Monday and the Bills lost one player. WR Avion Black was picked 16th in the draft and the Bills did not pull any other players off of the list after Black was selected. Nobody else was picked however. Our Take: We liked Black on aren't surprised he went. His departure saves $460,000 against the cap. There was some thought that Raion Hill would have been selected that would have hurt the Bills more since he's at a position there is less depth in then wide receiver. There was no chance of them picking Rob Johnson, John Fina, or Ken Irvin..



In team business news, the Bills and Wegmans supermarkets have ended their partnership three years before their agreement was going to expire. The decision was mutual by both parties. The Bills plan to find a new sponsor for training camp. Game tickets will also no longer be available at Wegmans. Both sides felt they have accomplished the goals of the original agreement. Our Take: This is bad news since the partnership worked really well. Wegmans was a great outlet for ticket sales and they helped make the last two training camps very successful. Hopefully the club will find another partner that is as good as them.



Director of player personnel Tom Modrak once again appears to be staying in Buffalo. According to reports he is way down on the list of candidates for the open GM job in Atlanta. He interviewed for the job two weeks ago. Our Take: As we have said all along it is good news if the Bills have Modrak for another year.



The Bills talked about this week moving one of their two preseason games to Syracuse and playing it in the Carrier Dome. Our Take: This would make perfect sense in the continued regionalization of the club, it would hopefully bring new Bills fans from Central and Eastern New York.



There are many names being speculated as coming to Buffalo if they don't bring back Rob Johnson. Those names include Jim Miller, Trent Dilfer, and Jeff Blake. The Saints are reportedly trying to trade Blake for a fourth round pick but will likely have to cut him for salary cap purposes. The Bills may have some interest there. Our Take: The Bills first need to finalize the Johnson situation before looking at other QBs. Johnson will either take his pay cut or be released before Friday since he gets a roster bonus on that day.



Former Bill James Lofton was hired for his first coaching job this week. He was hired as the receivers coach for the San Diego Chargers. Our Take: We are happy for Lofton and hope he will make it to the Hall of fame someday.



---
Talk about it on The Stadium Wall
Week in Review index
Latest News Section
Archives Library
Back to Bills Daily Homepage