| | | |
| --- | --- | --- |
| | Serving Bills Fans Since 1998 | Home |
---
Gilbride Introduced As Offensive Coordinator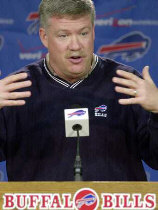 The Bills officially introduced Kevin Gilbride to the media on Monday after hiring him last week. Other than that it was a quiet week at One Bills Drive. We take a look at this issue along with our take on all the news from the week in our week in review:

Kevin Gilbride was introduced as offensive coordinator for the Bills on Monday. Gilbride said he was delighted to be in Buffalo and Williams said he was excited to have him on board. Williams said Gilbride was brought in for his experience and the fact that he will adapt his system to the personnel already here. Tom Donahoe said that Gilbride will have a very positive impact on the Offense. Gilbride said he will adopt any system Williams wants him too. Williams admitted he hired Mike Sheppard because he wanted to use the West Coast Offense. Our Take: Williams brought Gilbride in for his experience and in doing so indirectly may have saved his job in the future. Of course, if the Bills struggle next year but the offense improves the man he brought in may take his job. Williams knows he made a mistake picking a system instead of adapting one to his players skills. Now that the West Coast Offense appears to be gone, what does that mean for Alex Van Pelt who thrived in that system.



The other issues with Gilbride is his relationship with Rob Johnson. He re-iterated his great deal of respect for Johnson but said the decision about who will be the quarterback rests on the shoulders of Donahoe and Williams. He does plan on having input on the decision however. Donahoe and Williams both said that Gilbride and Johnson are two totally separate issues. Our Take: Reading between the lines of what Gilbride says, it appears he wants Johnson to be his quarterback. Whether that happens or not, we will have to wait and see.



The Bills signed two more street free agents this week. Guard Robert Hunt and WR Andre Rone were added to the roster on Friday. Hunt has had stops with three NFL teams without much playing time. Rone spent nearly three seasons on the Lions practice squad. Our Take: Just adding more training camp fodder hoping to find a diamond in the rough.



Director of player personnel Tom Modrak interviewed for the Atlanta GM job and it went well. It appears the Falcons have their eyes set on Bucs GM Rich McKay and Modrak may end up staying in Buffalo another year. Modrak said the job would have to be perfect for him to leave Buffalo since he's close with Tom Donahoe and has developed a good relationship with Ralph Wilson. Our Take: The Bills are keeping their fingers crossed that Modrak stays another year.



The Bills talked about this week moving one of their two pre season games to Syracuse and playing it in the Carrier Dome. Our Take: This would make perfect sense in the continued regionalization of the club, it would hopefully bring new Bills fans from Central and Eastern New York.



One player in the news this week was John Fina. WGR reported that Gregg Williams is considering moving him to Center next year. He won't be taken in the expansion draft in it would cost more to cut him than keep him in terms of cap dollars. Our Take: Center may be a good spot for him. He's not adverse to playing there and would probably take a pay cut to do it since it isn't a highly paid position like tackle.



The details of Alex Van Pelt's contract was released this week. His five year deal is worth $5.4 Million. He got a $1 Million signing bonus and will be paid $650,000 this year. He is expected to get $750,000 next year and $1 Million a year in the final three years of the deal. That makes his cap figure for this year a tidy $850,000. Our Take: That's not a bad cap deal for a backup and a great one if he's a starter. Of course, incentives reached as a starter could triple the cap figure for next year.



Speaking of the cap, the Bills are currently $6.4 Million under the cap according to ESPN.com. That only takes into account players under contract. It puts the Bills in the top half of the league in cap shape. Our Take: The team is in much better shape than last year but will still need to make tough decision to get totally out of their cap problems and to stay out.



---
Talk about it on The Stadium Wall
Week in Review index
Latest News Section
Archives Library
Back to Bills Daily Homepage