| | | |
| --- | --- | --- |
| | Serving Bills Fans Since 1998 | Home |
---
Gilbride Named New Offensive Coordinator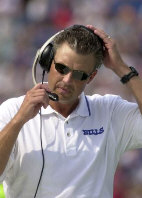 After an exhaustive search that included nearly 30 candidates, according to head coach Gregg Williams, the Bills settled on Kevin Gilbride as the new offensive coordinator. We take a look at this issue along with our take on all the news from the week in our week in review:

Kevin Gilbride was named the offensive coordinator for the Bills on Saturday. Gilbride has 11 years experience as a coordinator and two years as the head coach of San Diego. Ironically, former coordinator Mike Sheppard was the coordinator under Gilbride with the Chargers. Gilbride has ties with both Tom Donahoe and Gregg Williams. He worked with Donahoe when he was the offensive coordinator in Pittsburgh where he didn't see eye-to-eye with Kordell Stewart. He also was the coordinator with the Houston Oilers when Williams was on the staff there. Our Take: We think this is an excellent hire. The coaching staff needed an experienced man and the offense needed someone with proven play calling experience. Gilbride's offenses were ranked in the top three five times in his career as coordinator.



It seems the Bills went back to their first choice after talking to nearly 30 men. It was beginning to look like this wasn't an attractive position as Rams QB coach John Ramsdell and Packers RB coach Sylvester Croom backing out because they weren't interested. The job came down to Gilbride, Steelers QB coach Tom Clements, who is being courted by Jacksonville, and former Indiana University coach Cam Cameron. The Bills were thought to be considering contacting Miami for a second time to inquire about interviewing Mike Schula. Our Take: There seems to be some feeling around the league that the position wasn't attractive because Mike Sheppard may have been made a scapegoat and Coach Williams may be on the hot seat if the Bills don't start off well. Job security may have been an issue among some of these candidates but the personnel is there to be groomed by the right coordinator.



The next question is, does that personnel now include Rob Johnson? With the hiring of Gilbride, the door on Johnson's future in Buffalo may have been opened a bit. The two men have a good working relationship from their days together in Jacksonville. If Johnson isn't picked in the expansion draft and if he doesn't appear to have great value on the open market he may be interested in coming back to Buffalo and take the big pay cut. Our Take: Even though Gilbride being there may intrigue Johnson he probably thinks, and we agree, that he needs a change of scenery. That being said, his chances of returning to Buffalo are a bit greater now than they were last week. Houston won't take him in the expansion draft because of his cap figure.



In other news, the Bills signed four free agents this week. The newest Bills are centers Michael Early and Tom Schau along with defensive tackle DeVonte Peterson and cornerback Jason Bostic. Early was with the Bills for the first half of last season before being waived. Peterson was also with the Bills in training camp last year. Schau had stints on the Packers and Saints practice squad while Bostic led the Eagles in special teams tackles in 2000. Our Take: Bostic is intriguing because of his special teams history. It is worth another shot giving Early and Peterson slots on the 80 man roster.



This week the Bills allocated seven players to NFL Europe. QB David Dinkins, RB Curtis Alexander, LB Jimmy Robinson, DT DeVonte Peterson, WRs Scott Keys and Reggie Allen join DB Chad Sears in Europe. Their assignments will be decided by the league at a later date. Our Take: It's about time the Bills use this development league to help some of these younger players move along. Dinkins is a must for this league but third string quarterback Travis Brown would have benefited from a spring in Europe also.



Contract talks with Sam Cowart remain stalled. His agent told the Buffalo News that he is pessimistic a deal will get done before the March 1st beginning of free agency. The hold up continues to be how the bonus money would be paid out depending on the health of Cowart. The Bills want to withhold more of his bonus money until he plays enough games to prove he can remain healthy. Our Take: The Bills have a right to take a cautious approach with Cowart considering he hasn't been healthy for a year and a quarter. However, they can't afford to lose him. Our answer: use the franchise tag, that gives you a year to see if he's healthy enough to regain his stature as one of the best linebackers in the game.



Larry Centers and Ruben Brown represented the AFC in the Pro Bowl on Saturday. Brown had several key blocks in the game while Centers carried the ball three times for five yards and caught two passes for 14 yards. Our Take: The Pro Bowl is always a sad event, no more football for six months.



The Bills still may lose Tom Modrak to a GM position. The Atlanta Falcons have received permission to talk to Modrak about their open spot. Tom Donahoe said it is a priority to keep Modrak but the club won't hold him back from a potential opportunity. Our Take: Everyone knows Modrak is here as a stopgap measure until he gets a GM job. The longer the club keeps him is considered a bonus.



Mike Sheppard landed on his feet as he was hired by the New Orleans Saints as the QB coach. Our Take: It's always nice to see a fired coach get a job in the league.



---
Talk about it on The Stadium Wall
Week in Review index
Latest News Section
Archives Library
Back to Bills Daily Homepage