| | | |
| --- | --- | --- |
| | Serving Bills Fans Since 1998 | Home |
---
Bledsoe Hopes Diminshing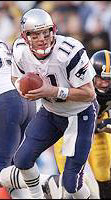 This week was dominated with more Drew Bledsoe rumors. As the week progressed it became increasingly less likely that the Bills will acquire the Patriots' QB. The other big news from the week was the signing of Mike Hollis and seven more college prospect visits. Here's all the news from the past week complete with our take on the issues:

It appears that it isn't likely that the Bills will trade for Drew Bledsoe. The to sides swapped trade proposals early in the week and there is speculation that the Bills sent a second proposal. Both sides remain far apart and Patriots coach Bill Belichik said it seems likely that Bledsoe will remain with the team until draft day and maybe up to training camp. The Patriots aren't backing down for the desire to get a number one pick for him, and the Bills refuse to give up the fourth overall pick in the draft. The Patriots also won't let any team talk to Bledsoe to see about his desire to play for that team or his willingness to re-do his contract. Tom Donahoe is reportedly frustrated by the impasse. Jeff Blake remains an option as does drafting a QB in the early rounds of the draft. One option has closed, QB Chris Chandler signed with Chicago this week. Our Take: This trade looks to be dead, but it can always get resurrected on draft day. One rumor has the Oakland Raiders getting involved, if they do expect them to land Bledsoe for one of their two first round picks. If not, and the Bills don't take a QB in the first round or sign Blake this week, then a trade with New England may happen when the Bills are on the clock in the second round.



The team signed its seventh unrestricted free agent this week when they inked kicker Mike Hollis. He signed a one year deal for the veteran minimum of $650,000. His cap figure is only $450,000 thanks to the veteran cap break for one year minimum deals. The Hollis signing was done when the Bills gave him a take it or leave it offer. He wanted a two year deal but was told the team would go after Doug Brien if he didn't take the deal on the table. Our Take: Hollis is being called by some the best free agent signing of the off season in the league. That may be a bit of a stretch but this was an excellent move. Donahoe learned from his mistake last year when he said a kicker wasn't a priority. Hollis will win a couple of games for the Bills.



In other free agent news, Eddie Robinson is debating between two offers, one from the Bills, the other from his former team, the Titans. The Bills reportedly have offered him a one year deal worth $700,000. The Titans offer is for a bit more money. Robinson said a decision is on hold as his wife is close to giving birth. Negotiations broke down this week with former Bill free safety Kurt Schulz. He reportedly wanted a signing bonus, and when he didn't get one negotiations fell apart. Two former Bills visitors ended up elsewhere, Grady Jackson signed with the Saints and Jason Simmons landed in Houston. Our Take: Robinson would be a good addition at the right price, but Jay Foreman would be fine returning as the starting weakside linebacker. Schulz would be a good experienced player to add, but not for any type of large cap figure. It is a good thing that Jackson didn't go to the Jets and ended up in the NFC. Simmons wasn't coming here anyway.



The Bills entertained seven college prospects this week as QB Joey Harrington, S Ramon Walkers, LB Ben Taylor, DE Dwight Freeney, DT Ryan Sims, FS Ed Reed, and DE Julius Peppers came to town. Harrington said during his visit that he liked the coaches and facilities but he has no idea where he will end up as most teams have talked about trading down. Peppers was in for a visit even though he is most likely headed to Carolina with the number 2 pick although he feels he fits into the Bills aggressive style of defense. Sims is an intriguing prospect as he feels he's the best of an excellent crop of defensive tackles, he also feels his aggressive style will work with the Bills. He feels the Bills have a great organization. Freeney is another good prospect as he broke an NCAA record with 17 1/2 sacks for Syracuse last year. He has also put on weight and added speed as he prepares for the draft. He feels he's a good fit since he's familiar with the region. Reed is a free safety, and the club needs one. He says his communication skills are a strong suit and it is very important at that position. He can also play strong safety. Taylor is an inside linebacker who can play outside in the pros. Walkers is a physical tackler who can play either safety position. Our Take: Of these players the one most likely to end up in Buffalo is Ryan Sims. Freeney is likely to go late in the first round when the Bills don't have a pick. Harrington is not considered a prospect for the Bills, but that may be a smokescreen. If it is the Bills may be trying to fake out other teams and then grab him at #4. Reed could be a third round pick with the team if he's still available.



Sammy Morris revealed this week that he played hurt all last year. He said he had a torn labrum that was very painful. He had surgery early in the off season and is expected to be fine this season. Our Take: He needs to be healthy since his job will be in jeopardy as Curtis Alexander may push him for his roster spot if he has a good year in NFL Europe. Injury Page.



Alexander got off to a good start in his opening game in NFL Europe. He had 93 yards on 14 carries in leading Frankfurt to a 27-24 win over Berlin. WR Reggie Allen contributed to Amsterdam's win over Rhein 27-10. He had four catches for 50 yards. QB David Dinkins is the number two QB for Amsterdam. Our Take: NFL Europe is becoming a really good development league, it can help propel Alexander and Allen to roster spots. Dinkins being number two is disappointing as the Bills need to see what he has.



The seven unrestricted free agent signings this off season cost the Bills $5.04 Million against the salary cap. That is less than the $6.15 Million saved by releasing Rob Johnson. Our Take: What is better, having Johnson or the seven newest Bills? I'll take the seven newest Bills but they still need another quarterback.



---
Talk about it on The Stadium Wall
Week in Review index
Latest News Section
Archives Library
Back to Bills Daily Homepage