| | | |
| --- | --- | --- |
| | Serving Bills Fans Since 1998 | Home |
---
Bills Get Bledsoe During Busy Draft Weekend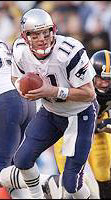 It was the busiest weekend of the off season as the NFL held its draft this weekend and the Bills added 11 new players. 10 from the draft and one in what Ralph Wilson is calling "the biggest trade in club history." After a week of is he coming or isn't he, the Bills completed a trade for Drew Bledsoe on Sunday. Here's all the news from the past week complete with our take on the issues:

It was a wild week of rumors, speculations, and half truths before it ended with Drew Bledsoe as a member of the Buffalo Bills. On Thursday it looked like a deal was imminent before it fell apart Friday when the Patriots turned down the Bills offer of a conditional 2nd round pick next year. On Saturday there was hope but no trade was made. Then during the second day of the draft the Bills sent next year's first round pick to New England for Bledsoe. Tom Donahoe said the team was very determined to make this deal as Bledsoe his good for the future of the team. Donahoe decided he wouldn't part with a pick in this year's draft because New England wouldn't let the Bills talk to Bledsoe. His agent said Bledsoe is excited about coming to Buffalo. The Bills will absorb his original contract and not ask him to restructure at this time. Our Take: We said it two weeks ago, we wanted Bledsoe. This was a great move, the number one pick next year will most likely be in the middle to later point in the draft as Bledsoe brings more guaranteed wins to Buffalo. It is a relief to finally get this deal done. We did think that New England would cave more and it would cost less but at least they didn't get the 4th pick in any rounds this year.



It was a wild weekend as the Bills selected 10 new players in the NFL draft. They took five offensive and five defensive players as a trade up cost them one of their original 11 picks. They plugged some holes but left a hole at the defensive tackle position because they waited until the 5th round to take one. That is because they bypassed the big ones in round one and took behemoth offensive tackle Mike Williams. All the new Bills appeared happy to be joining the organization. Our Take: Williams was a monster pick, we loved the pick of Josh Reed and feel there are some sleepers later in the draft for more read our complete draft analysis. The one down side was not filling the DT hole but they may be doing that in free agency. Of course bringing in Bledsoe's cap dollars may preclude that from happening. They visited with Larry Webster this past week, he's a veteran option at tackle.



The Bills were busy all week, not just on the weekend. They officially announced last week's signing of Mike Hollis while adding Eddie Robinson to the club with a two year deal, believed to be worth $700,000 a year. Robinson was debating between the Bills and Titans, but chose Buffalo because of his relationship with Gregg Williams and Jerry Gray. He also likes the fact that he will play on third downs with the Bills. Our Take: Robinson adds good veteran leadership and knows the defense Williams wants to play. His signing also indirectly allowed the Bills to get a solid kick returner.



The Bills followed up the Robinson signing by trading Jay Foreman to Houston for running back/kick returner Charlie Rogers. Both players were restricted free agents with identical tender offers of $563,000. Rogers is an exciting returner who had an off year with Seattle last year but averaged 14.2 yards on punt returns and 24.9 yards returning kicks in 2000. The team would also like to get Rogers on the field as a running back in certain situations. He is happy to be a Bill and feels wanted by Buffalo and is excited to be closer to his home in New Jersey. Our Take: Foreman was unhappy that his job was being taken by Robinson and the Bills were more than happy to get rid of him for a premier return man. Something that has been missing in Buffalo for a very long time.



The Bills wrapped up business with their restricted and exclusive rights free agents this week. They re-signed Travis Brown and Pierson Prioleau. They also gained exclusive negotiating rights with Shawn Bryson and Keith Newman because nobody offered them deals before a league imposed deadline. Our Take: All these players will be welcomed back. Brown will be a good number three QB, Prioleau and Bryson will be solid off the bench while Newman plays for a big free agent contract next off season.



Besides visiting with free agent Larry Webster, the Bills met with defensive end Chidi Ahanotu. Reportedly both sides started negotiating a deal for the 10 year veteran. His visit with the Bills was short but productive as he used to play with Jerry Gray. He is considering an offer from one other team. Our Take: The Bills are less likely to sign him now since they traded up to get their future defensive end in Ryan Denney.



Bills players continue to play well in NFL Europe. Curtis Alexander gave the Bills something else to think about during the draft as he rumbled for 192 yards and three touchdowns in leading Frankfurt to a victory. Last weekend Junior Robinson had six tackles to lead Scotland to a victory. Our Take: Alexander is making himself notice to a point that he may leap frog over Sammy Morris on the depth chart. He also gave the Bills no reason to use one of their 10 picks on a halfback.



In off the field news, the Bills entered into a partnership this week with Topps markets. In the deal Topps will sell game tickets through tickets.com and 114 Topps location. This give the Bills the largest ticket outlet base they have ever had. Part of the agreement is the creation of a family section where Tops will sell four packs of tickets at 30% off. Topps will also sponsor the experience in the fieldhouse before home games, it will now be free to the public. Our Take: Nice deal on the hands of losing Wegmans. The family pack is a nice idea as it is the first time the Bills have discounted individual game tickets.



---
Talk about it on The Stadium Wall
Week in Review index
Latest News Section
Archives Library
Back to Bills Daily Homepage