| | | |
| --- | --- | --- |
| | Serving Bills Fans Since 1998 | Home |
---
Bledsoe Gets To Work In Minicamp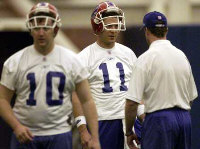 The Bills welcomed Drew Bledsoe to Buffalo on Wednesday with a pep rally that is only rivaled by Jim Kelly's arrival in 1986. They then welcomed the rest of the rookies and first year players for a three day orientation camp over the weekend. Bledsoe showed that he is the leader the team has been missing. Here's all the news from the past week complete with our take on the issues:

Drew Bledsoe arrived in Buffalo in a stretch limousine on Wednesday. Many members of the Bills brass flew out to Montana to pick him and his wife up including Coach Williams, Tom Donahoe, and Ralph Wilson. Bledsoe was introduced at a press conference in which he said that he is coming to Buffalo for one thing, to win football games. He said he is excited about the new phase of his life and feels the change is a good one. He then went outside to a pep rally that had more than 1,000 fans. Bledsoe told them that it will be great to have them on his side after having them against him for eight years. Our Take: Bledsoe brings great enthusiasm to the fans, players, and everyone in Western New York. He is this generation of Bills version of Jim Kelly. He even called Kelly a hero of his as he called him to invite the former Bill great to his special day. Bledsoe is already paying dividends at the box office as 1,500 season tickets have been sold since the trade.



Reaction to the Bledsoe deal and his arrival in Western New York was buzzing around the league. In Buffalo, Tom Donahoe said that he hopes Bledsoe and his family will be in Buffalo for a long time. Coach Williams said that Bledsoe has put a pep in everybody's step but both men said it's time to get back to work. Jim Kelly called New England "stupid" for trading him inside the division. Jets GM Terry Bradway said he doesn't have the guts to do what New England did. Miami Coach Dave Wannestadt seems annoyed by the deal as he now has to contend with Buffalo as being a player in the division. Alex Van Pelt was disappointed from a personal standpoint but excited as a team player. Ruben Brown said the team had a great draft. He said the team couldn't put a price on the experience Bledsoe brings in. Eric Moulds feels the team is now a Super Bowl contender. He looks forward to the vertical passing game that Drew brings. Our Take: Everybody associated with the Bills are pumped up. Their opponents aren't. Does that say it all?



The Bills introduced there first round draft pick the next day without the same fanfare of Bledose's introduction. Mike Williams said he now has a home and is looking forward to playing with Bledsoe. The two talked on Wednesday night with Williams proclaiming that he has Bledsoe's back. Our Take: Williams comes across as a well disciplined down to earth player who cares about the game more than the money. Let's see if that is the case when contract negotiations heat up. Incidentally, Williams and Bledsoe share the same agent, David Dunn.



The team held a three day orientation camp mostly for rookies and first year Bills. 57 players participated as it gave Coach Williams a chance to give repetitions to players he isn't familiar with. Last year, he wasn't familiar with any players, that is why the camp last year involved everyone. The interesting battle in this camp was first round pick Williams going against second round pick Ryan Denney. The two fought to mostly a draw, although Williams stuffed Denney on one play on the third day of camp. Williams played right tackle in this camp. Denney is being compared to Phil Hansen, he even wears his number 90. Bledsoe threw a couple of long scoring strikes to Charlie Rogers who appears to be a wide receiver again. Bledsoe took immediate charge of the offense and showed he's a leader despite only having 2 hours of study time with the playbook and Kevin Gilbride. His arm looked good early but he tired quickly on Friday and was holding his shoulder a lot. He said it isn't a concern, just rust. The team worked on a lot of 7 on 7 and 11 on 11 drills. The offense worked on third down situations while the defense worked on the 46. The Bills seemed to be experimenting where to play Erik Flowers and Kendrick Office who appear to have switched sides on the defense. 7th round pick Rodney Wright outplayed 2nd rounder Josh Reed as he caught everything in sight, while Reed dropped a few balls. Our Take: It was a good start for the Rookies and first year Bills to get acclimated to the NFL without facing the veterans. Williams already started giving the players lip service for mistakes by the third day of camp. These rookies left with the playbook to study while they finish school. They will be that much ahead of the game when they return in mid-May. Bledsoe showed that he is the undisputed leader of the team.



The Bills cut two players this week that weren't in their plans. Strong Safety Raion Hill and Kicker Shayne Graham. Hill's job with the team was no longer necessary when the Bills signed Billy Jenkins and drafted Coy Wire. Graham was never going to beat out free agent signee Mike Hollis. Our Take: Hill and Graham have some experience but weren't in the plans, it was a good move releasing them at this point.



The Bills signed 12 undrafted free agents this week. The signings include: QB David Priestley, WRs Ed Dangerfield, Clarence Coleman, RB Joe Burns, LB John Duckett, CB Daryon Brutely, Ahmad Brooks, Jamarei Bryant, S Milton Proctor, K Marc Samuel, DE Grant Irons, LS/TE Chip Mattingly.. Our Take: Most of these players are camp fodder and the Bils filled out the depth chart by picking players in different positions. Intriguing prospects in this group include Burns, Priestley, and Irons. Burns was a very productive back in Georgia tech and has some skills. Irons was a blue chip prospect out of high school but injuries curtailed his college career. If he remains healthy he can be the next Pat Williams with the team. Priestley comes from the University of Pittsburgh, the same school Van Pelt went to. He will be given a chance to battle Travis Brown for the third string job. Bryant already struggled in the rookie mini camp.



Curtis Alexander is the one Bill establishing himself in NFL Europe. He was named offensive player of the week after his week 2 performance. He followed that up this week with a 75 yard rushing day on 19 carries with a score in sloppy game conditions. Our Take: Mark our words: Alexander will make this team at the expense of one of the better known running backs.



Drew Bledsoe showed what kind of person he is by taking out a full page ad in the Boston papers thanking the fans of the Patriots for his time in New England. He spoke fondly of the organization, city, region, and fans but did say at the end he is excited about his future in Buffalo. Our Take: It is nice to have such a classy guy as the new leader of the team.



The fanfare surrounding Drew Bledsoe's arrival on Wednesday gave us a chance to look back at his rookie year of 1993. There was something else going on in Buffalo that year, a fight over whether or not the Shout song would still be played at Bills games. Our Take: The Bills were going to be cheap and not pay royalties to use it. They caved to pressure in the end and paid up the money. Bills Daily correspondent Bob Lamb told the story this week.



The Bills lost out on one free agent they were looking at. Defensive tackle Larry Webster signed with the New York Jets. The Bills were looking at him to solve a hole in the middle of the defense. Our Take: The one gaping hole the Bills have is at defensive tackle. They need a guy who will plug up the holes next to Pat Williams. If they don't find one, then London Fletcher will lose a lot of his effectiveness. Look for the Bills to address this need through free agency after June 1st. Sam Adams would be a good fit but his asking price is out of the Bills price range.



---
Talk about it on The Stadium Wall
Week in Review index
Latest News Section
Archives Library
Back to Bills Daily Homepage