| | | |
| --- | --- | --- |
| | Serving Bills Fans Since 1998 | Home |
---
Training Camp Gets Underway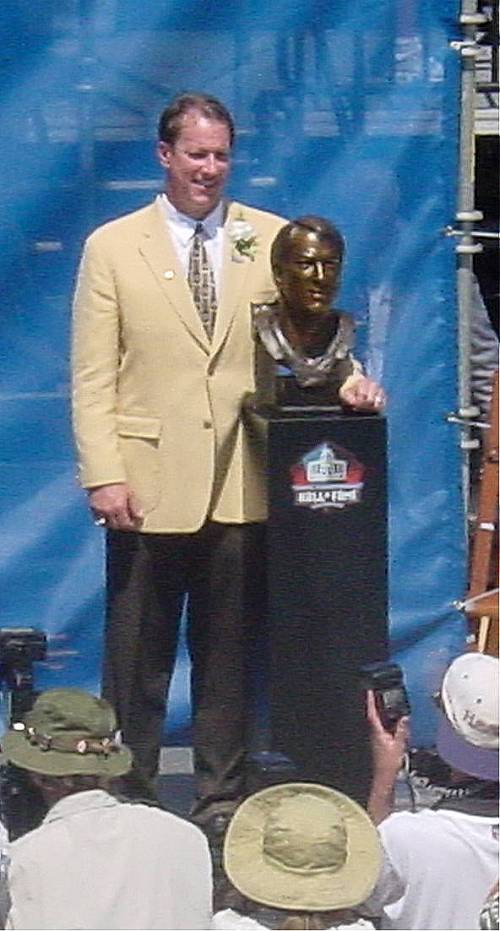 Training camp is now in full swing as the team practiced and scrimmaged against the Cleveland Browns. It was also a very exciting day in Canton on Saturday as Jim Kelly was inducted into the hall of fame. We were there and have all the news from the week complete with our take on the issues:

Jim Kelly's induction into the Pro Footbal Hall of Fame was an amazing day as most of the 17,700 fans in attendance were there to see Kelly inducted. Marv Levy gave a typically fantastic speech in presenting Kelly, and buddy Chris Berman seemed to give a presenting speech of his own before Marv. Jim's speech was emotional as he talked about his son Hunter, who was in attendance. Our Take: It was a great day for all the Bills fans that was there. Check out our article and photo gallery for more on the big day.



The Bills practiced with the Browns on Friday and then scrimmaged them on Satuday. The defense did very well forcing turnovers and playing very aggressive, they did allow a few big running plays however. Drew Bledsoe played one series and after doing nothing for the first three plays moved the team to the Browns 5 yard line before running out of plays. 3rd string QB Travis Brown had a fantastic scrimmage against the backups of Cleveland. Trey Teague seems to be adjusting to center very well also. The running backs had fumblitis to the chagrin of coach Williams. Our Take: The heores this week on offense appear to be Peerless Price, Josh Reed, Travis Brown, Drew Bledsoe, Jay Riemersma, Teague, and Charlie Rodgers. On defense, Antoine Winfield and London Fletcher have really shined. The defensive front may have trouble stopping running games all year though.



The Bills have had a rash of injuries this week, the biggest being to Brandon Spoon who is likely lost for the year with a torn bicep tendon. Also banged up to various degreess are Ruben Brown, Jay Riemersma, Jonas Jennings, Erik Flowers, Kendrick Office, Tyrone Robertson, and Mike Williams. Our Take: Besides Spoon, most of the injuries are little nicks and bruises that add up around the second week of camp. For the latest on all the banged up Bills go to our injury page.



The depth chart appears ready to be juggled soon. Mike Hollis seems poised to handle kickoffs, giving punter Brian Moorman a break and ending Marc Samuels chances of making the team. Kendrick Office has the inside track at the starting left end spot, while Tryone Robertson is leading the way at under tackle. Both players are banged up and can't afford to miss too much practice time however. Jerry Ostroski remains on the PUP list giving Marques Sullivan a legitimate shot at taking his job at right guard. The Bills would also like to see Pat Williams stay on the field on third downs to rush the passer since he's their best linemen. Our Take: No real surprises here but anything can happen as camp continues.



Other quick news tidbits from the week, DL coach John Levra announced he will retire after the season. He has been coaching for more than 20 years, the last six with the Bills. In sad news, former GM John Butler has been diagnosed with lung cancer and is undergoing chemotherapy treatment. Phil Hansen was a welcomed visitor at camp for a couple of days this week. Shawn Bryson trade rumors to New Orleans persist. The Bills will be installing a new FieldTurf at St. Johns Fisher after camp, if it works well they may eventually replace the turf at Ralph Wilson Stadium. Our Take: Levra has been a great coach and it is sad to see him hang it up. Bills Daily joins Bills fans everwhere in keeping Butler in our prayers for a full recovery. The Bryson rumors are getting annoying now, either trade him or keep him. We thing they should keep him,he's the fastest back they got. No need to replace the turf at the Ralph it was just installed two years ago.



---
Talk about it on The Stadium Wall
Week in Review index
Latest News Section
Archives Library
Back to Bills Daily Homepage