| | | |
| --- | --- | --- |
| | Serving Bills Fans Since 1998 | Home |
---
Training Camp Gets Underway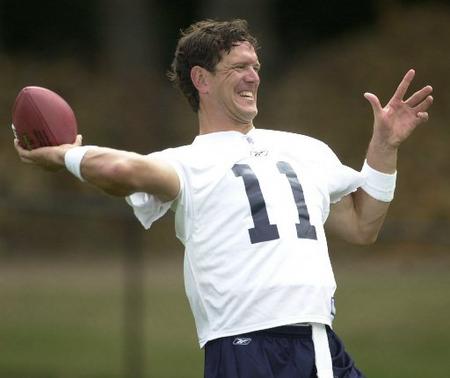 Training camp got underway this week with first the rookies, qbs, and veterans coming off of injuries reporting on Wednesday. The rest of the team reported on Saturday with the first full squad practice on Sunday. The remaining draft picks signed in time for the first full workout on Sunday and the team is now in full swing preparations for the coming season. We have all the news from the week complete with our take on the issues:

Five draft picks remained unsigned when the week started, the two lower round picks signed early in the week. Josh Reed signed on Thursday and missed only one practice. Ryan Denney signed on Friday and was on the field Saturday. Mike Williams agreed to terms on Saturday night and was on the practice field for the first full squad workout on Sunday morning. Our Take: Having all the picks in camp before the first full team practice was huge.



In other roster moves from the week the team signed rookie free agent WR Delrico Fletcher and released receivers Reggie Germany and Clarence Coleman when they failed team physicals. Germany cleared waivers and was placed on the reserve-injured list meaning he will stay with the team but can't play this year. Germany's knee surgery was more serious then originally thought and Coleman broke an ankle working out on his own last week. Our Take: Tough break for Germany who came on strong towards the end of last year.



In other injury news, Jay Riemersma and Jerry Ostroski started camp on the physically unable to perform list. Riemersma was taken off the list on Sunday and Ostroski should be ready to go shortly. Riemersma immediately practiced with the first unit while Ostroski's spot his being held down by Marques Sullivan and Corey Hulsey. Other players that will be watched early in camp because they are coming off of injuries include, Jeremy McDaniel, Pat Williams, and Travis Henry. David Dinkins has left the team because of a heart defect, he should be ready to go in 6-8 weeks and may end up back on the practice squad. Reggie Allen remains on the roster but isn't with the team as he rehabs in injury from NFL Europe. Our Take: If Ostroski doesn't get back soon he may lose his starting job. The other nicked up players appear to be fairly healthy, for more on the injuries check out our injury page.



The big news from the first full day of camp was that Trey Teague was at center and Jonas Jennings lined up at left tackle. This is a surprise change from what was the norm during most of the mini-camp practices. It appears this will be the lineup on opening day at this point. Our Take: Teague is not happy about this move but it makes sense, Jennings and Williams can be bookends for years to come.



Coach Williams did not use the dreaded airhorn to get the players on the practice field and he insists this year's goal of camp is to keep everyone healthy. It appears that it will be a lighter camp this year than last year, with less two-a-days and more time for players to rest and rejuvenate themselves. The coach feels the team is off to a good start in camp and the first few days before the veterans reported gave the rookies a chance to get more learning in. On the field, Tony Driver is turning heads after a great off season of working out. Jeremy McDaniel is having a fine camp so far also. The candidates for the starting left defensive end spot have struggled as Denney tries to get up to speed after missing three practices. The club alternated between indoor and outdoor workouts on Sunday because of rain. When they were outside there was a lot of slipping and sliding on the wet turf, nobody was injured. Our Take: The lighter camp is a good idea as the veterans were turned off by last year's boot camp atmosphere.



Drew Bledsoe said he feels like a rookie again as he arrived with the rookies on Wednesday. He feels the offense will score points and be proficient on third downs while using a balanced attack. He enjoyed having a few days with the young players before the veterans arrived. He also said that the team will be clicking on all cylinders when the bullets fly for real on September 8th. Our Take: Bledsoe is ready to go and it is nice to hear he won't use the fact that there are many new faces as an excuse for not jelling in time for the opener.



Sheldon Jackson said his legal troubles are behind him as he had a court appearance last week to answer charges of marijuana possession and driving with a suspended license. The drug charge was reportedly dropped and he settled the license charge, he now is ready to go for the season he said, and he has talked to the coaching staff about his troubles. Our Take: He may be ready to go but he will have to work extra hard now to make the team and may still face some disciplinary action from the league.



The town of Pittsford held their second annual Bills parade on Friday. Many Bills were there including Drew Bledsoe and Eric Moulds. Our Take: This is a nice community event for a town that gives the Bills a lot of support during training camp.



---
Talk about it on The Stadium Wall
Week in Review index
Latest News Section
Archives Library
Back to Bills Daily Homepage