| | | |
| --- | --- | --- |
| | Serving Bills Fans Since 1998 | Home |
---
Bills Lose Opening Preseason Game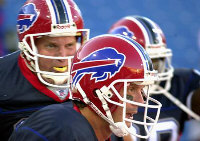 The Bills lost their first preseason game on Friday night but the offense led by Drew Bledsoe represented itself very well. Here is a look at the week in review with our take on the issues:

The first team offense moved the ball very well as Bledsoe led the team to two scoring drives in his three possessions. The other one ended in an interception killing a drive. The first string defense allowed a score on the opening possession but settled down after that. Of course the backups were horrible as Cincinnati held the ball for 23 of the final 30 minutes and dominated on both sides of the ball. Our Take: It seems like the concerns on the defensive line are valid. This team may have a lot of trouble stopping the run. It also seems the offensive success may have to come through the air as the running game struggled like it did last year. It is still very early and plenty of time remains to make adjustments before the regular season but it seems like we may be looking at many high scoring games.



The Bills were able to stay away from injuries during the preseason opener although Ruben Brown and Kendrick Office missed the game with a sprained knee and concussion. Both will play against Minnesota. The team wasn't so lucky three days later when a host of injuries struck, especially to the offensive line, where Jonas Jennings appears to be out for a while with a sprained ankle. The team will not move Trey Teague back outside despite two tackles going down in one practice. Tryone Robertson saw some time at left end in Office's place while Ron Edwards got some work at under tackle. Erik Flowers missed practice most of the week with a chip fracture in his neck but returned to suit up on Friday night. Our Take: Williams is making the right move by not disrupting the chemistry of the line more than he has to by keeping Teague at center. If Jennings is going to be out a long time however his best bet is Teague at left tackle and Billy Conaty at center. It will help getting Brown back for this banged up unit. Flowers is feeling the pressure to practice and play as he is now a longshot to make the team. Go to our injury page for the latest on the Bills' injuries.



While the offense looked good throwing the ball on Friday, Bledsoe said this week he has been given the freedom to audible whenever he feels it is necessary. He did not have that freedom his last few years in New England and is looking forward to it. Rob Johnson did not have that freedom last year either. Our Take: It's good that Gilbride is taking advantage of Bledsoe's experience, this should help bring good results.



Jim Kelly continued his glow after his hall of fame induction, by waving the start flag at Watkins Glen on Sunday. He said afterwards that he is a huge NASCAR fan and is looking to get involved in the sport, not as a driver though. Our Take: Kelly would be the latest in a growing number of athletes getting involved in auto racing.



---
Talk about it on The Stadium Wall
Week in Review index
Latest News Section
Archives Library
Back to Bills Daily Homepage