| | | |
| --- | --- | --- |
| | Serving Bills Fans Since 1998 | Home |
---
Hansen Retires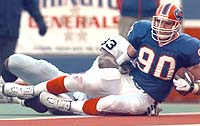 Phil Hansen announced his retirement from the Bills and the NFL this past week. That highlights our inaugural week in review for the 2002 off season. This popular feature is back with our take on that and other issues each week during the off season:

The first off season move happened the day after the season ended when Phil Hansen announced his retirement. In his speech Hansen said, "My body, my heart tell me it is time to move on." Hansen played 11 illustrious seasons in the NFL and he said his biggest accomplishment was playing all of them with one team. Hansen thanked everyone in his retirement speech from the trainers and equipment people to the players and coaches he played with and owner Ralph Wilson. Our Take: Hansen must have seen the handwriting on the wall so he decided to retire. With the cap situation he probably would not have returned, so his retirement is a fitting way to end a great career in Buffalo.



Gregg Williams held his end of the season press conference on Monday and commented on the retirement of Phil Hansen calling him a real pro. He admitted the team has a lot of work to do in the off season and he has already gone to work to evaluate the talent and coaches. He was very unhappy to end the season on the 100 yard interception return for a score on the season's final play. One play he talked about specifically was Travis Brown. He said the young quarterback made marked improvement over the year and has some good skills to work and improve on. Our Take: The coach is right that he has a lot of work to do this off season. It should be almost as busy as last off season. Brown should be back next year as a third quarterback, it was nice to see him play in the finale so we could see what he could do. The 100 yard interception return for a score was a fitting way to end the season.



The first order of business this off season is dealing with the quarterback situation. With Alex Van Pelt set to sign a new five year deal, Rob Johnson may be on his way out the door. The Bills want Johnson back if he agrees to do a one year deal with options in an incentive laden deal. Tom Donahoe met with Johnson's agent this week and it appears the Bills want to trim $4 Million off of his cap figure without giving him a long term deal. That means a huge salary cut. Johnson said he wants to return but he won't take less than the market value for him. He said he will work with the Bills but doesn't want a one year deal and he doesn't think he deserves a five year deal either. Ralph Wilson said if Johnson does return he will have to fight for his starting job back. He also said he would like Johnson back if he agrees to an incentive laden deal. Our Take: Another off season, another quarterback controversy. This is tough situation, Van Pelt can be a caretaker quarterback but the Bills need to address the future here. It appears that Johnson will not be back unless his agent feels he can't get anymore on the open market. If Johnson does return there will be a battle in camp between the two friends. If Johnson isn't back, the Bills have to bring in a hot shot rookie to learn under the teaching skills of Van Pelt. Another veteran with the same skills as Van Pelt isn't a good answer.



Larry Centers was named the starter at fullback for the AFC Pro Bowl squad this week. Centers also discussed his future this week and said he isn't sure if he wants to return to Buffalo next year. Centers has a year left on his contract and if he does return he would probably want a pay raise as he was the offensive leader in receptions with 80. Centers main objective is to play for a winner and he wants to make sure the team does the right moves to improve before coming back. Our Take: The Bills need Centers back for his leadership abilities alone. The fact that he was our player of the year winner shows that he deserves more money than the near minimum salary he played for last year. He is one of Williams' favorite players if not his favorite. Expect the Bills to make Centers happy financial and team wise. The way Centers is, it is probably more important for the team to improve than for his wallet to improve.



In the rumor mill, Chris Mortensen speculated on ESPN this past weekend that Marv Levy may be a candidate for the head coaching job in Indianapolis. Levy coached for Colts President Bill Polian when they were both in Buffalo. Our Take: This isn't likely to happen with Levy being 76 years old now.



---
Talk about it on The Stadium Wall
Week in Review index
Latest News Section
Archives Library
Back to Bills Daily Homepage