| | | |
| --- | --- | --- |
| | Serving Bills Fans Since 1998 | Home |
---
Wright Arrested; Three Draft Picks Signed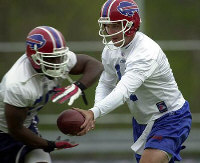 It was another slow week in Bills news with the exception of one more arrest, 7th round pick Rodney Wright, and three draft pick signings. We have all the news from the week complete with our take on the issues:

Rodney Wright was arrested on Tuesday in California after a hit-and-run accident where he was the apparent driver. His SUV hit a van, which then burst into flames injuring two people. He left the scene and then took off running, leaving his car nearby. Reports also say Wright may have been drinking at the time. He turned himself in to police later that day and was arrested on reckless driving and felony hit-and-run charges. He posted bail and was released. Our Take: With the logjam at wide receiver, and the recent signing of Charles Johnson, look for the Bills to possibly release Wright without even signing him. If they do bring him to camp he becomes a real long shot to make the team.



The Bills signed three more draft picks this past week bringing the total picks signed to 4 of the 10 players drafted. Third round pick Coy Wire signed a four year deal worth $1.84 Million including a $480,000 signing bonus and an escalator clause that can bring him up to another $1 Million. His cap figure for this year will be $345,000 as he will take in the rookie minimum base salary of $225,000. He will get $300,000 next year and $380,000 and $455,000 in the following two years. Two seventh round picks were also signed as Dominique Stevenson and Jarrett Ferguson signed three year deals. Both players get the rookie minimum base salaries for this year. Stevenson gets a $21,250 signing bonus and will make $300,000 and $380,000 the final two years of the deal. Ferguson's deal should be similar. Our Take: The four year deal for Wire shows the Bills faith in him. The Bills are off to a good start in signing their draft picks. Don't expect top pick Mike Williams to sign much before training camp.



A report came out that the Bills are getting ready to sign a player from the arenafootball 2 league. Jykine Bradley is a defensive specialist who worked out for the Bills two weeks ago, he is expected to take a physical and sign with the club this coming week. He had four interceptions in four games including a touchdown for Roanoke. Our Take: The Bills are leaving no stone unturned in their quest for hidden talent. This guy however, wasn't good enough for the main arena league, how will he help in NFL club?



Scott Norwood will be making a rare public return to Buffalo during Jim Kelly's flag football showdown for charity with Dan Marino. Other former Bills scheduled to appear include Darryl Talley, Thurman Thomas, Andre Reed, Darryl Talley, Don Beebe, and Steve Tasker. Our Take: Just another reason to go to this great charity event.



Doug Majeski has been promoted to Coordinator of College Scouting and Tom Gibbons was promoted to pro scout in part of Tom Modrak's reorganization of the scouting department. Our Take: The Bills are taking steps to keep the scouting department one of the best in the league.



---
Talk about it on The Stadium Wall
Week in Review index
Latest News Section
Archives Library
Back to Bills Daily Homepage